At home with South African Artist, Jenny Parsons
It's early December, the Swartland a golden yellow in its post-harvest glory. I've come to visit my sister Almarie (about whom you'll get to learn loads more later) at her new home in the Riebeek valley. Together we're on our way to visit Jenny Parsons – a South African artist and urban landscape painter. Almarie met Jenny at Solo Studios earlier this year, and implored me to visit her at her beautiful home-based studio in Riebeek Wes.
Jenny shares her home with her partner Mark, their two lovely dogs and a charming grey tabby. Mark and Jenny have done a remarkable job of renovating the 1860s "Nagmaalshuis" into the spectacular residence that it is today. The first floor, which houses the living quarters, used to be a dark labyrinth of rooms leading from one into the next. But the space has been opened up entirely, allowing ample light to flow into the house. Upstairs, the thatch roof has been replaced by a bright and airy studio where Jenny now spends most of her days painting.
The couple's home is a welcoming space filled with colour and light. Before jumping into our interview though, Almarie and I first wander from room to room, guessing artists' names, as we admire the multifarious pieces of art adorning the walls.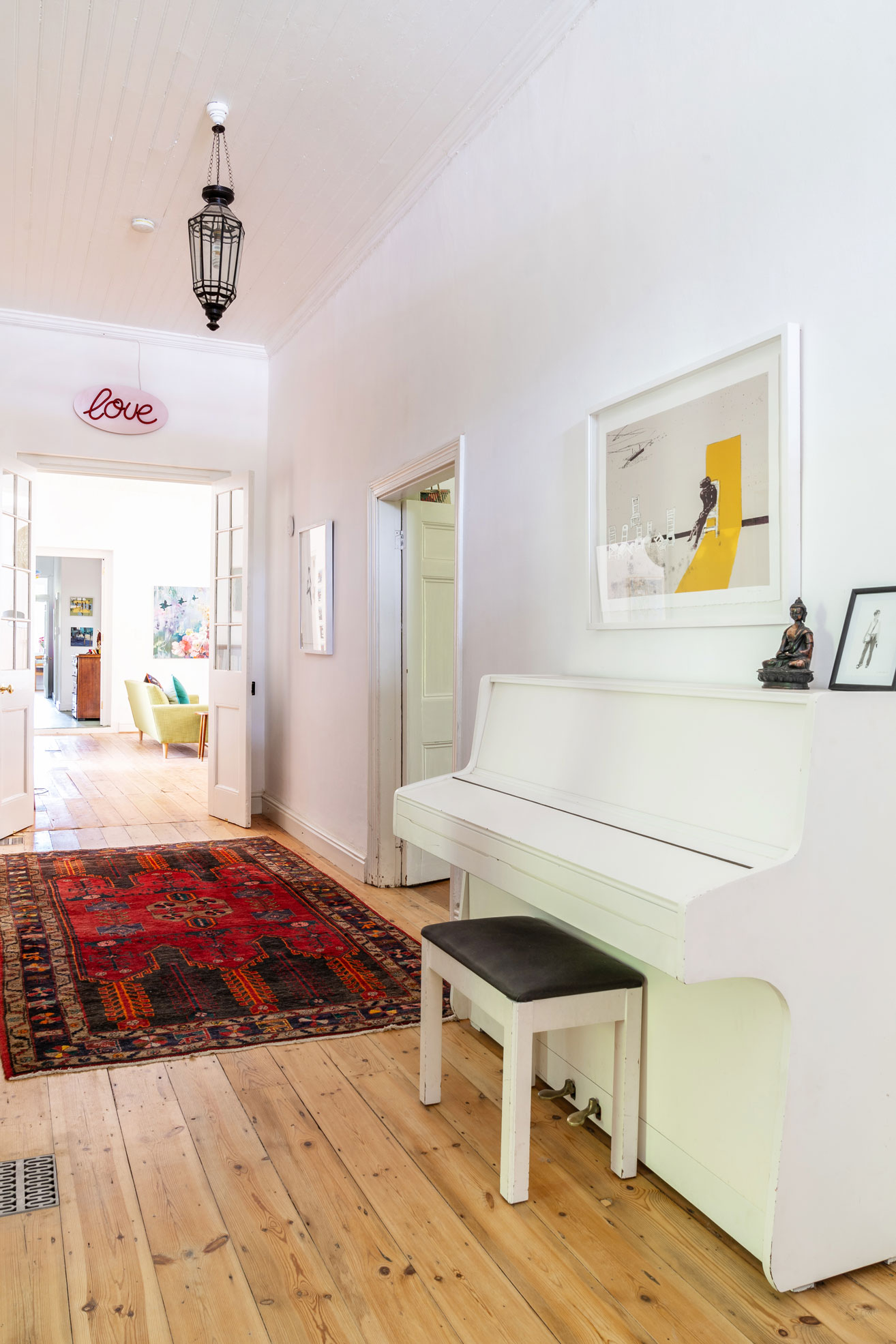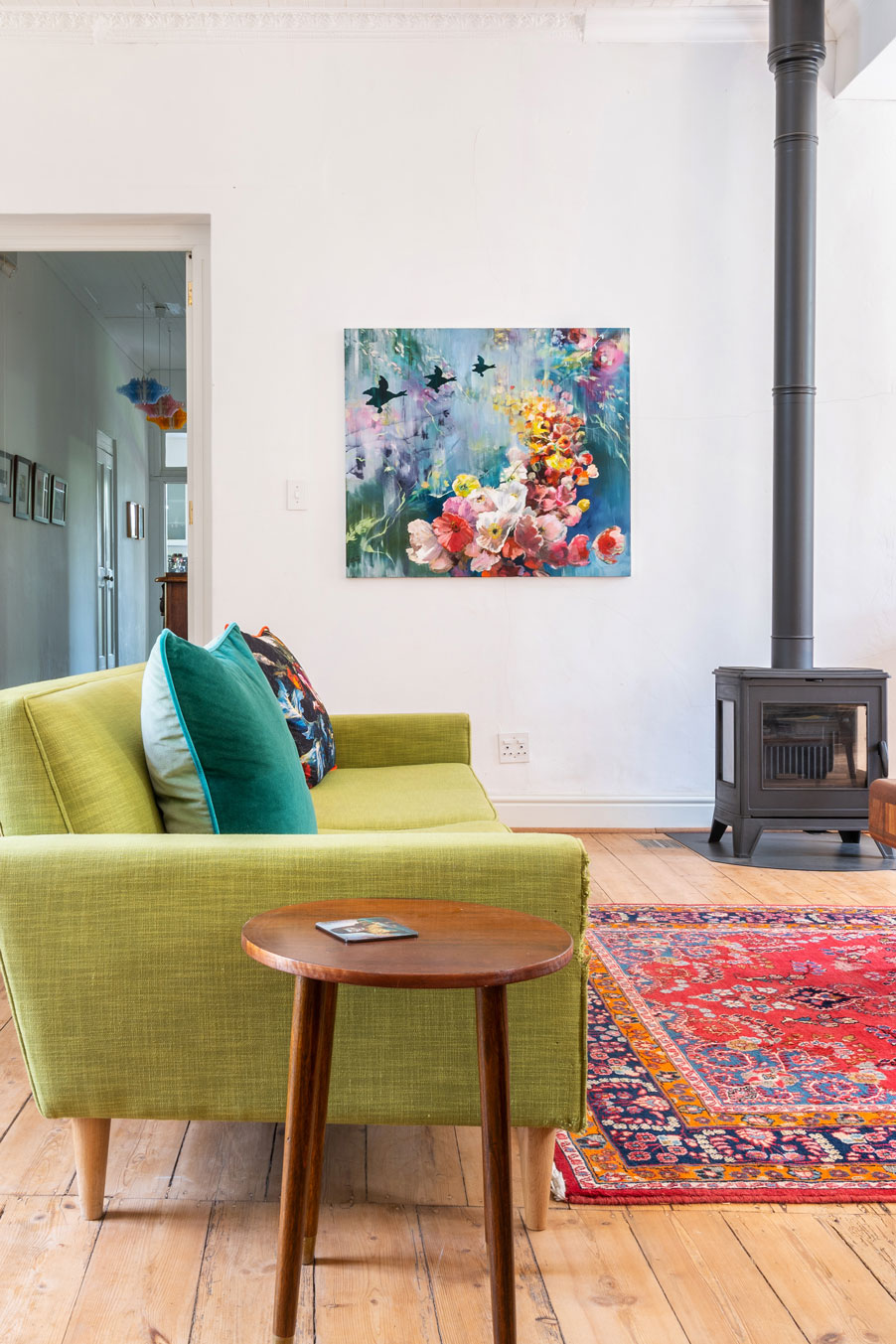 Have you always been a landscape painter? What inspired you to pursue this subject?
"I've played with quite a few different subjects, but I always return to landscape. The relationship of my body to the physical world is why I keep painting landscapes – I want to share my experience of light, space, colour and shape."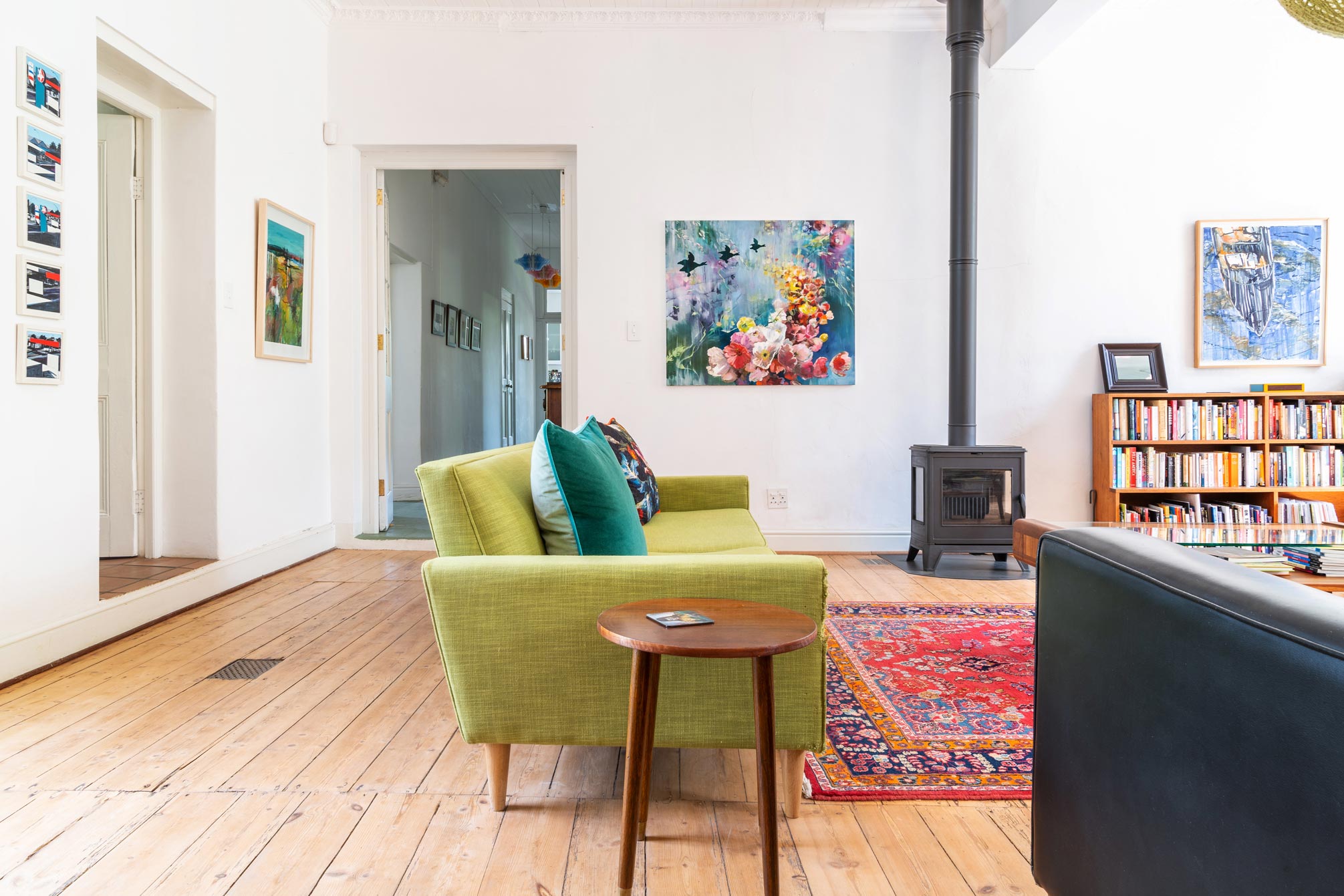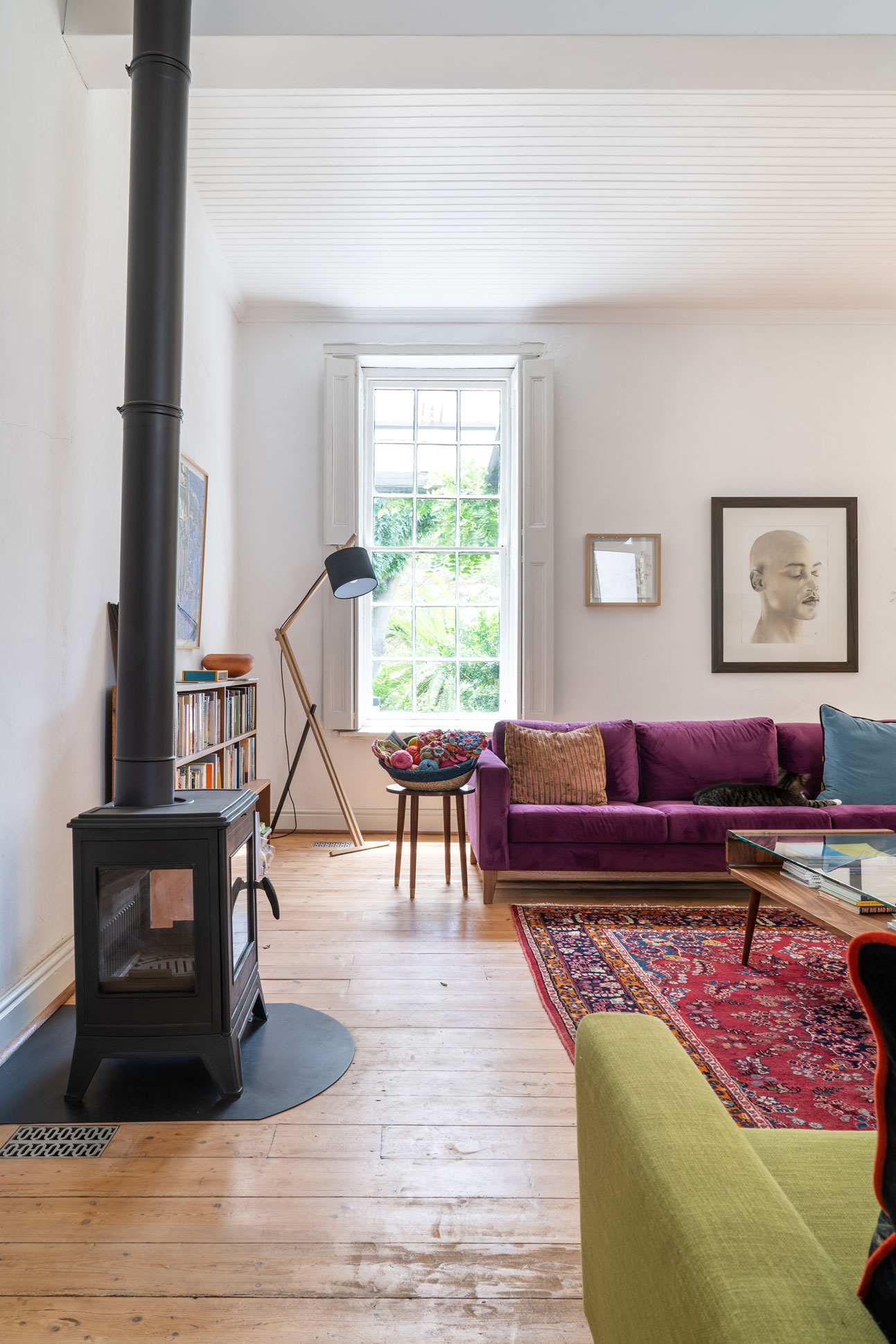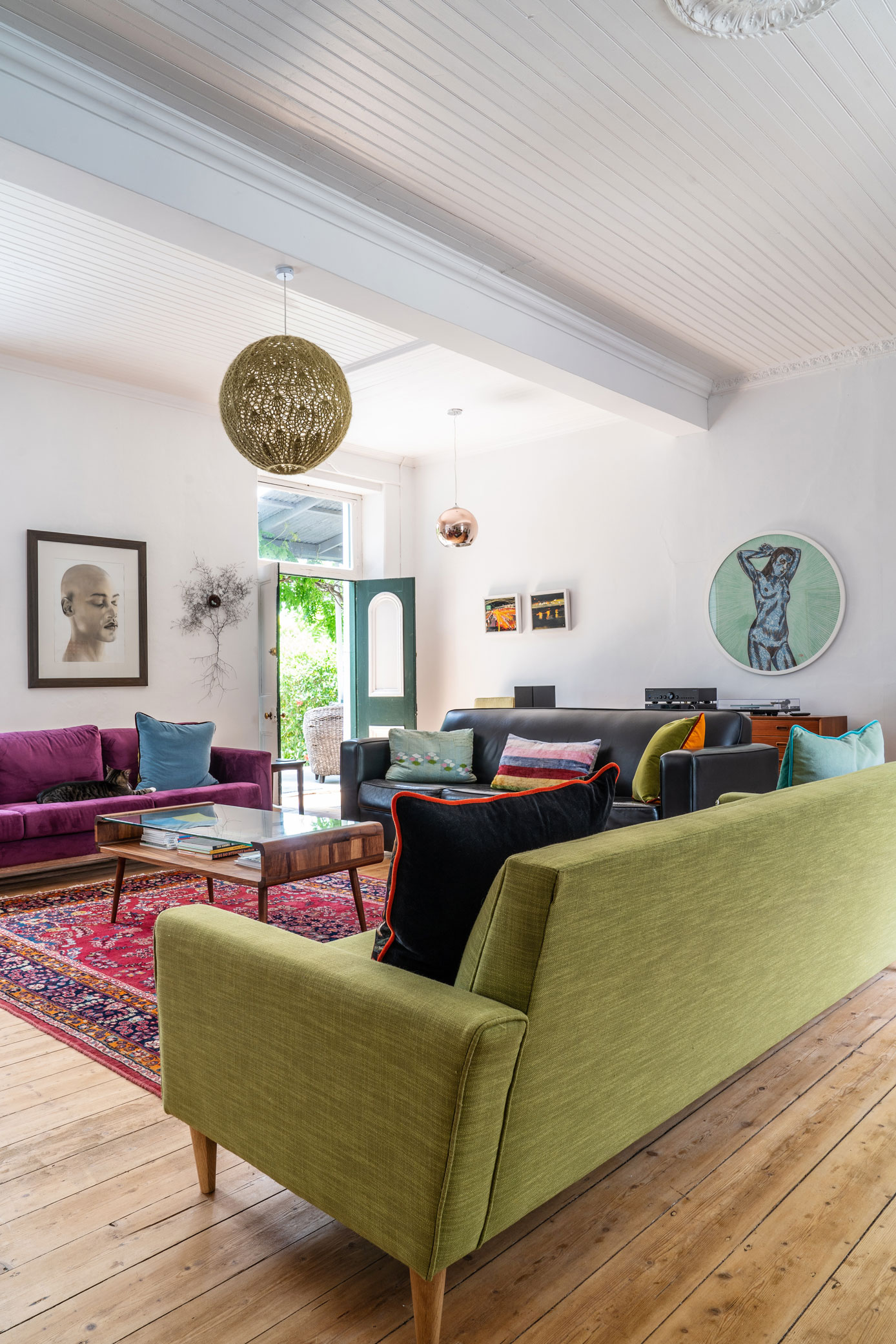 You mentioned Richard Diebenkorn's art as an inspiration. What is it about his work that inspires you?
"Diebenkorn's approach to landscape is incredibly nuanced. His paintings seem to fit together with the perfect balance of abstraction and representation. His sure hand and direct brushwork also inspire me – he avoids 'pretty' in the most remarkable way. I take great inspiration from his ten rules for painting."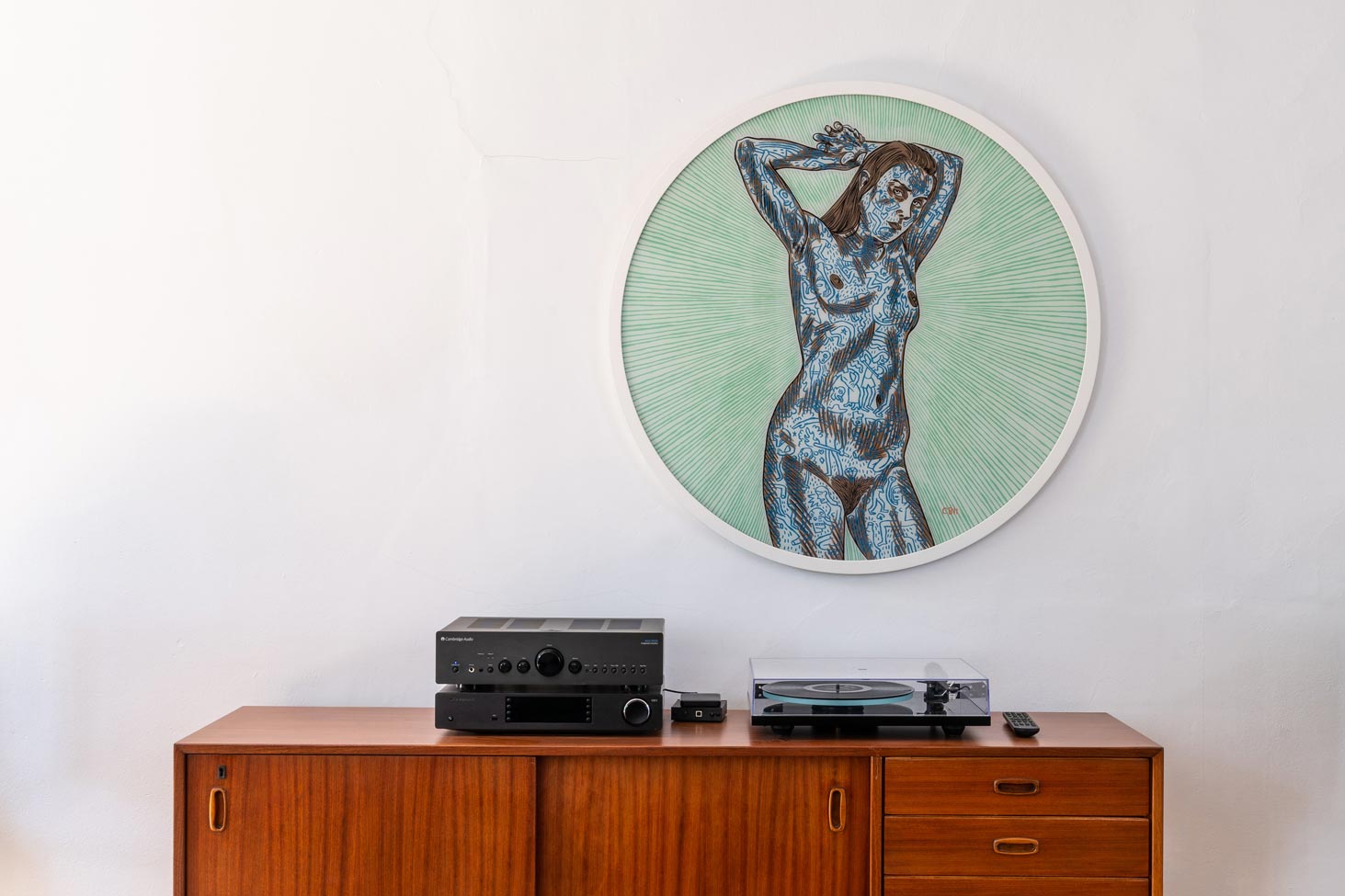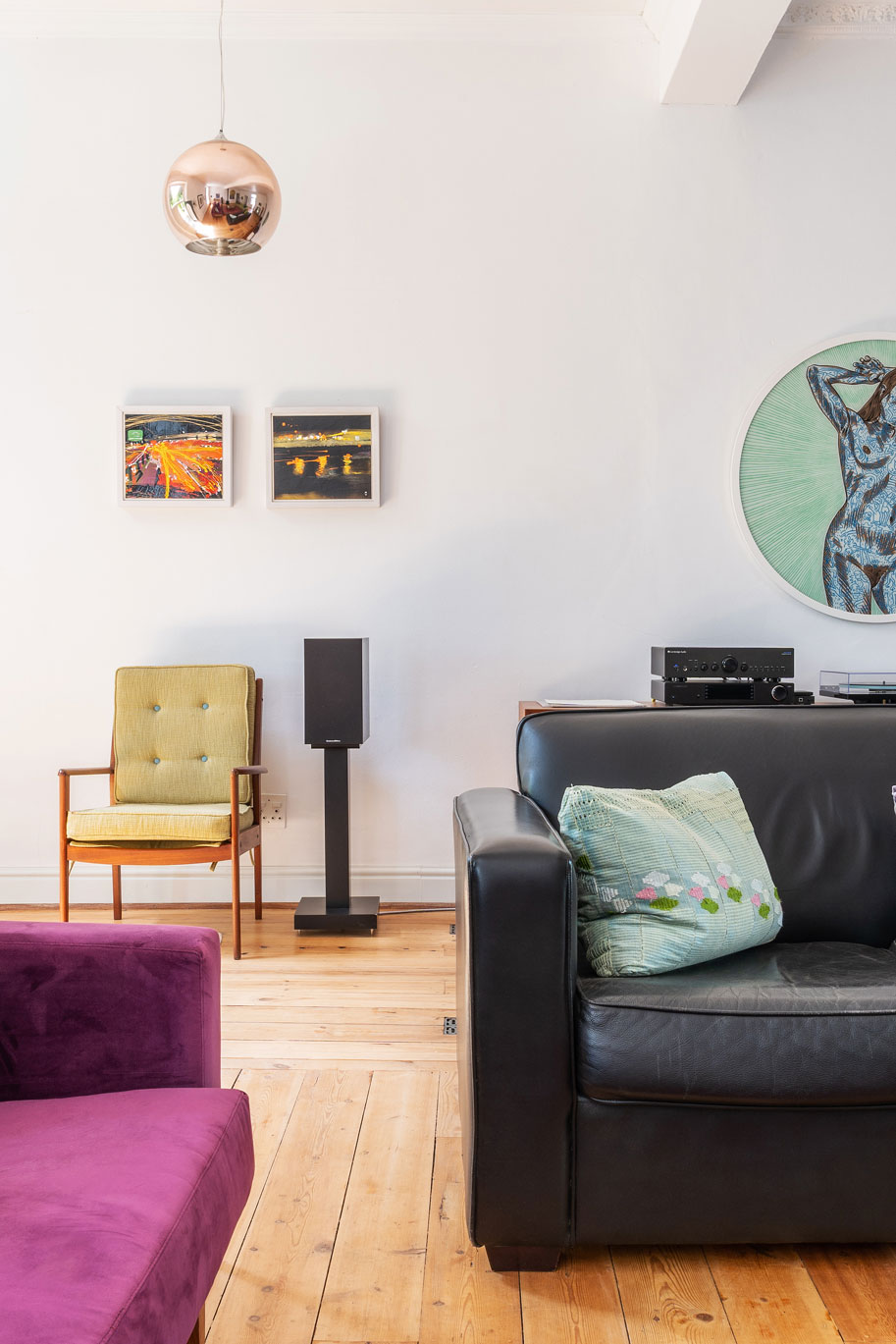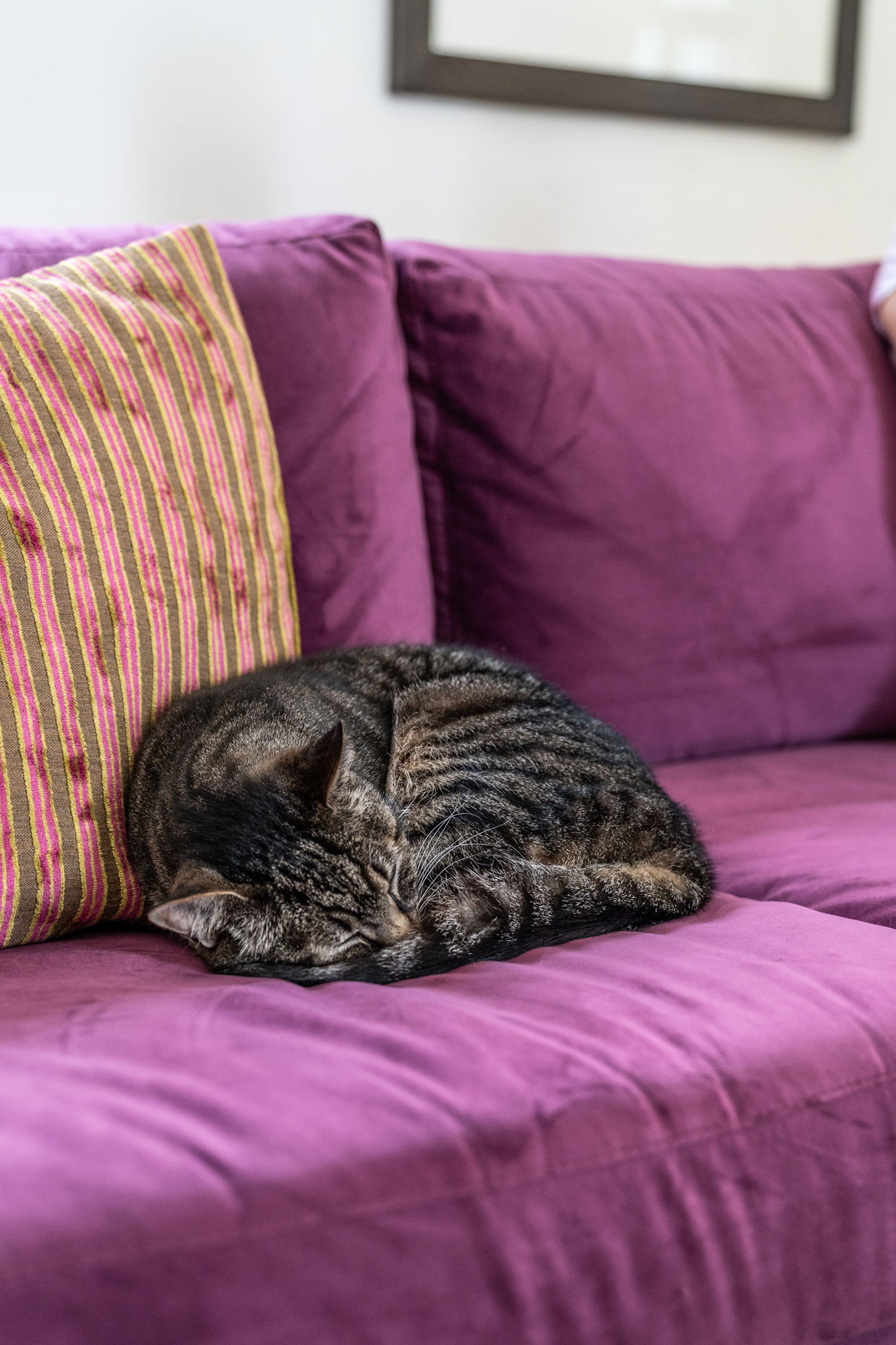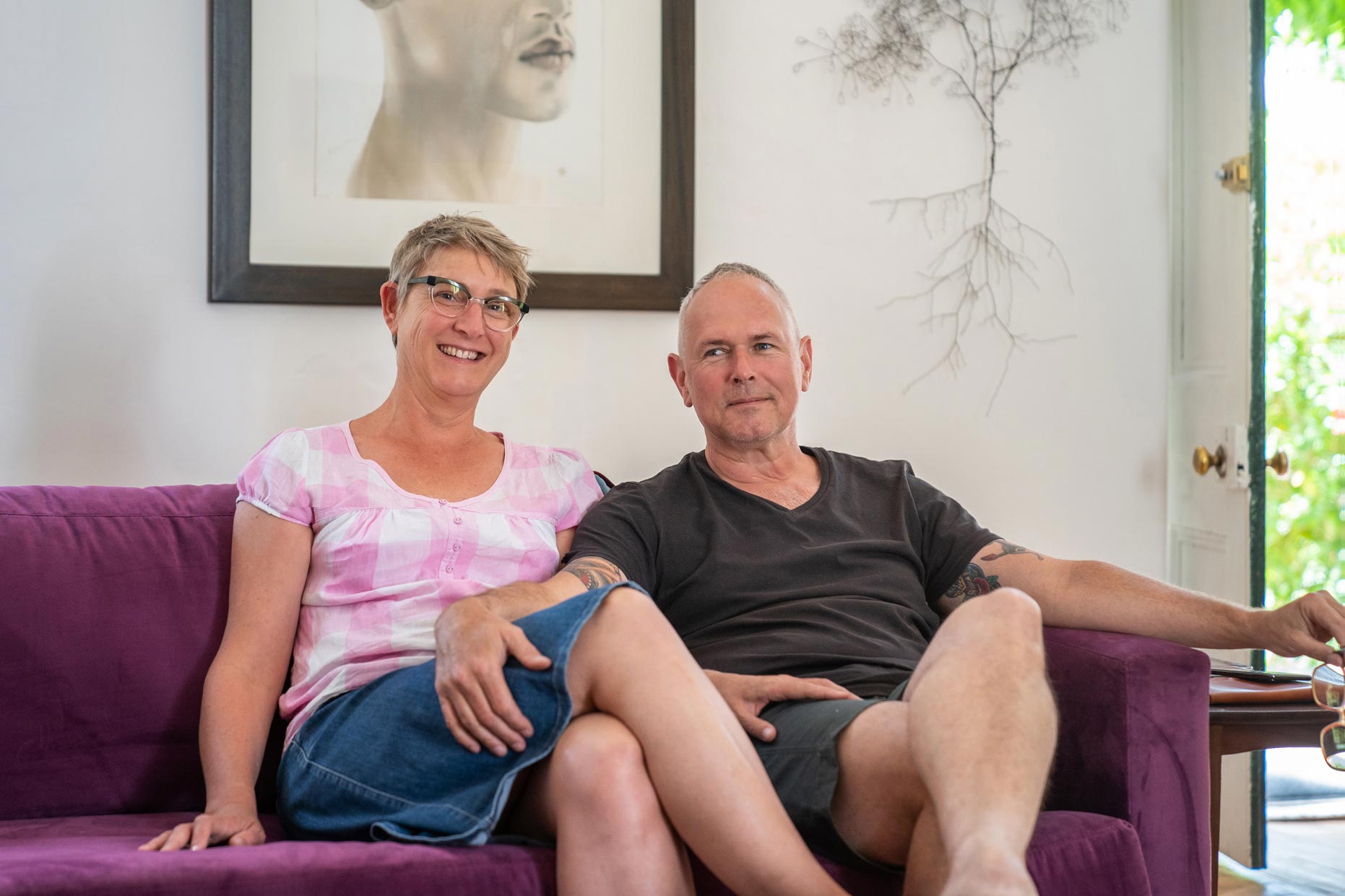 How would you describe life as an artist in South Africa? What in your experience are the biggest obstacles and rewards?
"South African art is at a very exciting stage and the industry has grown over the last ten years. We now have art institutions like Zeitz Mocaa and the Norval Institute, as well as numerous art fairs. So there are more and more opportunities for South African Artists. Obstacles and rewards can be self generated – my philosophy is "keep the faith and keep making'."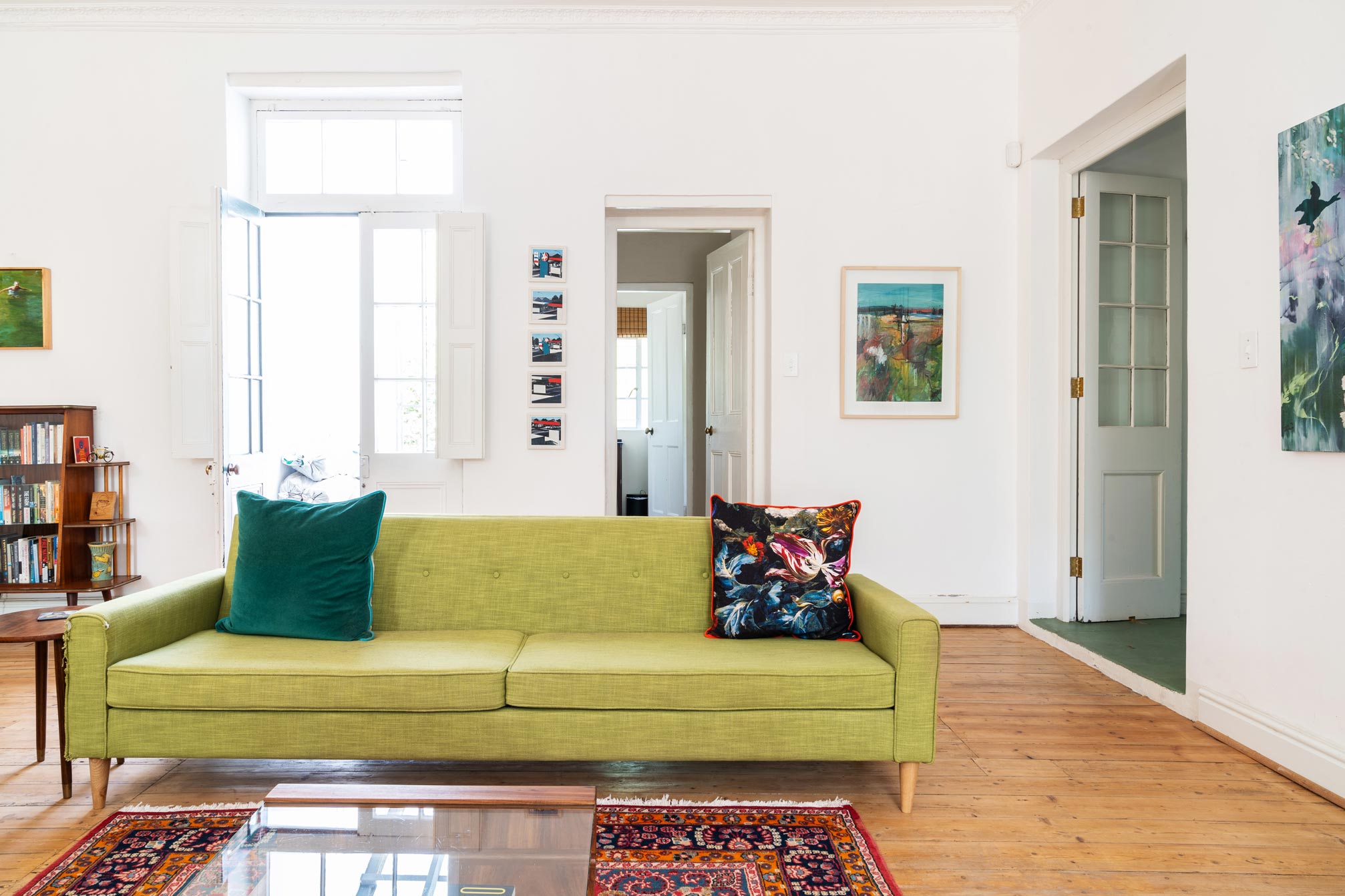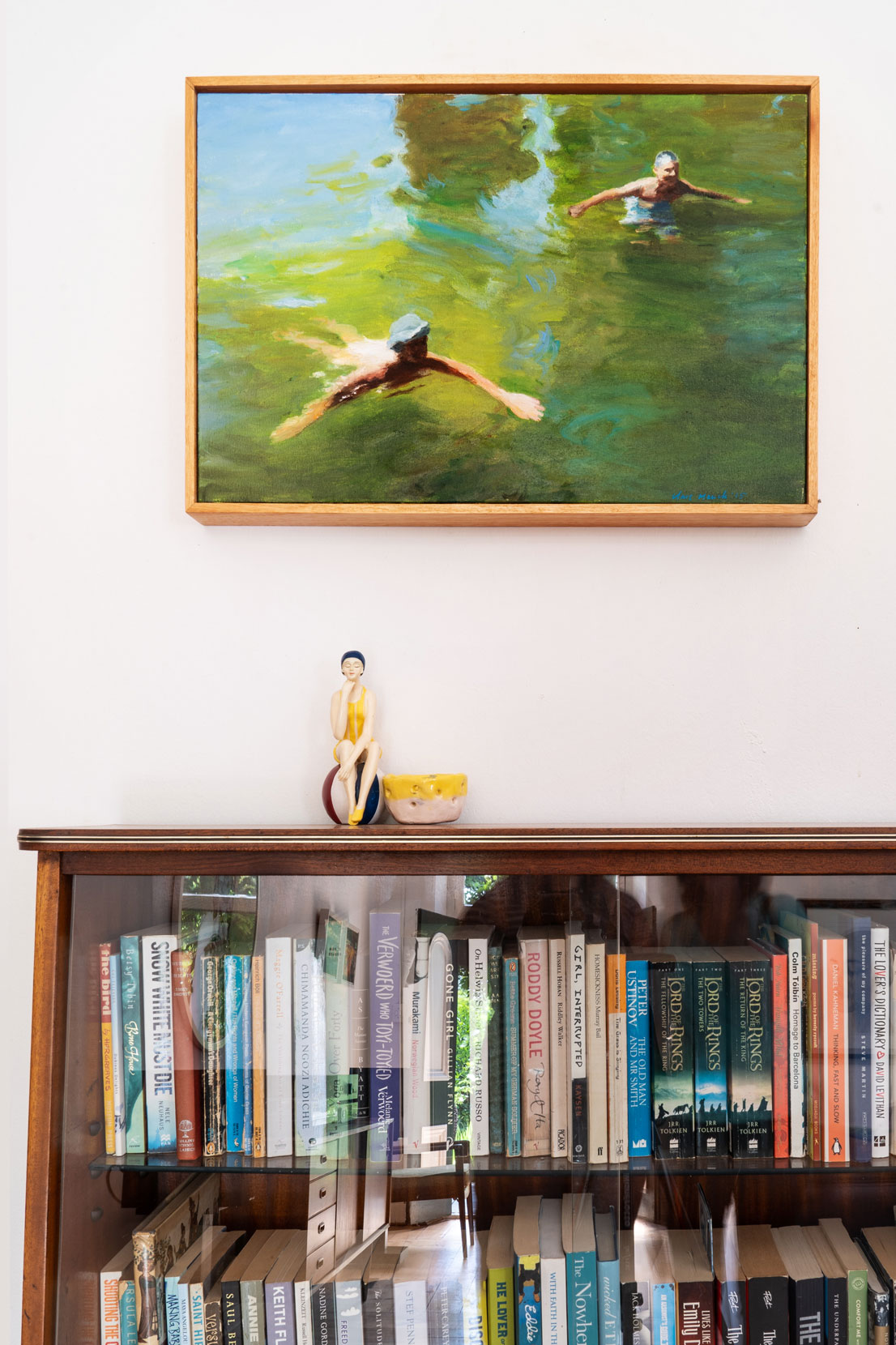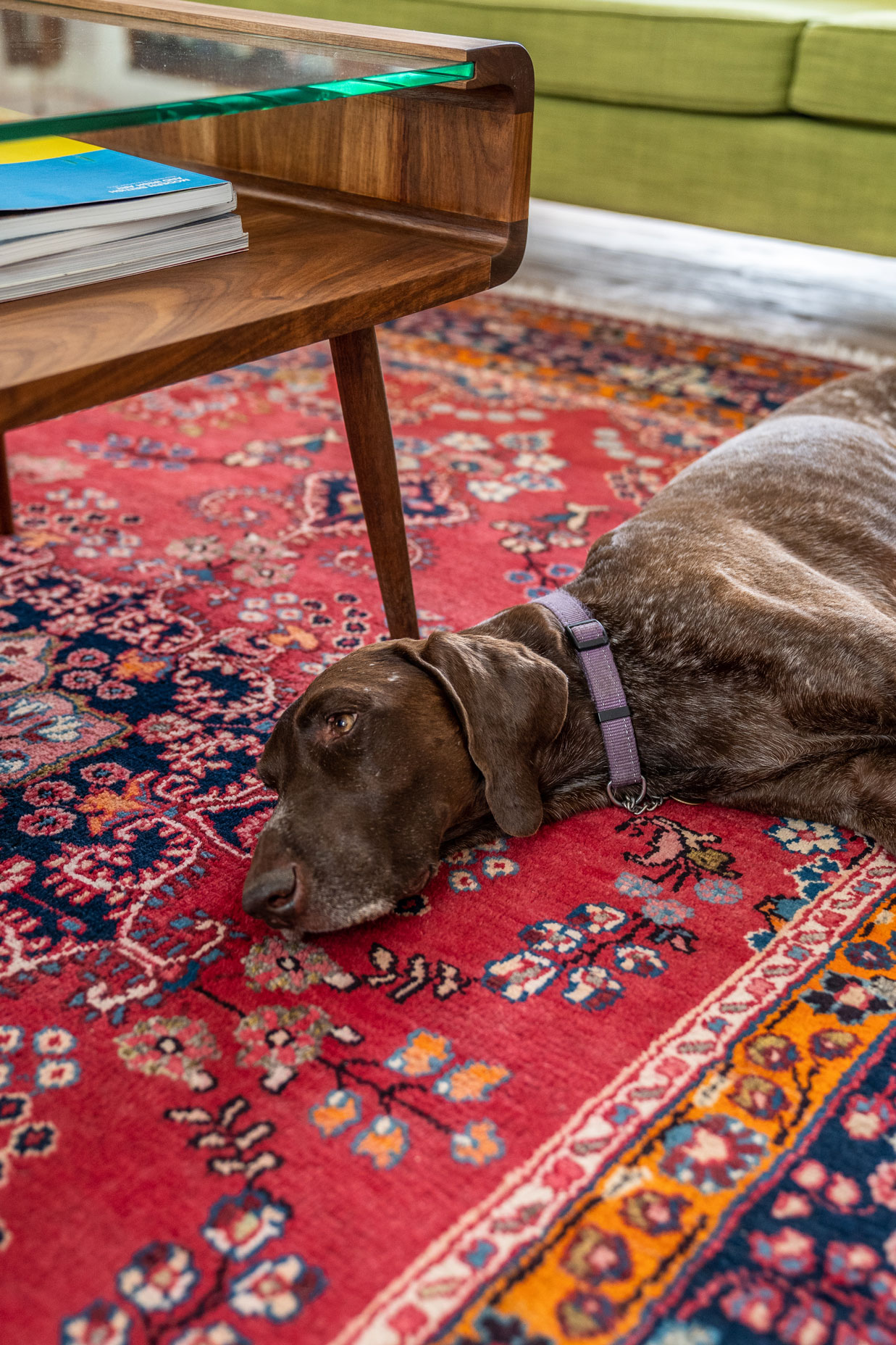 Do you have a favourite piece of artwork? Tell us the story behind it.
"My favourite work is a painting of swimmers by South African artist Clare Menck. When I was in the process to moving to Riebeeck, she lived in my house in Cape Town for a few months while she played a singing role in a musical. So we swapped accommodation for a painting."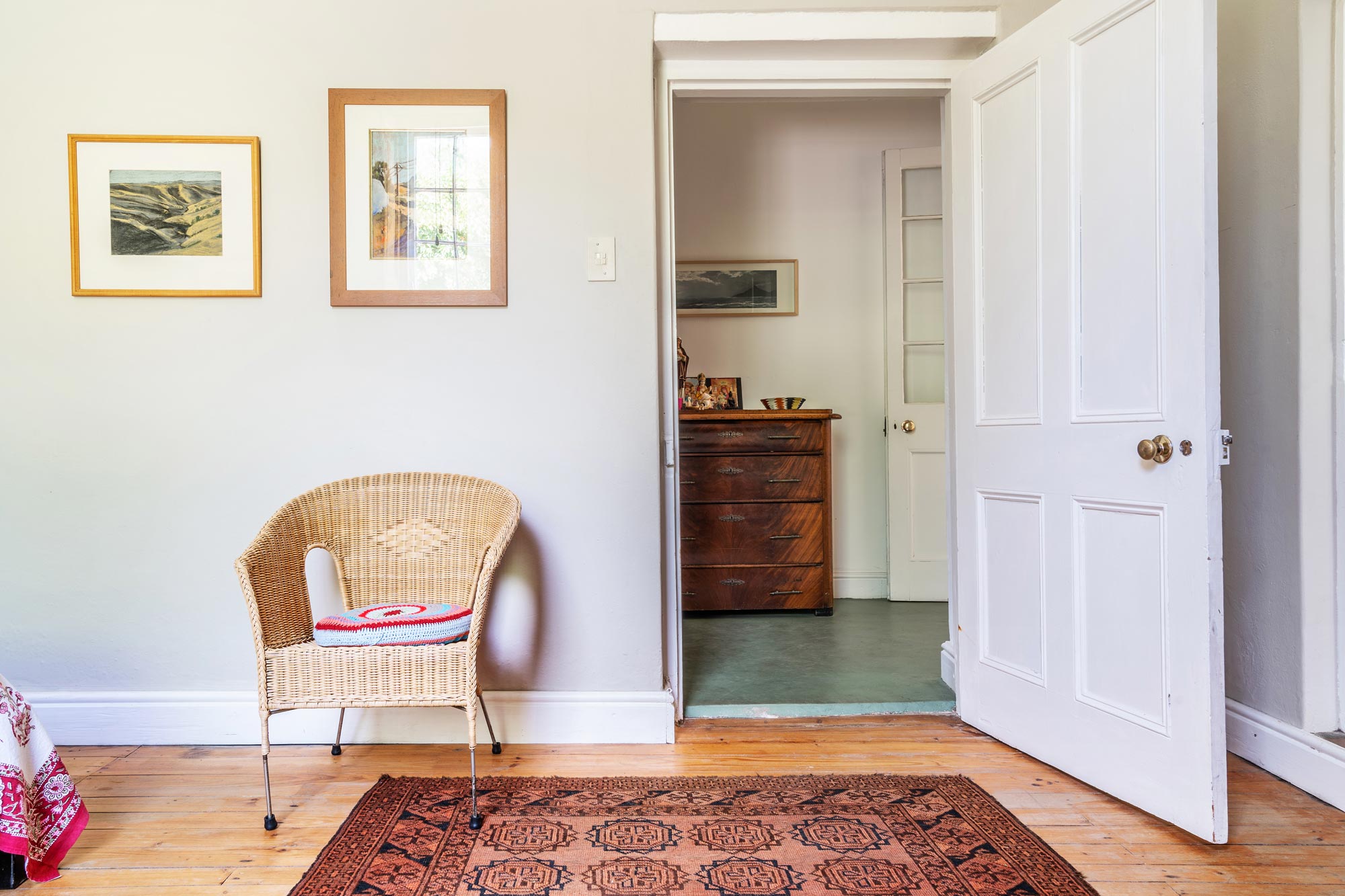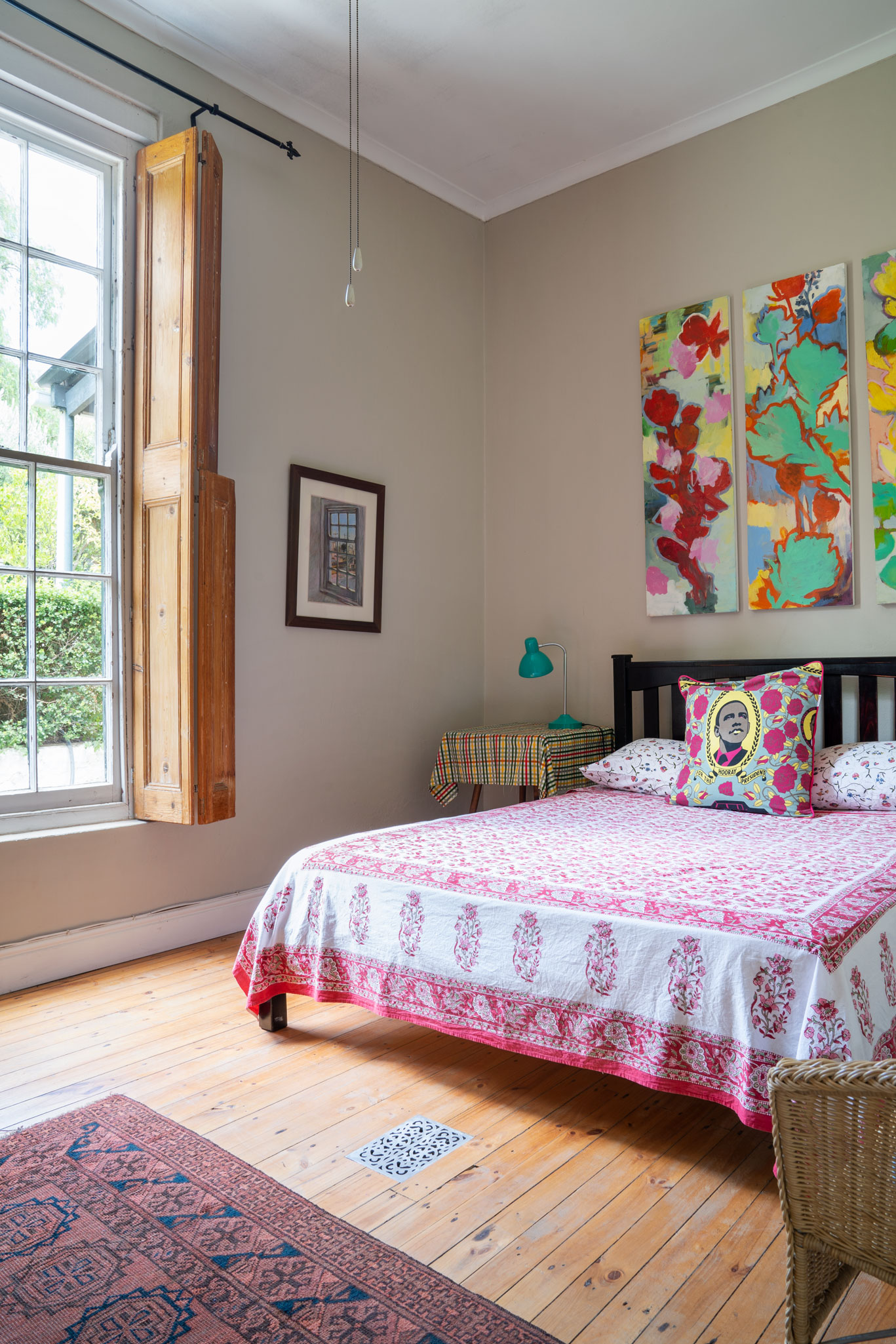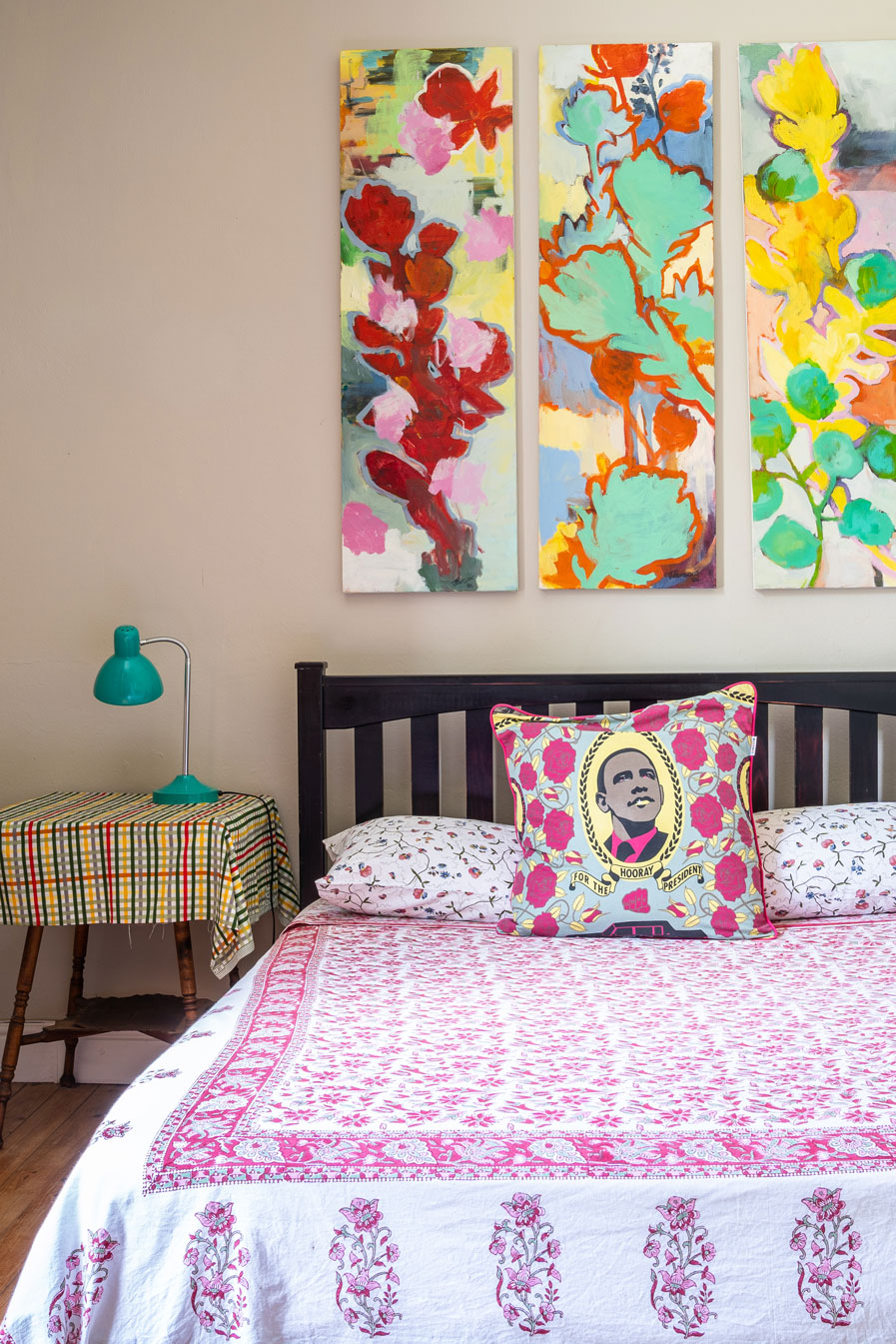 As a landscape artist – your work must be largely influenced by your immediate surroundings. How has it changed since the move. Do you see a big difference in your style from when you lived in Cape Town, versus the Swartland valley?
"Yes, there has definitely been a shift. I tend to paint the landscape of my immediate environment, so I'm currently working on the vast wheat fields and mountainscapes of the Swartland. At the moment I'm fascinated with edges and how the different crops describe the lie of the land."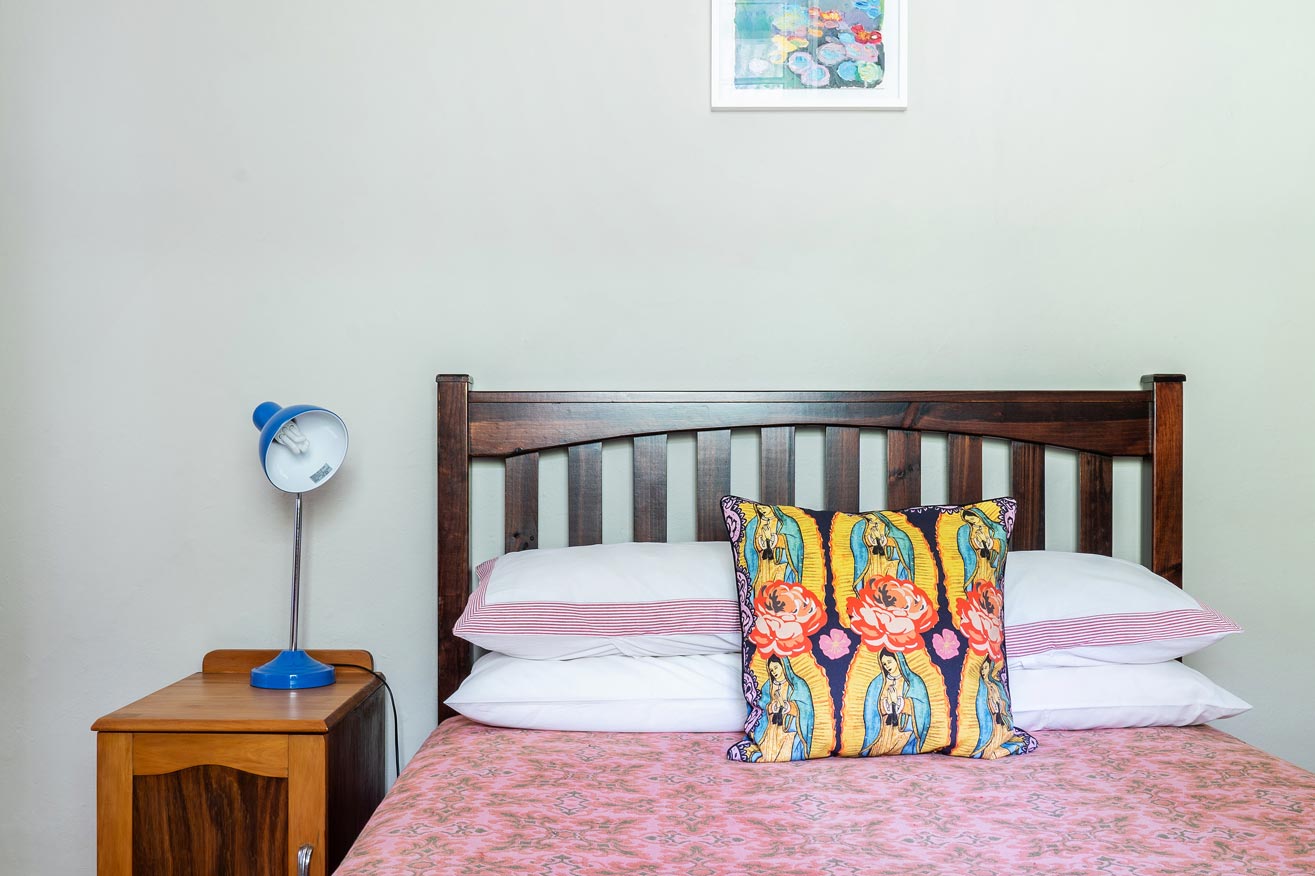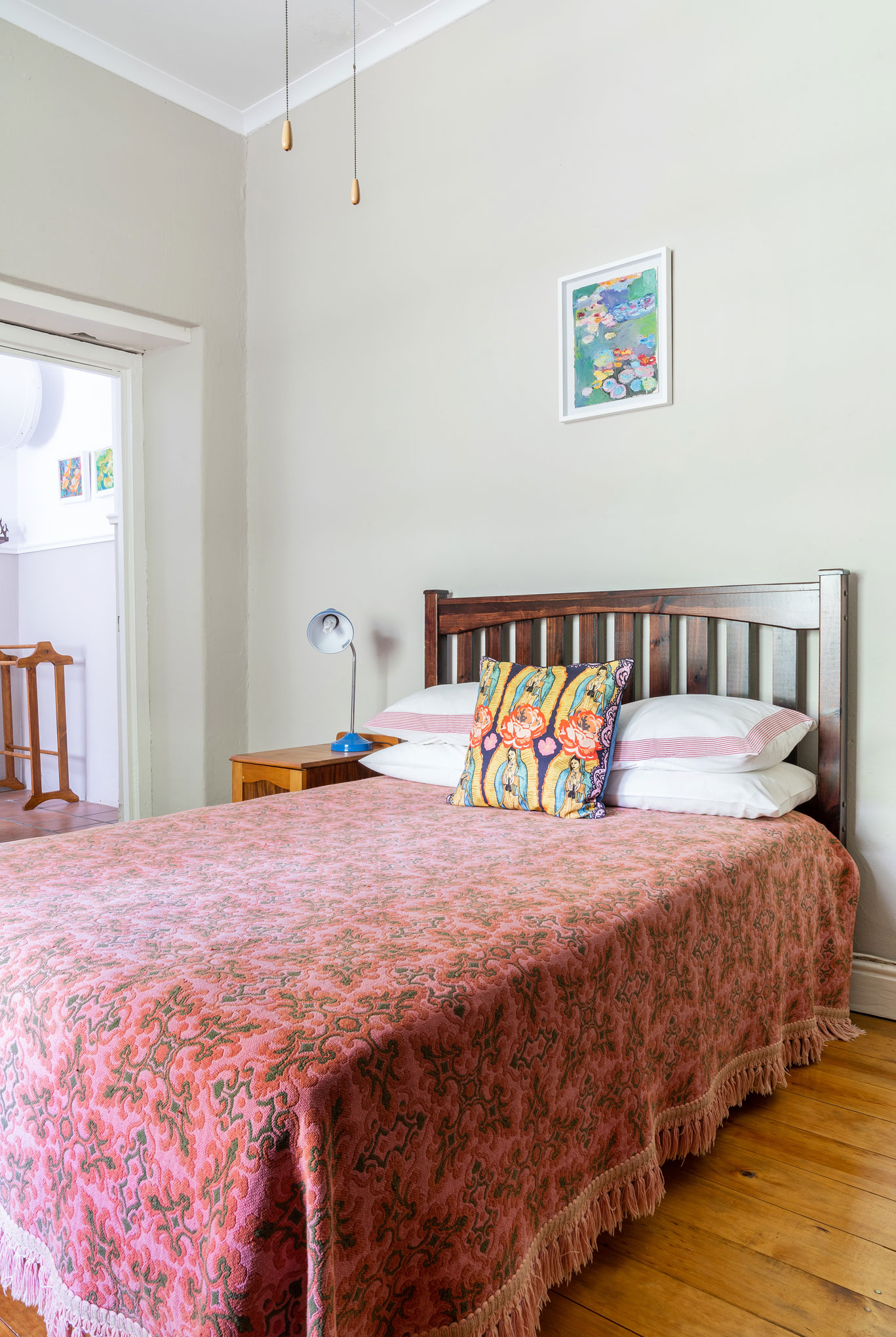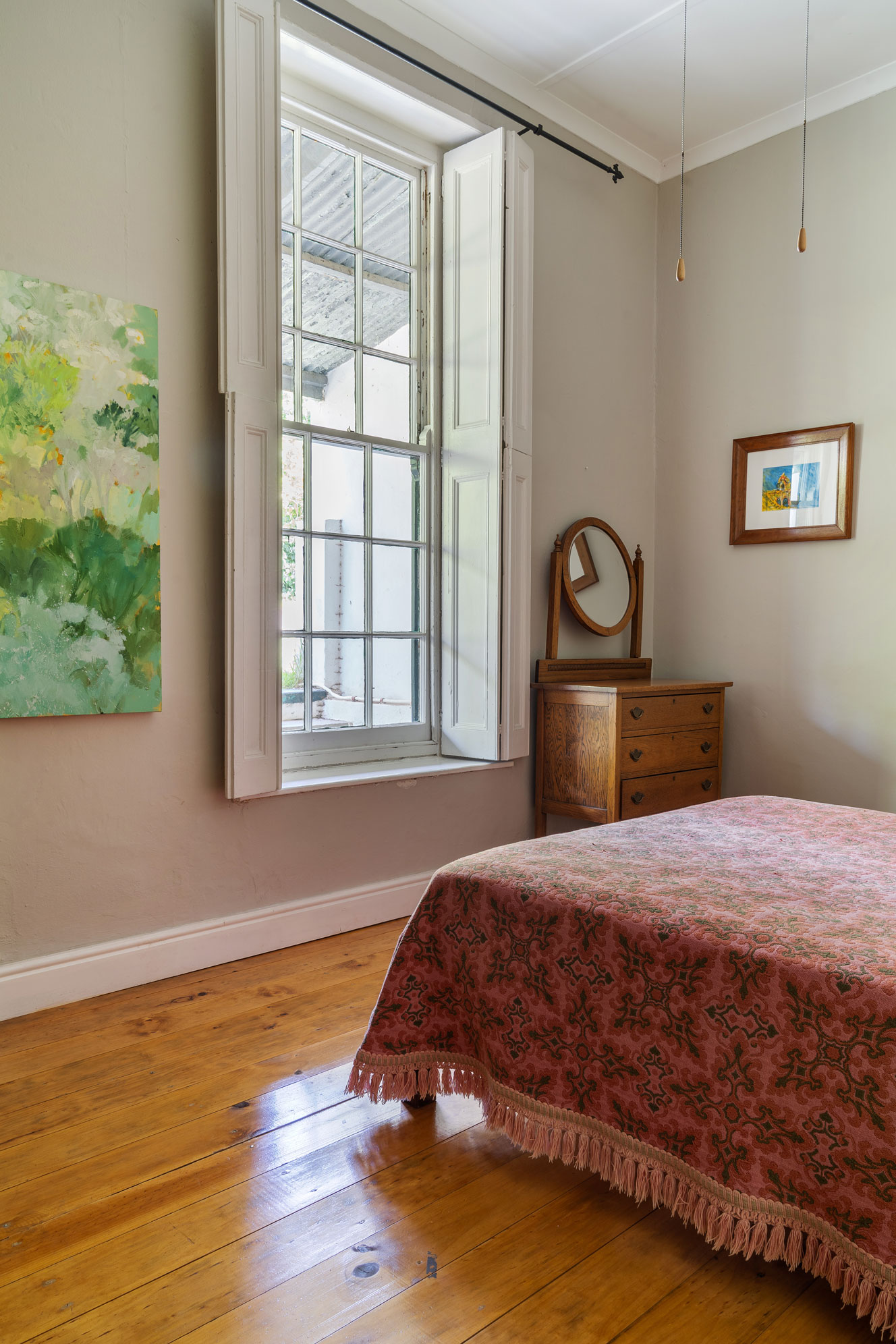 Mark mentioned that you've lived here for four years. How did you find the house? What inspired you to move to the countryside?
"Well, it wasn't just a simple move! Mark sold his business and decided to take some time out and move to the country. I was less than keen and felt very resistant to moving away from my studio and community. So he chose a town that was close enough for us to be able to spend weekends together either in the city or the country. We went house hunting together and when we saw this house and garden, we both fell in love. On weekends here I found that I never wanted to leave! I lasted eight months in the city before I moved here for good. The whole event was really good for our relationship too, giving us space and autonomy to make our own decisions."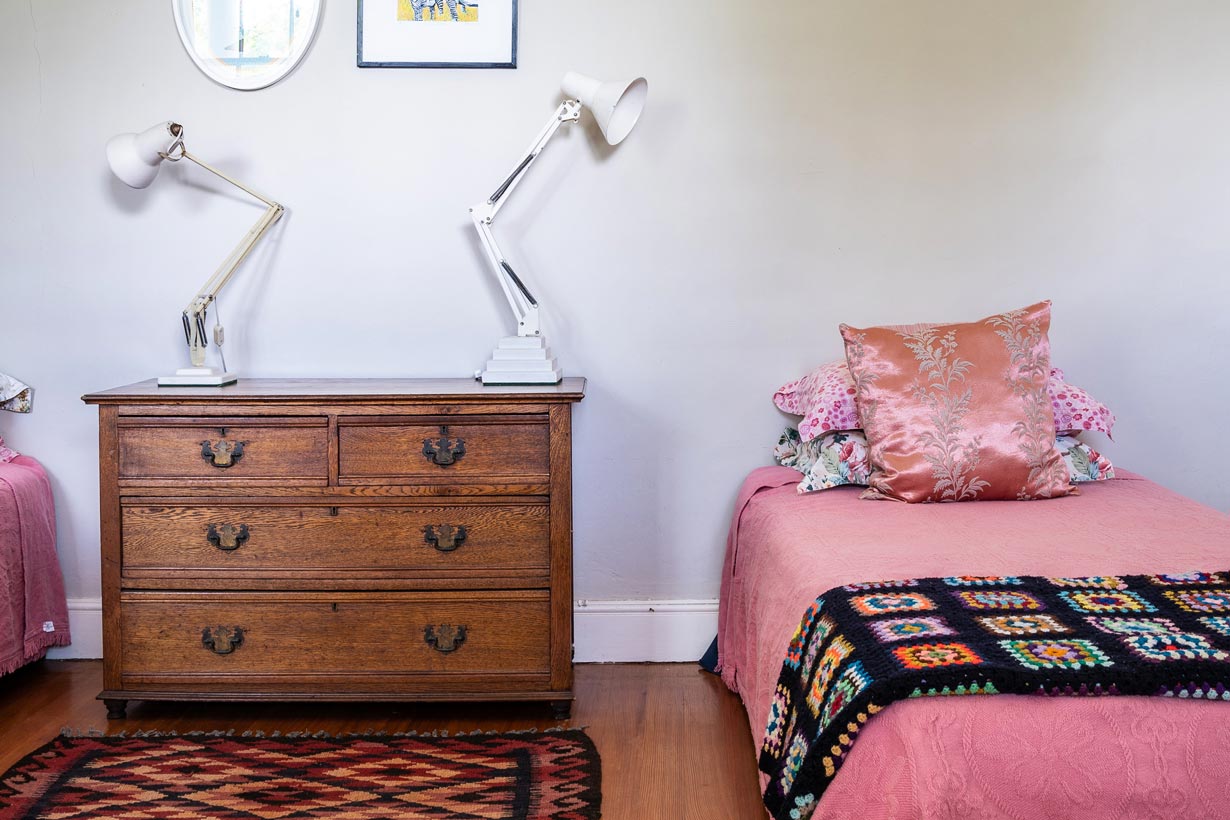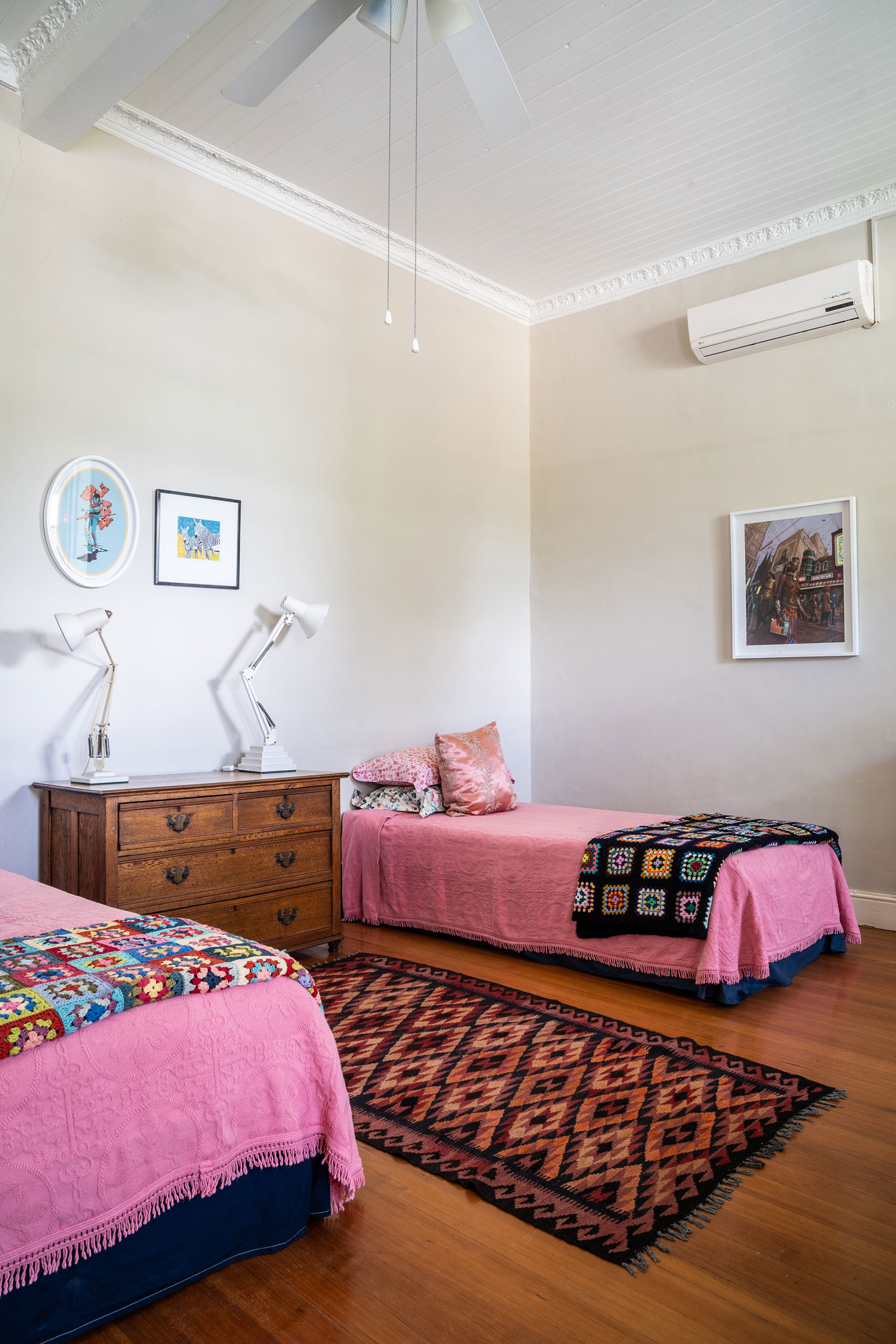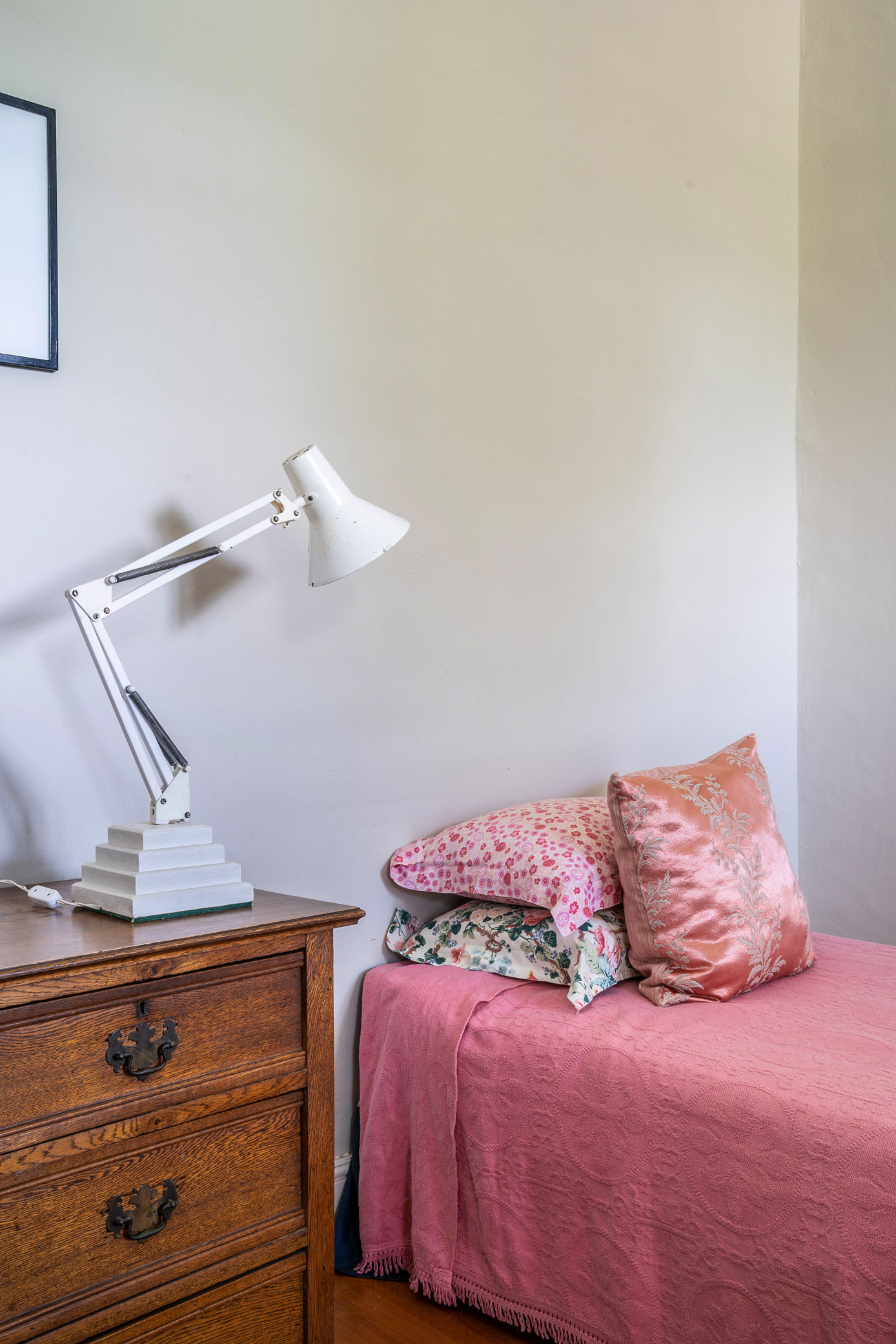 How do you and Mark manage your combined styles in the decor of the house? Do each of you have an aesthetic you follow or emulate?
"Regarding decor, Mark and I have always had the philosophy, that if we really like something, it will fit in. And over thirty years of homemaking together, this has proven to be true. Ours is an eclectic mix – Mark loves a mid century modern aesthetic, and he has an eye for quirky detail. I'm a fan of the comforting effect of soft furnishings. We both collect art and have our own distinct taste, yet somehow it all hangs together."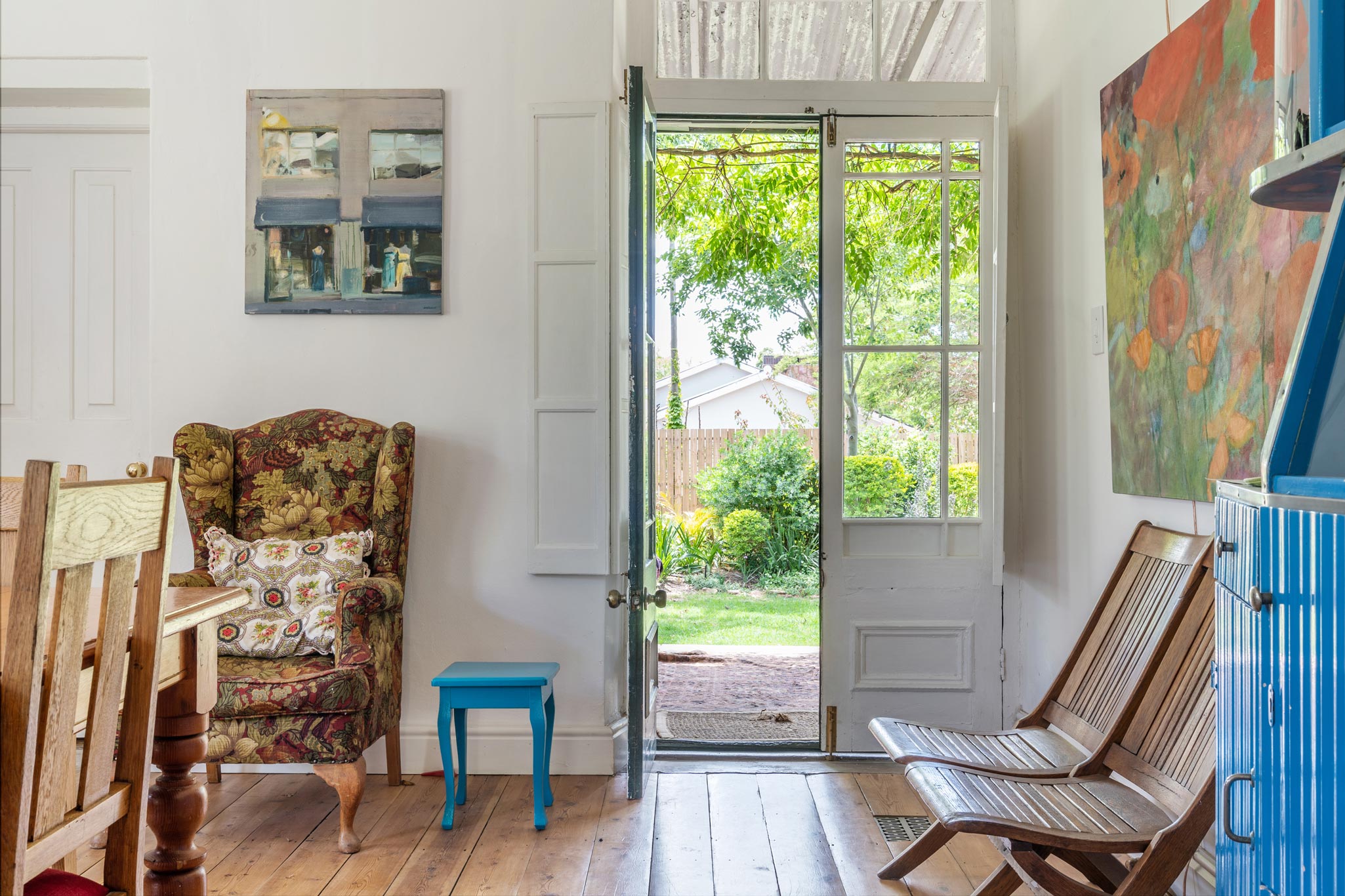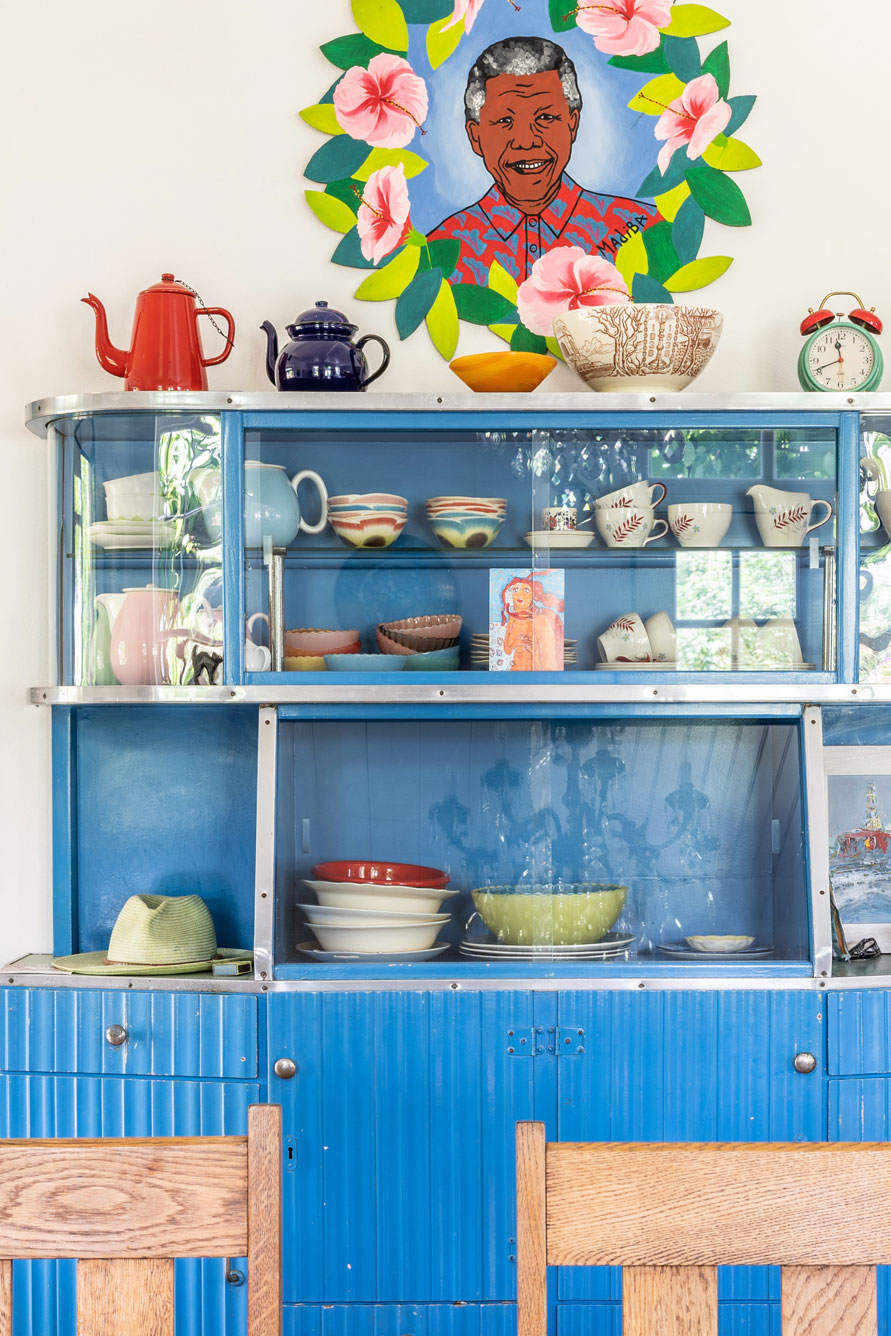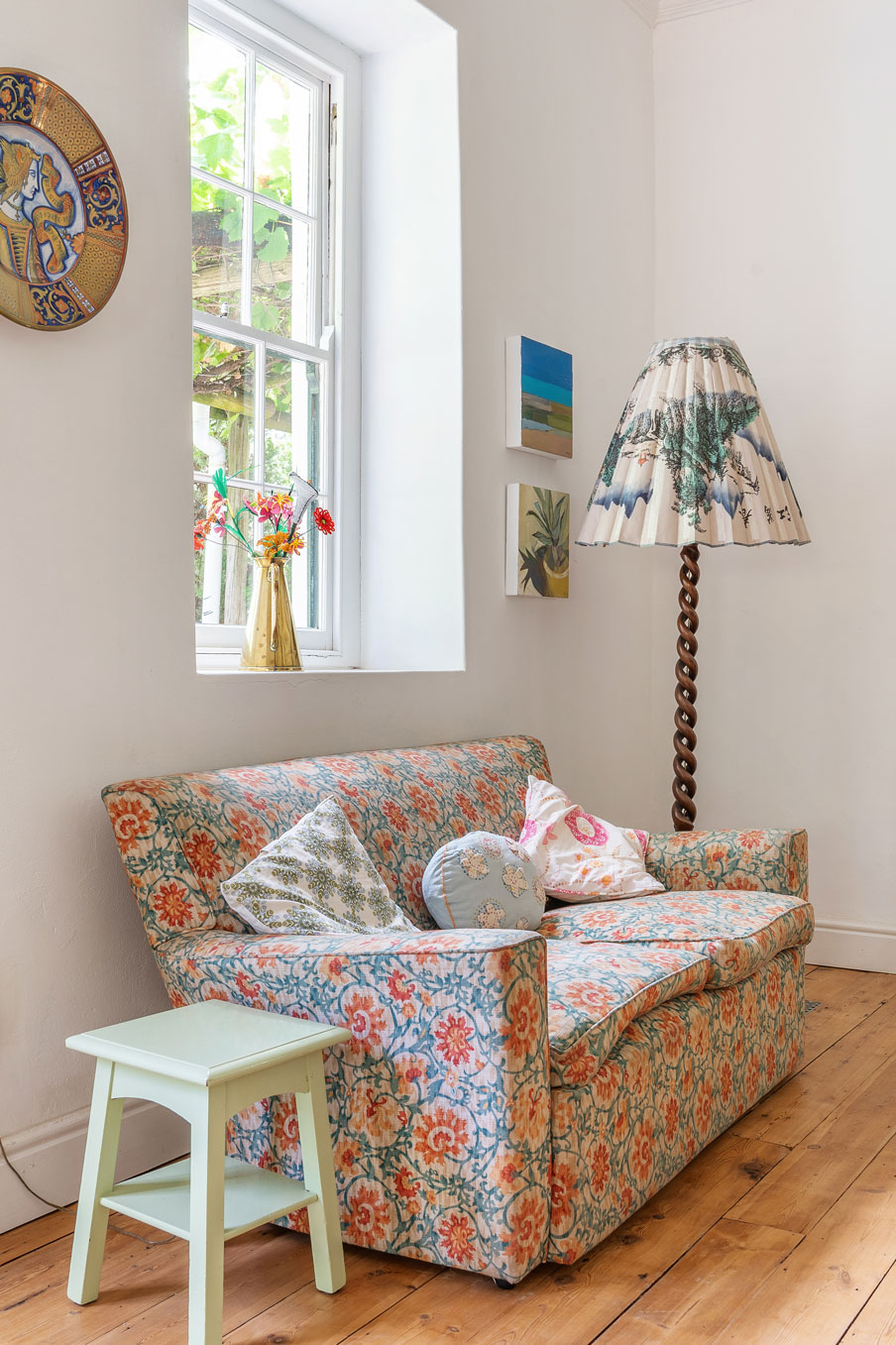 You have such a wonderful art collection – Mark told us plenty of it was exchanges he did with artist in turn for a website. Do you have a similar stories of exchange?
"Yes, most of the art that I own has been acquired from fellow artists, usually by exchange."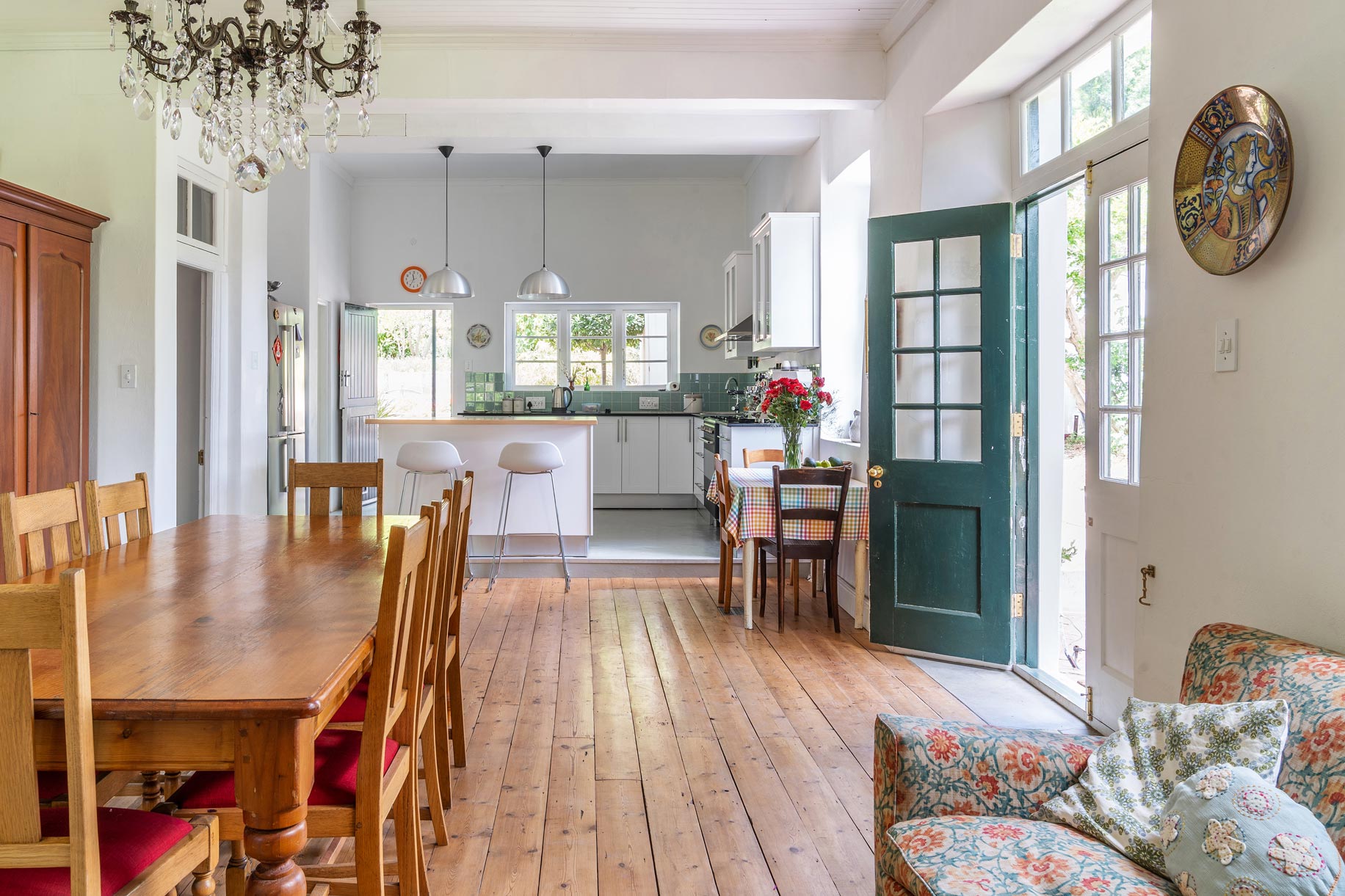 Do you at times – if ever – suffer from the so called "fear of the white canvas" or a period where creative inspiration is low? If so – how do you get yourself out of that?
"Yes, definitely. I have suffered from artists block to varying degrees. When it's bad it can be very frightening. I have developed many strategies to remedy the block, some of which are: Writing morning pages, going outdoors to draw or paint, going sketching with a friend, listening to a podcast while painting intuitively, doing pranayama breathing before starting to work, tidying the studio. Essentially, one has to drop the idea of a desired outcome and just show up at the easel."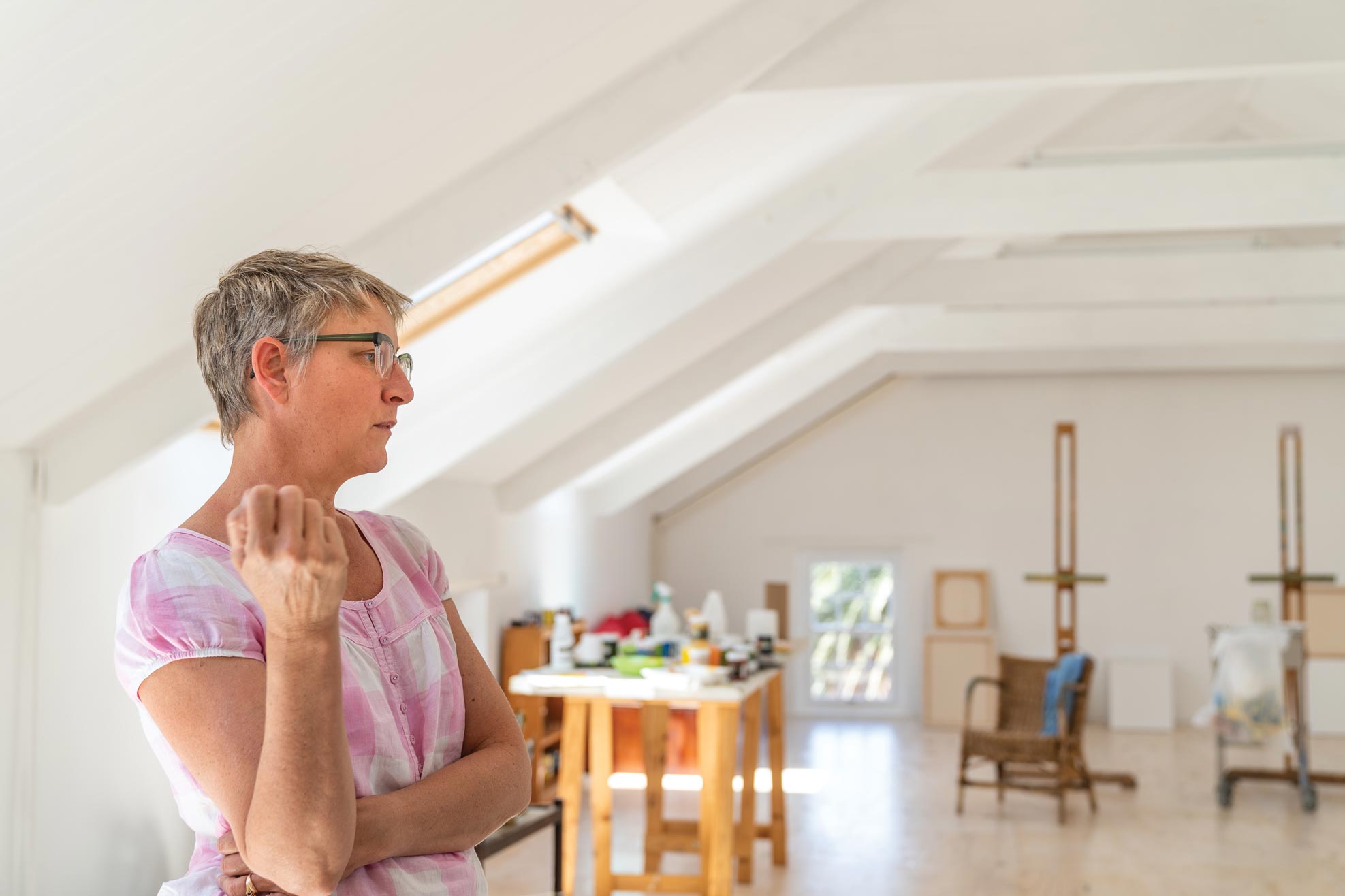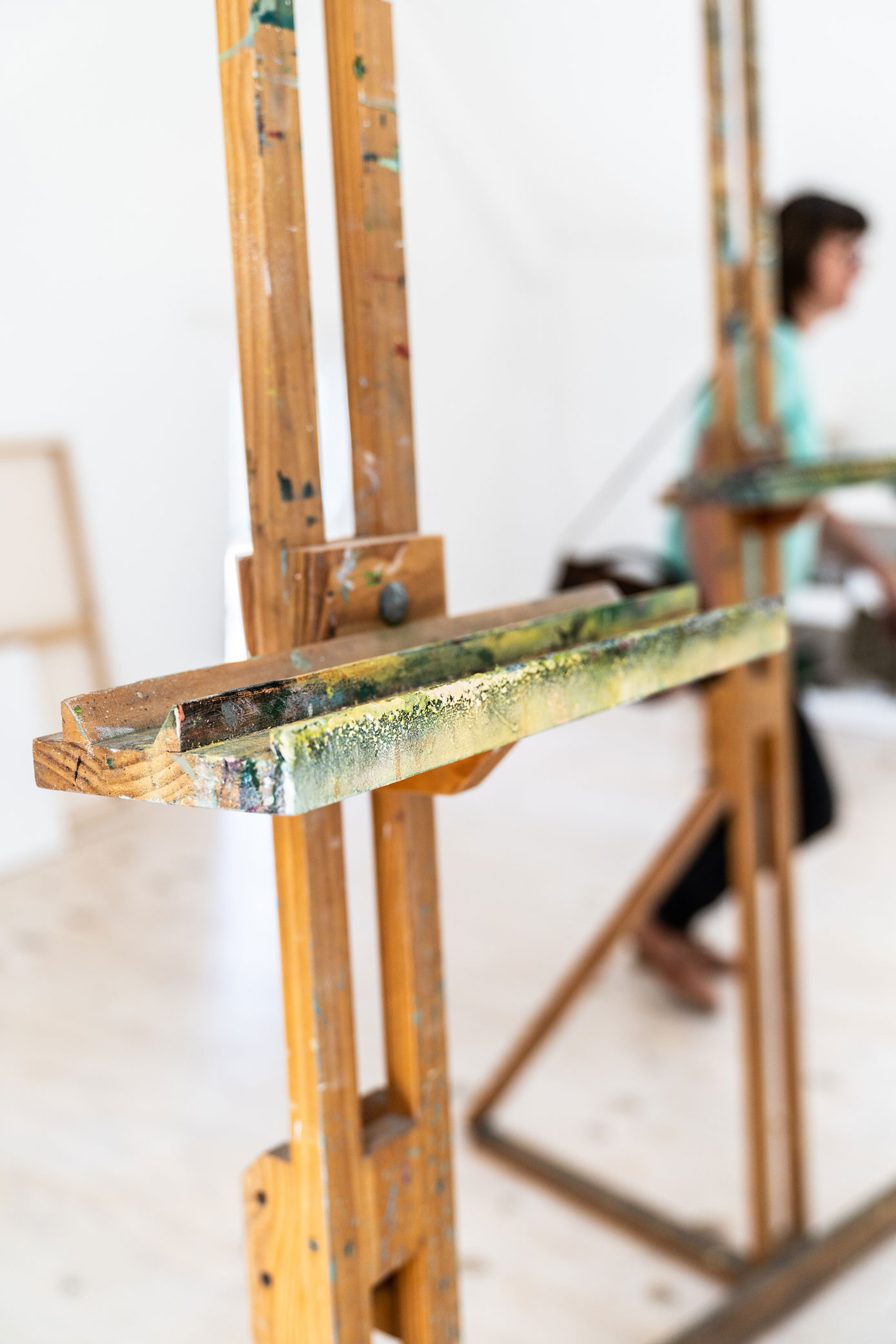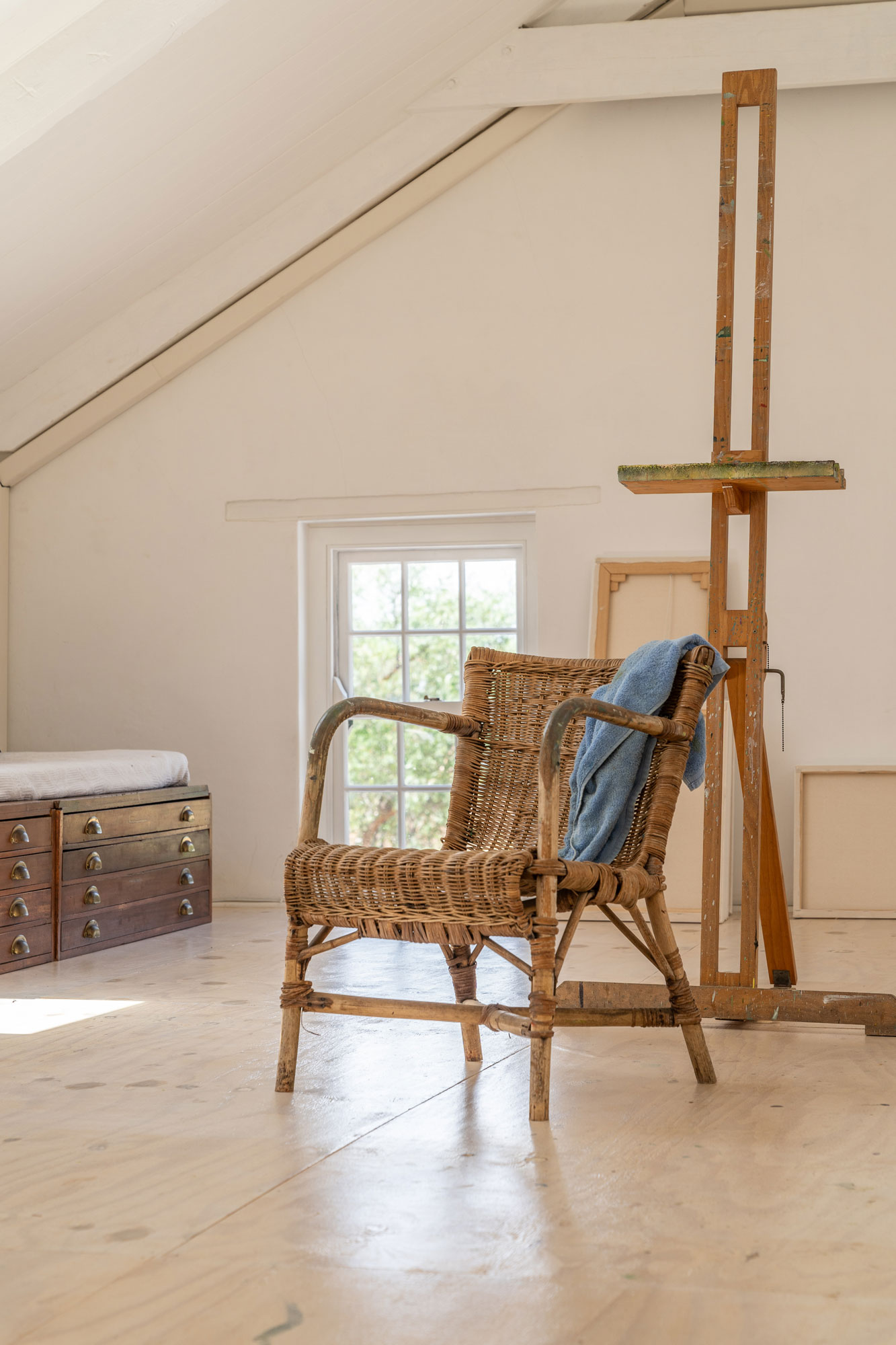 Have you ever done a piece that you have a deep connection to and as a result have found it hard to let go or to sell?
"I love it when my work finds the right home, so I seldom keep paintings. The paintings of mine that we have in our home are owned by Mark. Sometimes, if I make a breakthrough in a painting, I keep it for a while to learn from it."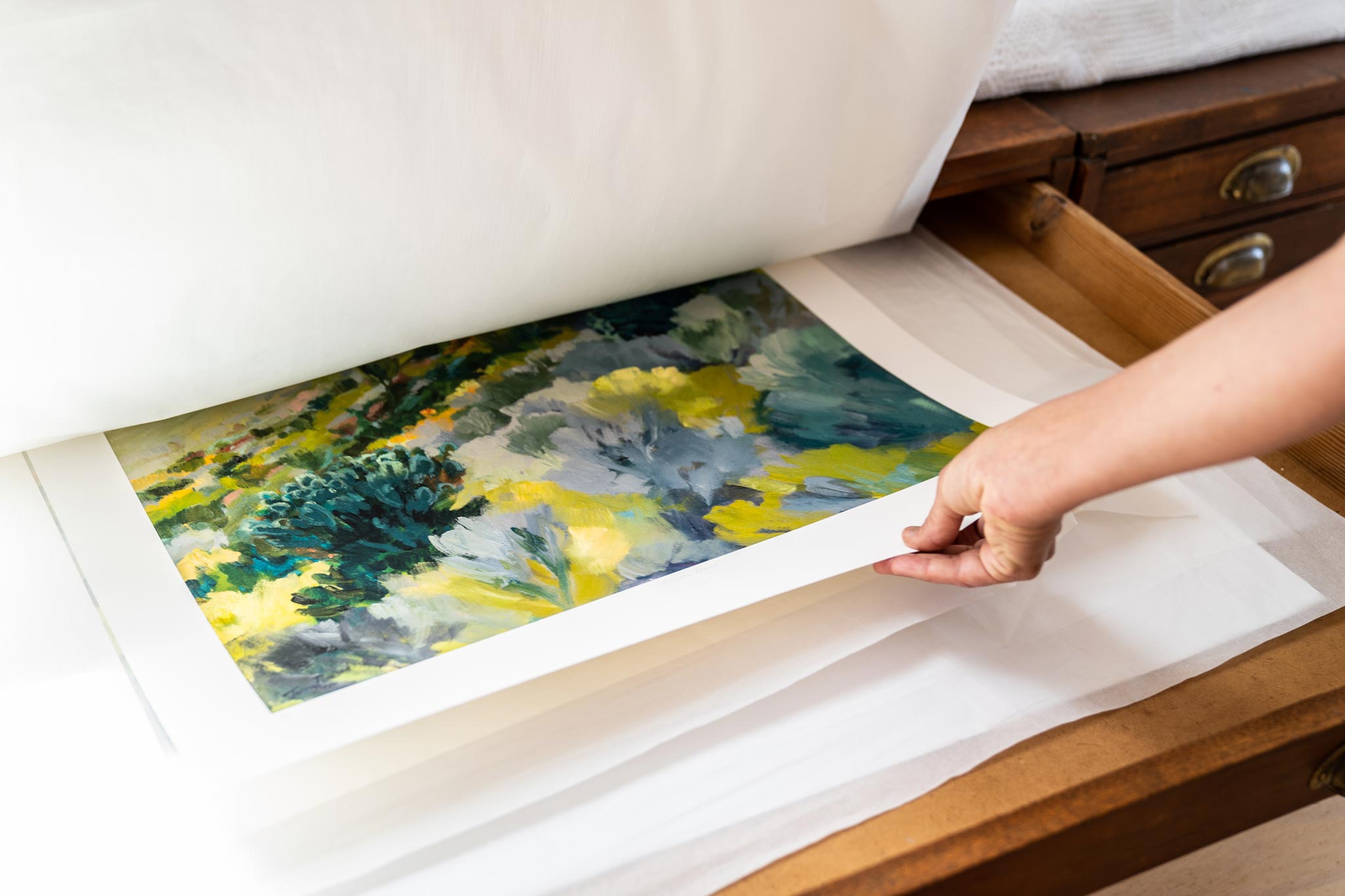 Do you have any words of advice for someone who'd like to pursue their own creative endeavour?
"Keep the faith and keep making. No one can do it the way that you do, so be inspired by other artists, but don't copy. Be prepared to work hard, at both your creative output and building your business."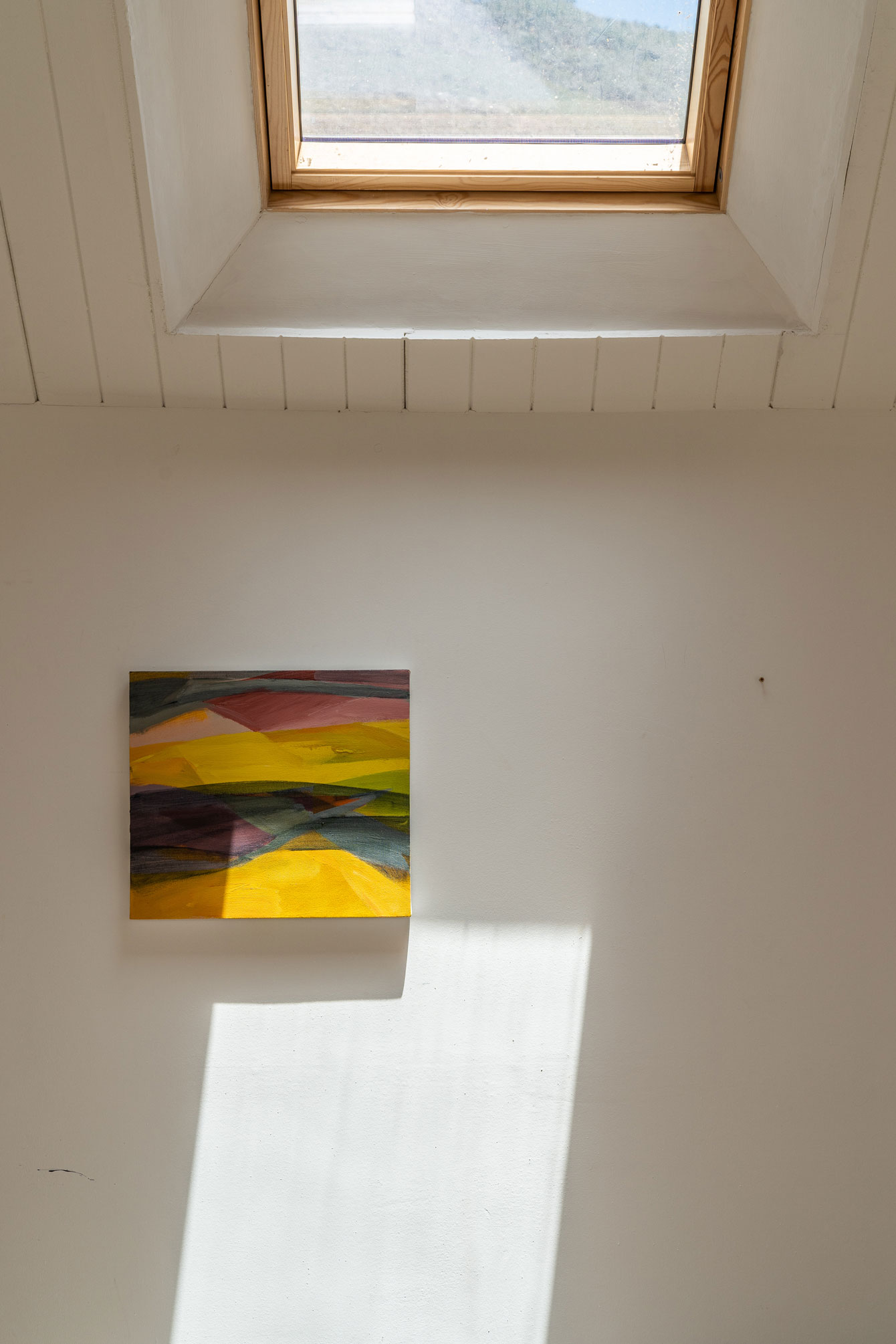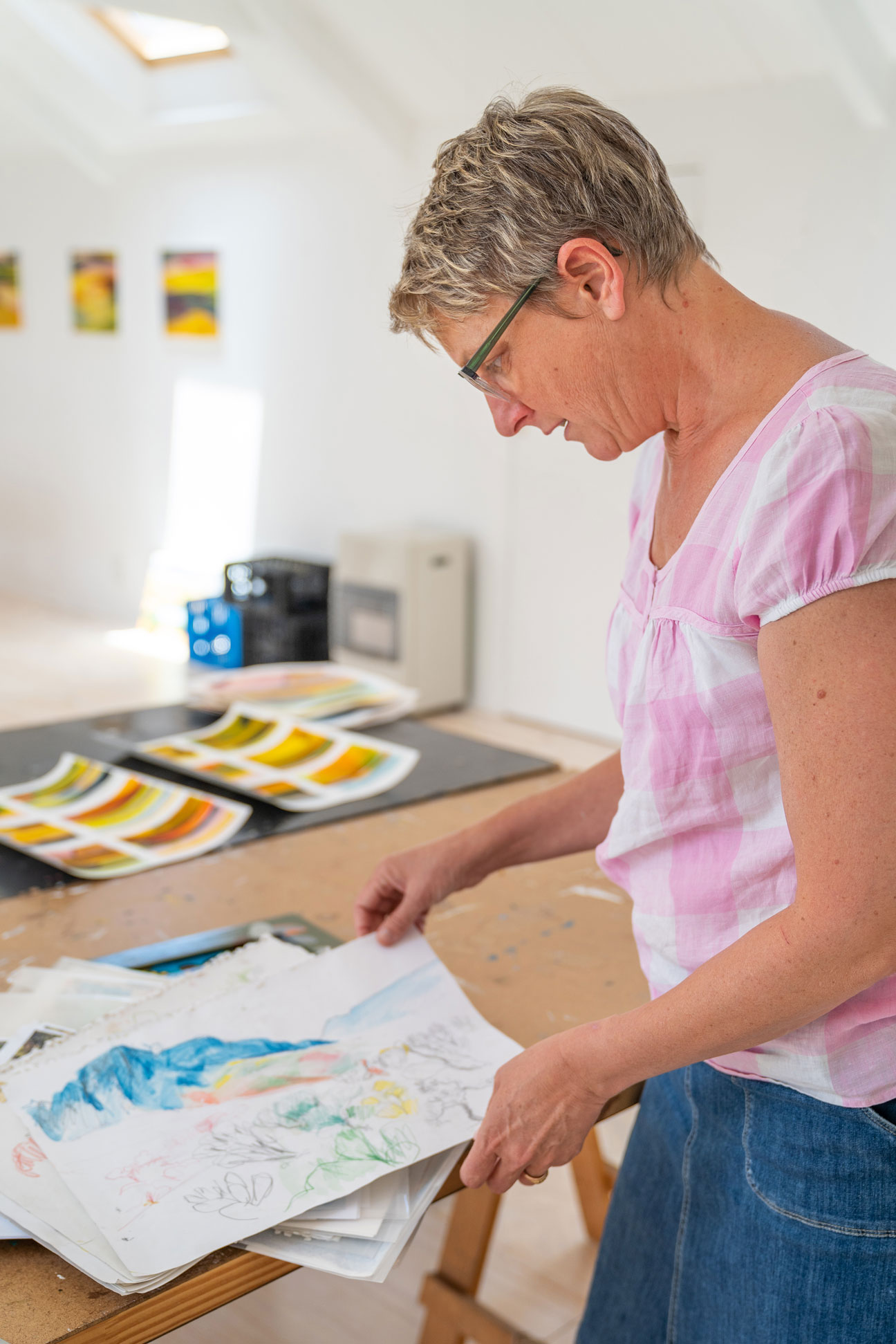 Tell us about your latest exhibition – where can we see it?
"I've just finished an exhibition at RK Contemporary in Riebeek Kasteel. There are some pieces still in the gallery."
Do you have any future exhibitions coming up or happenings you'd like to share with us?
"My next showing of work will be at my studio during the Solo Studios event in the Riebeek Valley in August, 2019."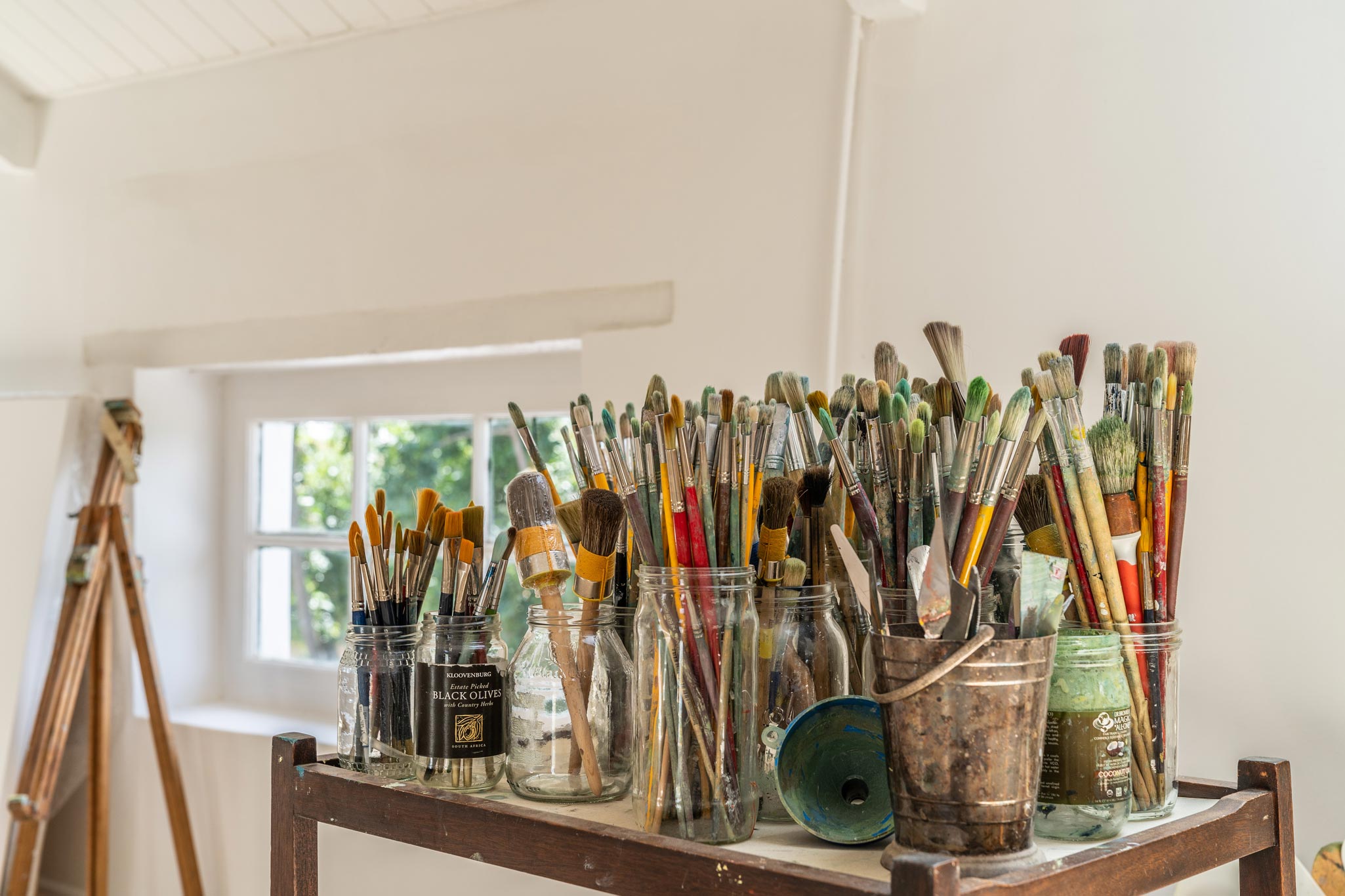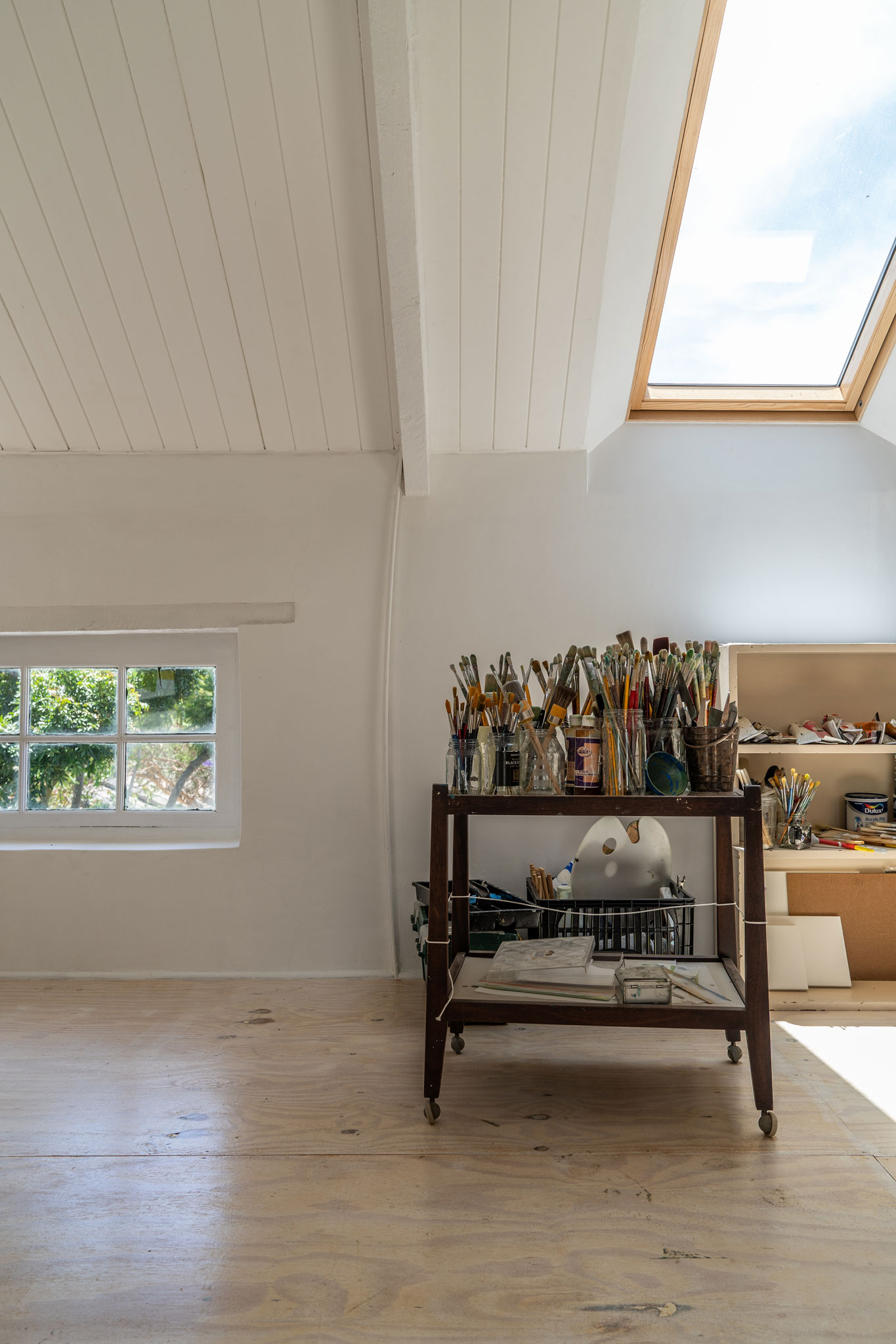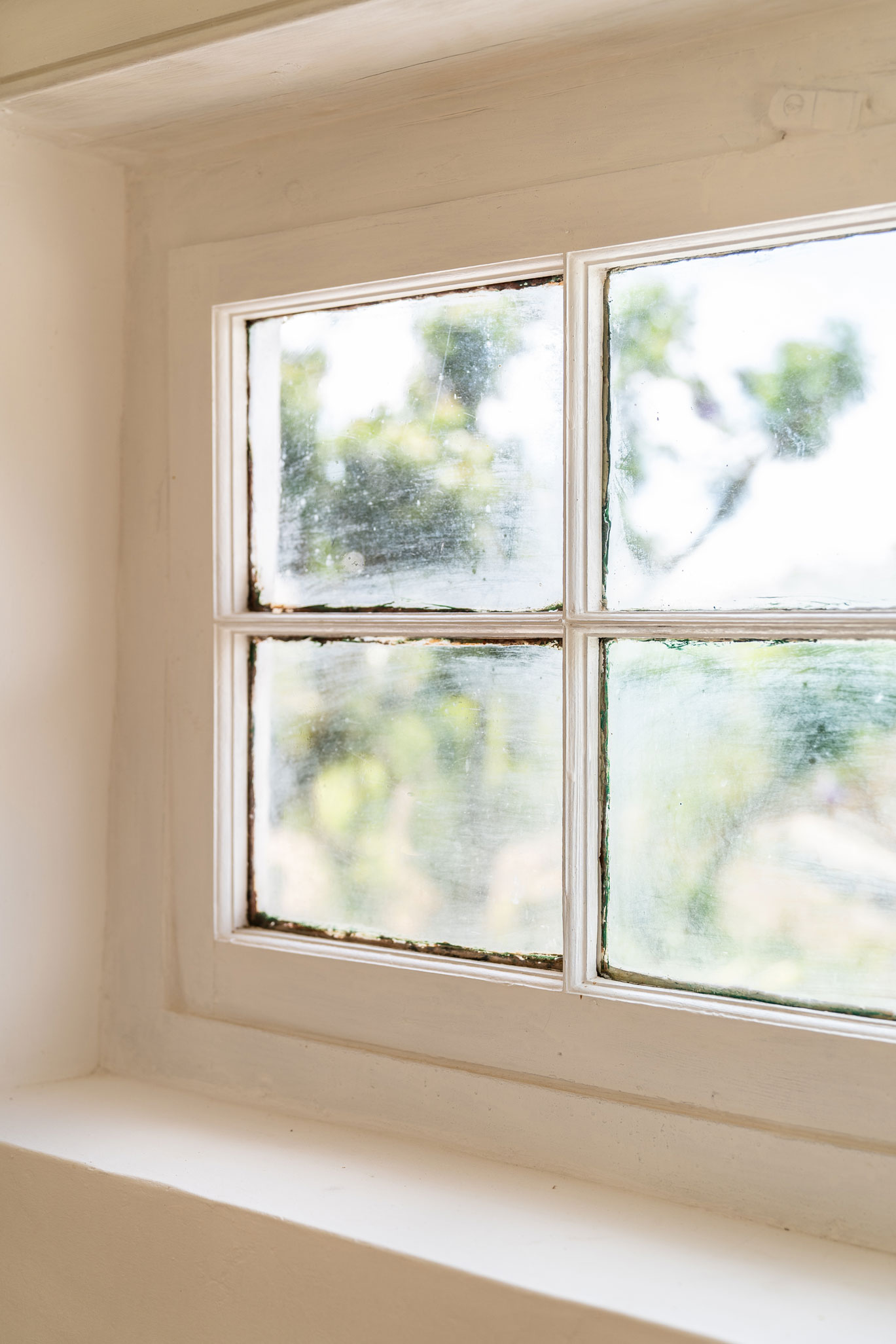 Name your favourite spots in the Western Cape for:
Breakfast or coffee: "Beans About Coffee, Riebeek Kasteel."
Spending a hot summers day: "Under the umbrella next to my pool."
Spending a cold winters day: "Fireside with a good book or my crochet."
Finding inspiration: "Books on other painters."
A night out with friends: "Thursday nights at Harrington's Cocktail Lounge for music and dancing."
If you'd like to see more of Jenny's work, you can visit her online gallery at jennyparsons.com. She also has a beautiful collection of archival prints available for purchase on jennyparsonsprint.com.
Energized by stories from creators?
Sign up to the newsletter for inspirational conversations with founders & creatives in their spaces.