Maria Jivung, on staying true to your artistic values and the importance of nature on our wellbing
I first discovered Blossom when they had a small little flower boutique a short walk up my street in Prenzlauerberg. When I looked in to see how they were doing I discovered that their store had moved entirely online. Fortunately the team invited me for a visit at their home studio; a breathtaking Altbau in Wilmersdorf. I spent the morning with their flower stylist Maria Jivung, chatting about the poetry of flowers, the value of nature and following your creative gut.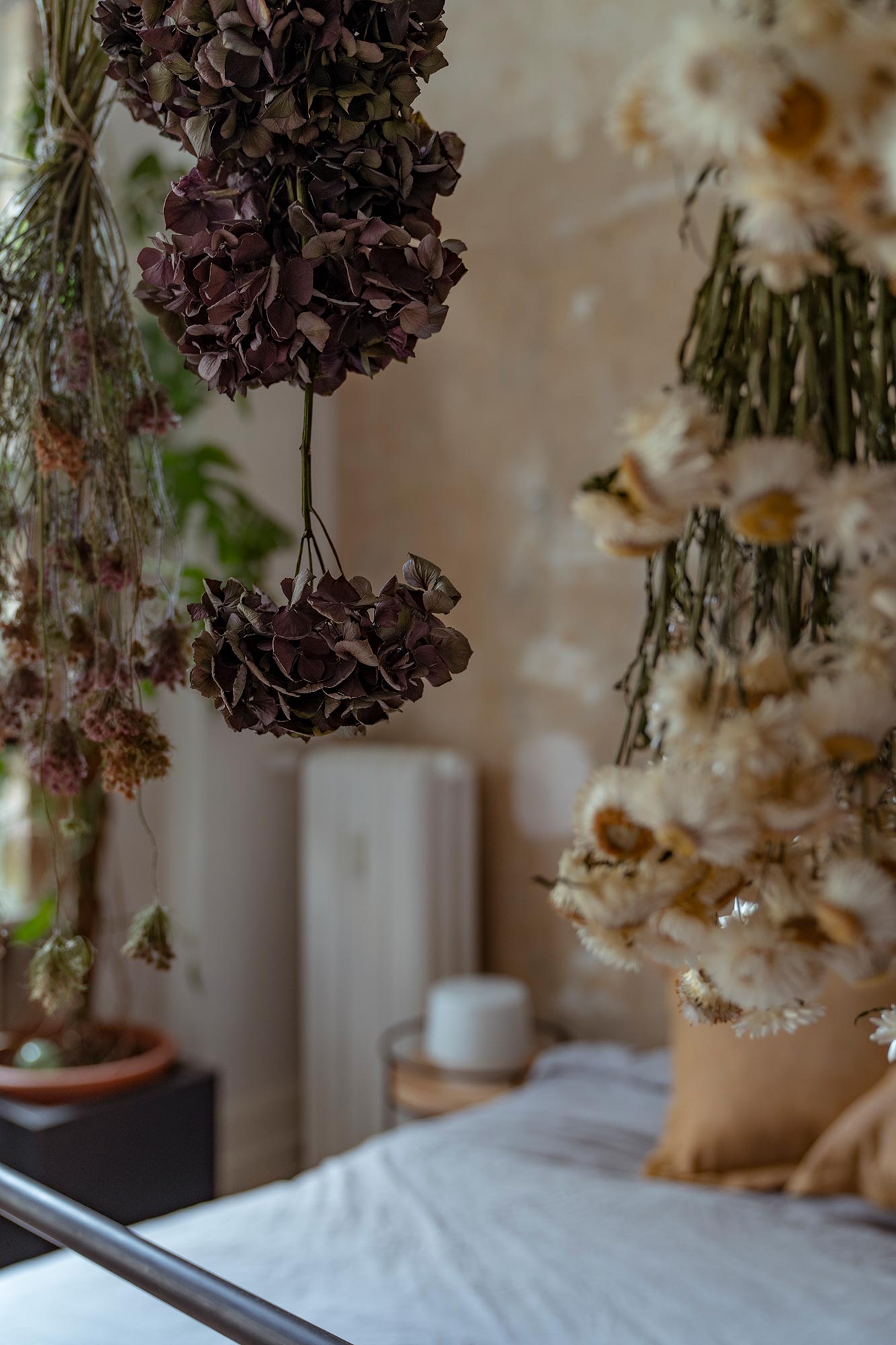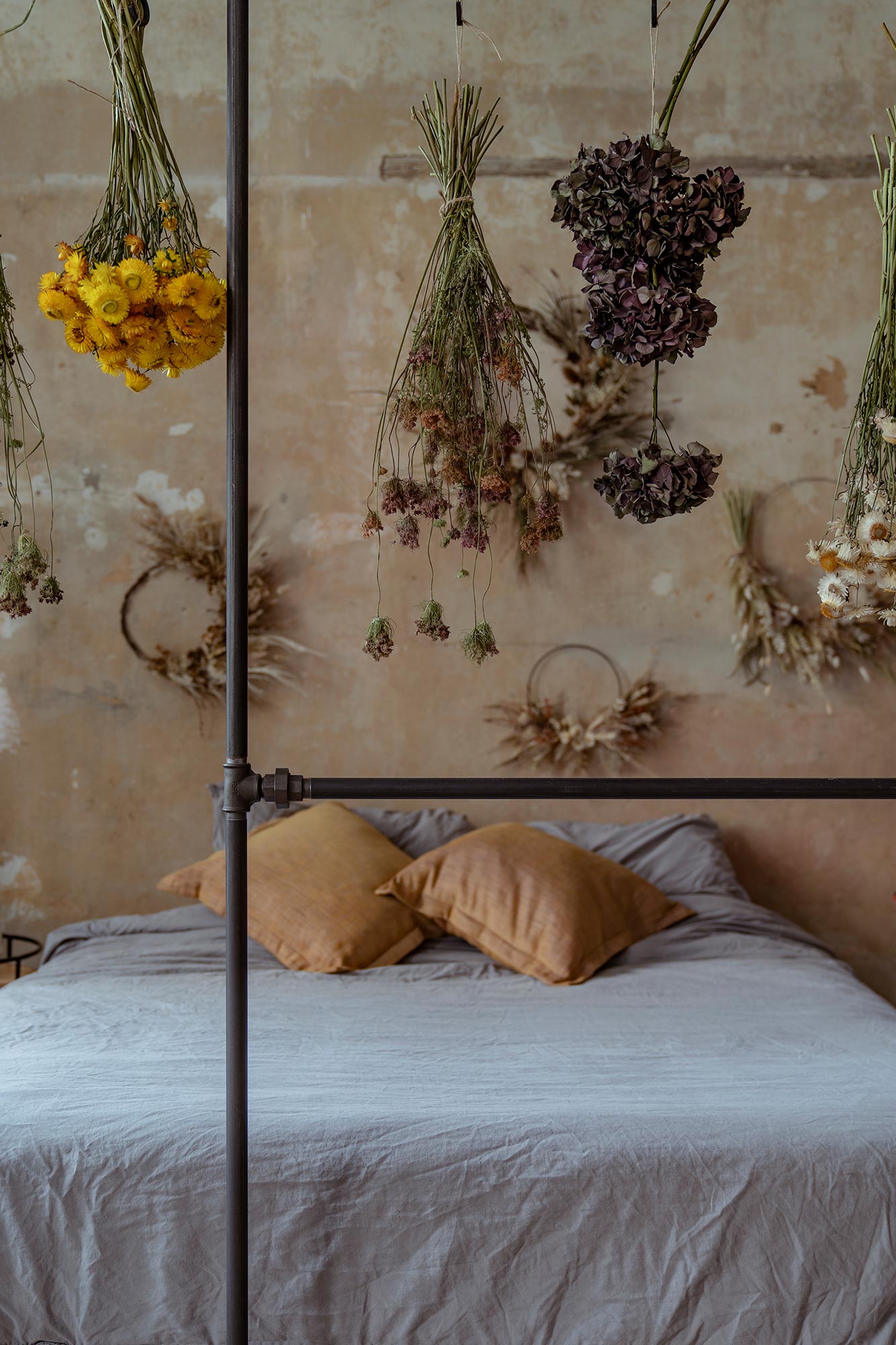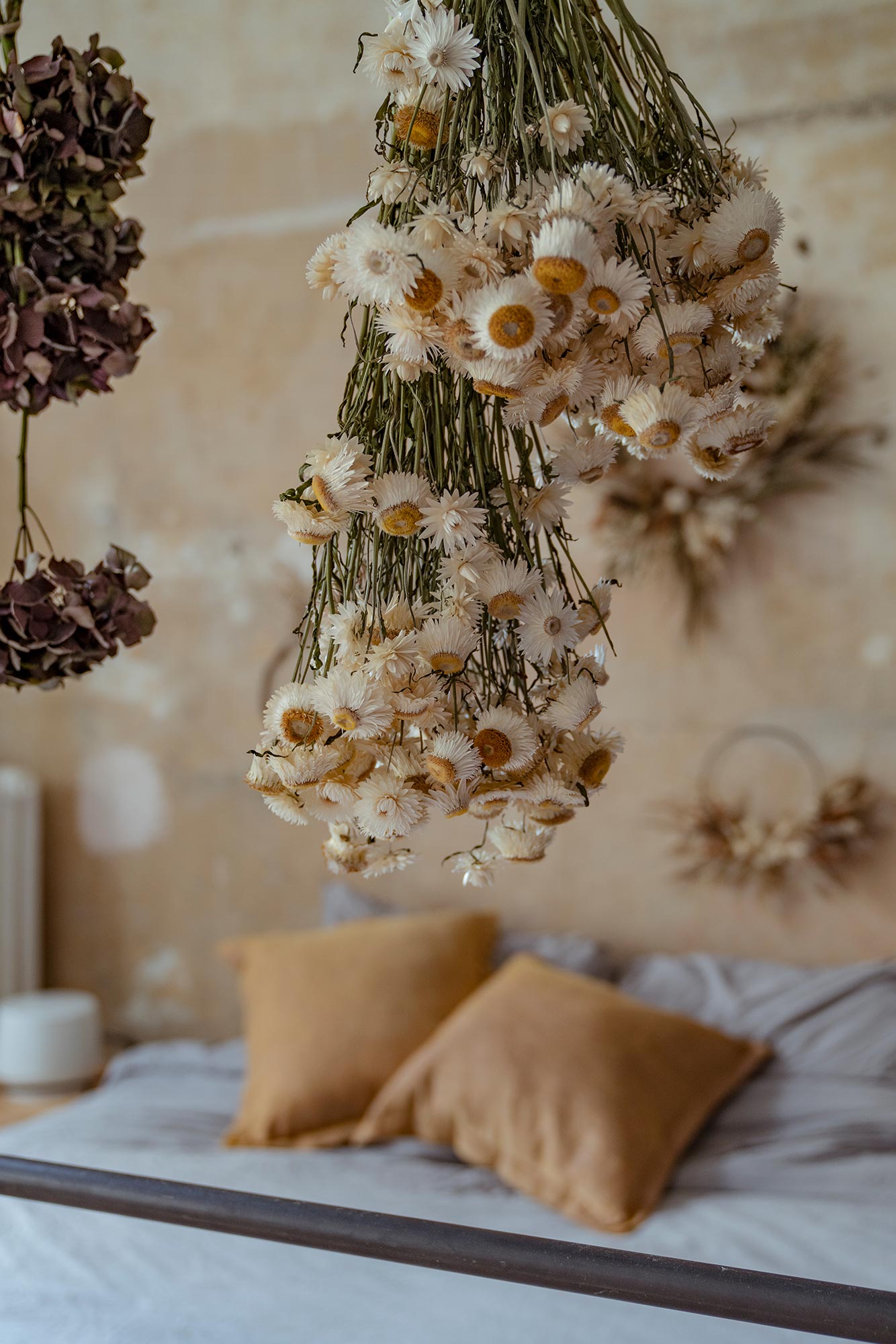 Hey Maria. Tell us, how did you get into flower styling and working with Blossom?
"I've always been into flowers as long as I can remember. When I was only a few years old I went out in the garden making tiny bouquets. My mom used to read out loud from a flower dictionary, so I learned a lot in early years. I also got into fashion and was working in that field for many years. The last semester of my studies I got a strong desire to work with something creative and my interest for flowers just grew so when I moved to Berlin in summer 2018 I decided to give my passion a chance. After two weeks in Berlin I got a text from my best friend, she found an add on Facebook. Blossom by Hausklinik were looking for staff members and I remember my heart was beating super fast. I started to sweat that's how excited I got! I wrote them and that was the start of something new. Not only did I find a company that resonated with me in so many ways, I also found my Berlin family. I will always be grateful for this"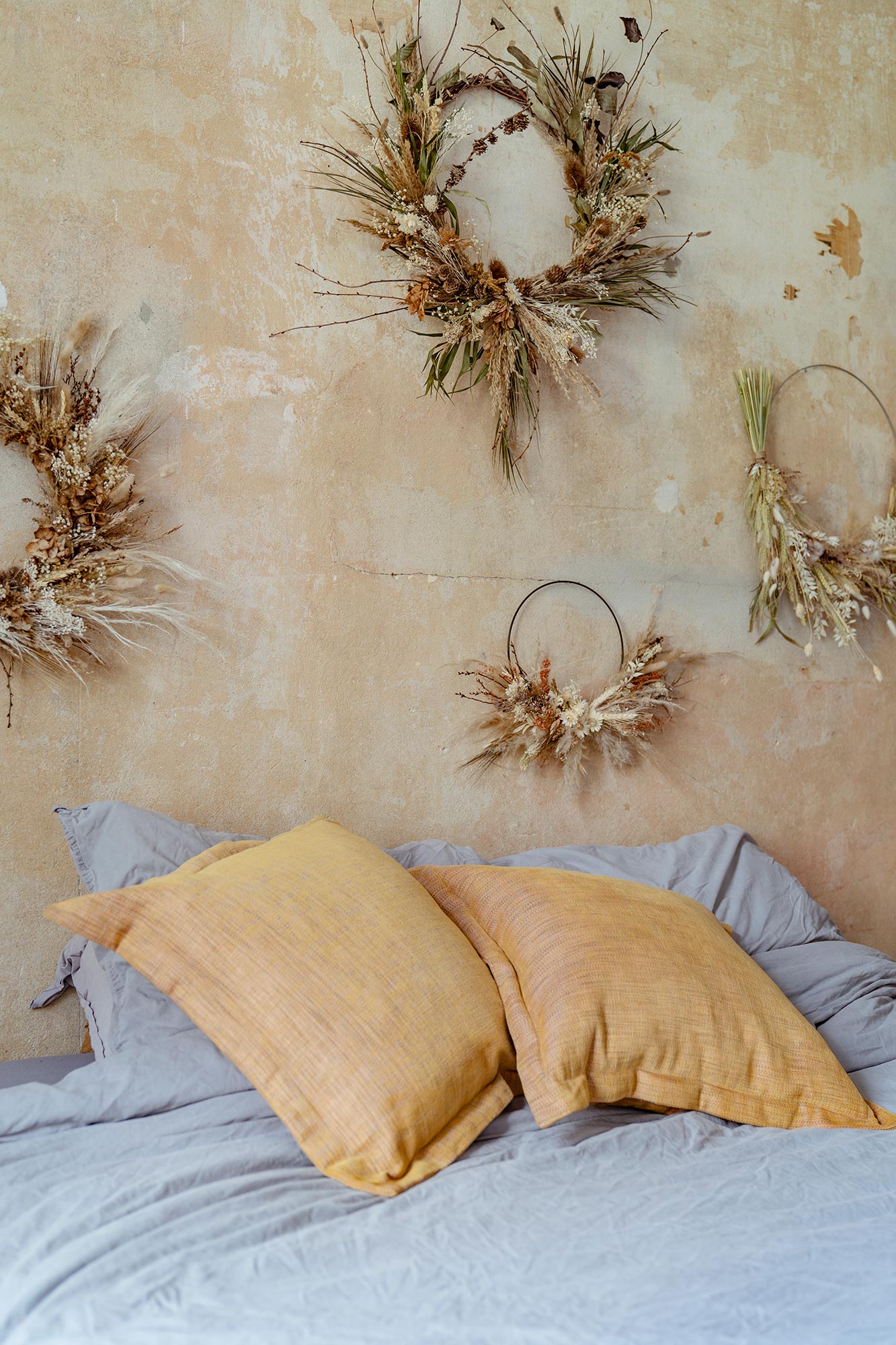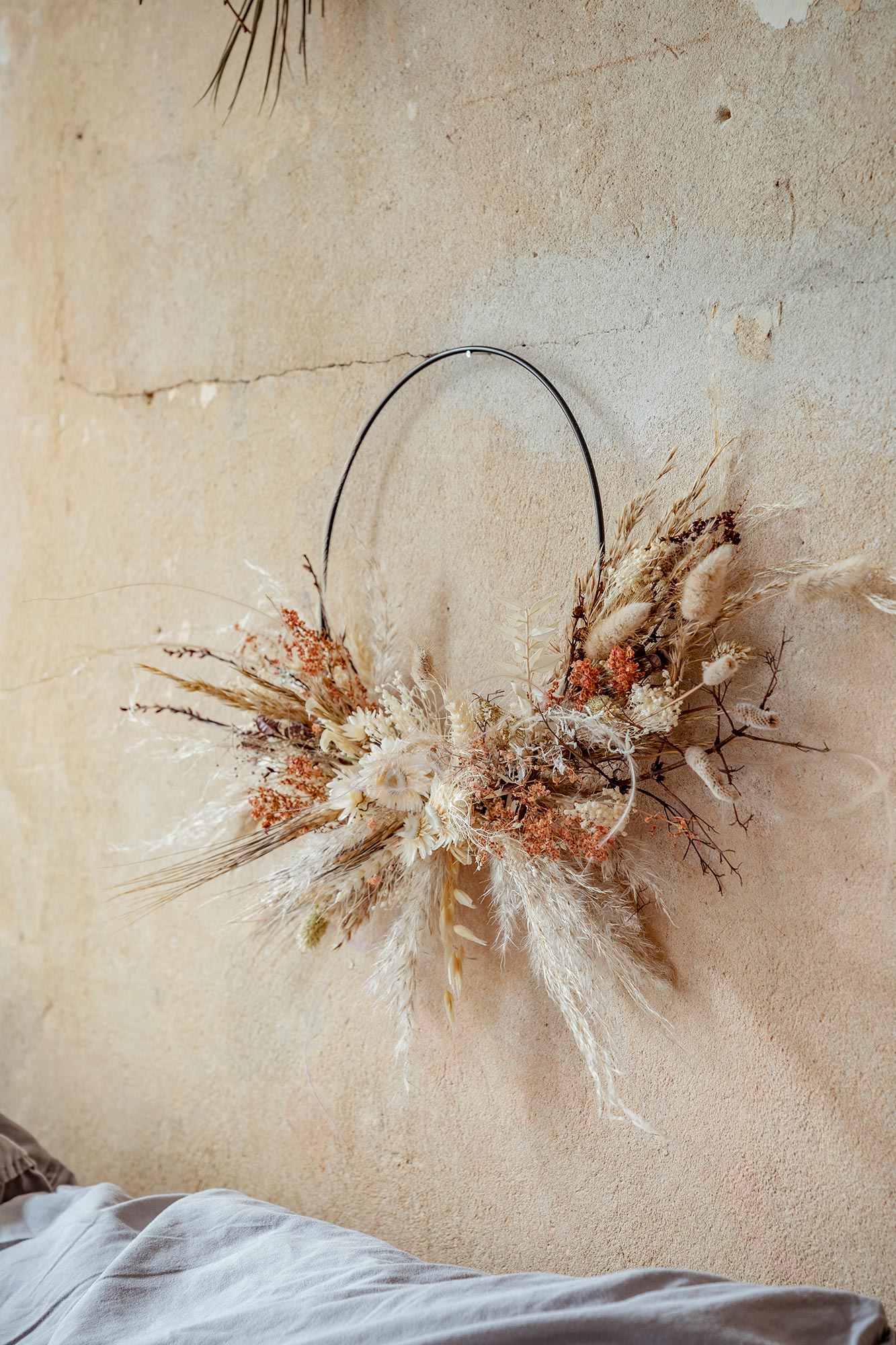 Why do you prefer to work with dried flowers?
"First of all dried flowers are more sustainable than fresh. I've had days when I felt stressed or sad because we had to throw flowers away. That's how it all started. Instead of throwing them we tried to dry them. All of a sudden we had a very small dried flower section and people were super into it! To be able to make something that people can enjoy for many years is great. Our products, whether it's a bouquet or a wreath, become a part of someone's home, shop or office, and I love that it can be more than just flowers, it's home decoration and you can always choose colors that compliment your home. My place used to be filled with plants, these days I have more dried flowers arrangements, I really like the vibe they create, it's calmer and more sophisticated. "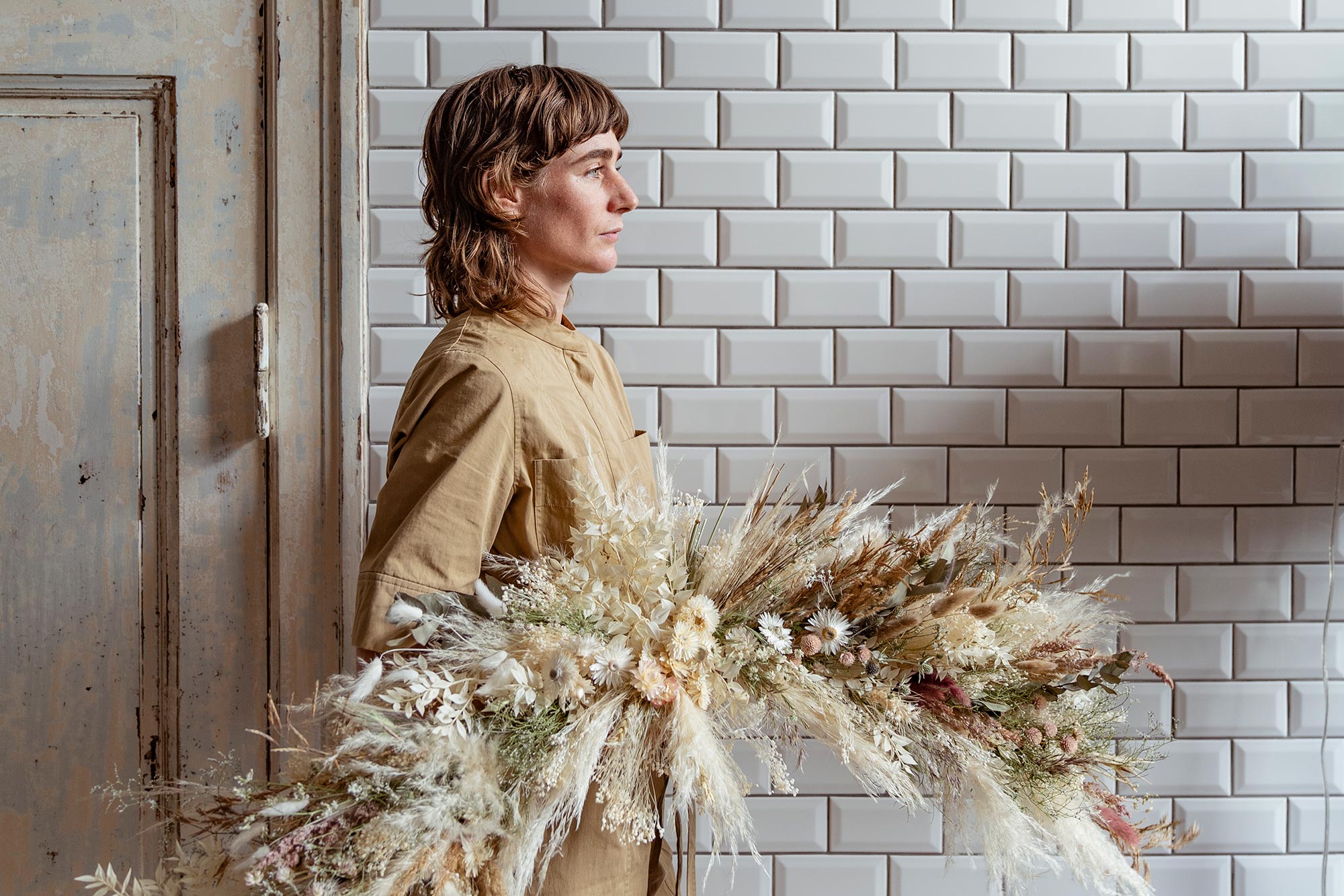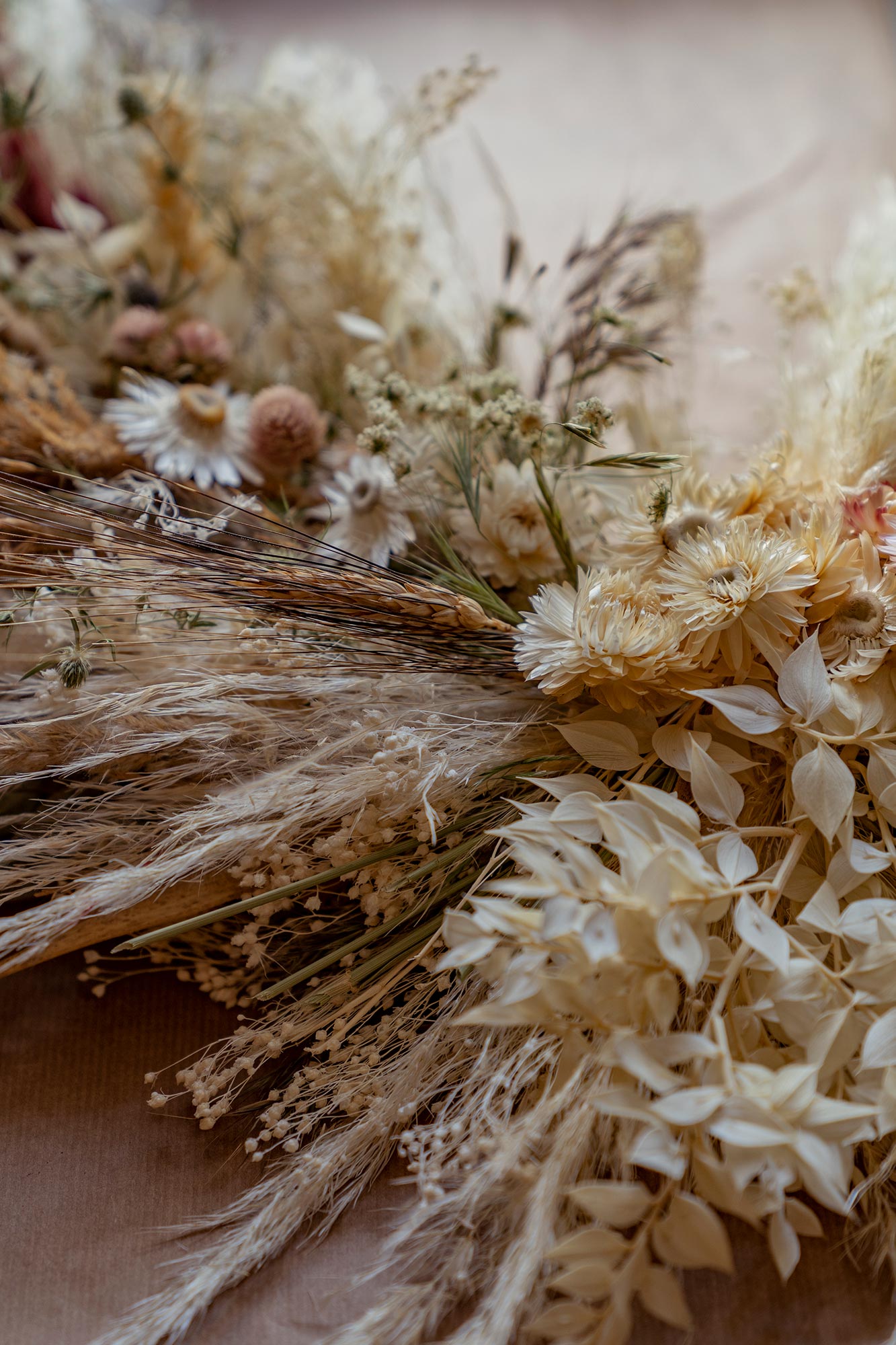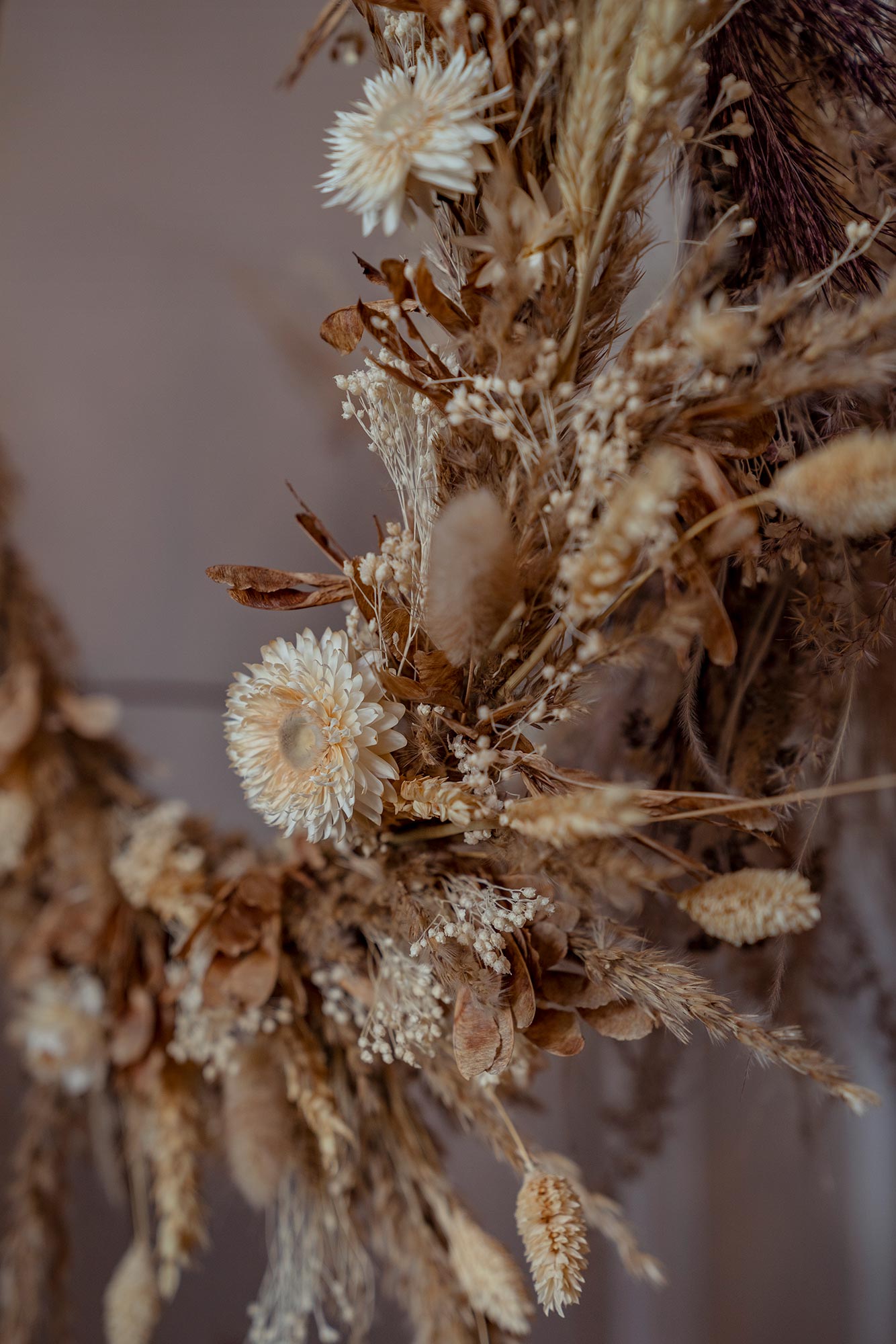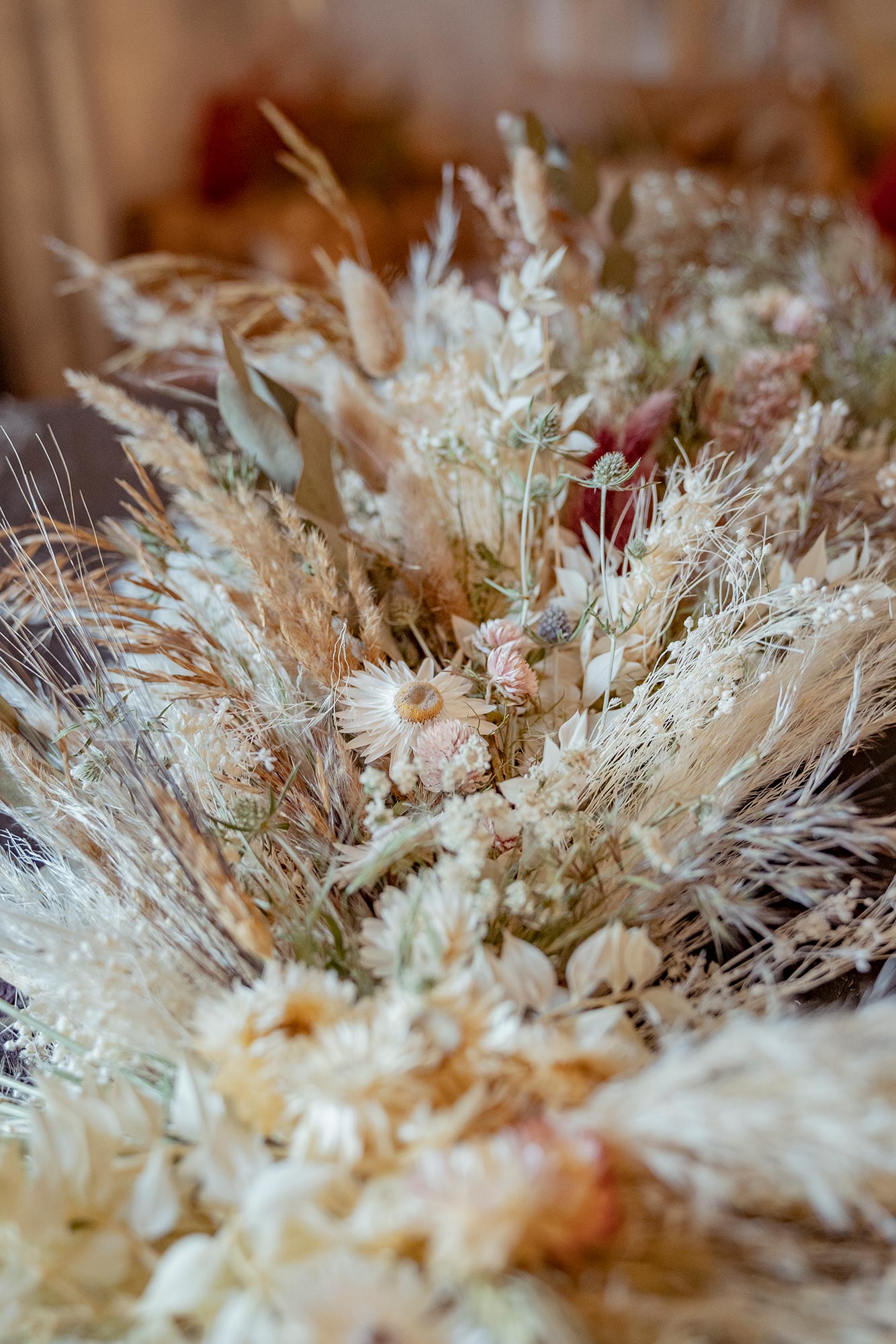 You showed me some older vintage vases. Is this part of your sustainable approach as well? Tell me more about that.
"That's exactly right. Sustainability have always been a big part of Blossoms core values from choosing growers and products to CO2 neutral delivery. And like I mentioned before we always try to have as little waste as possible. Many flowers business throw up to 40% of their fresh flowers away. For me that's just insane. Flower business needs to step up and take more responsibility and try new ways to be more sustainable. Since we did the rebranding we started to take even more actions. Now we have a small vintage collection and most of the products are bought second hand and made in Sweden. These days I have almost zero waste when it comes to flowers. When I make bouquets there's always a few flower heads coming off, these are perfect for wreaths. When I make wreaths I pick up the small petals and we are now making dried flower confetti. Perfect to use as table decoration or at weddings."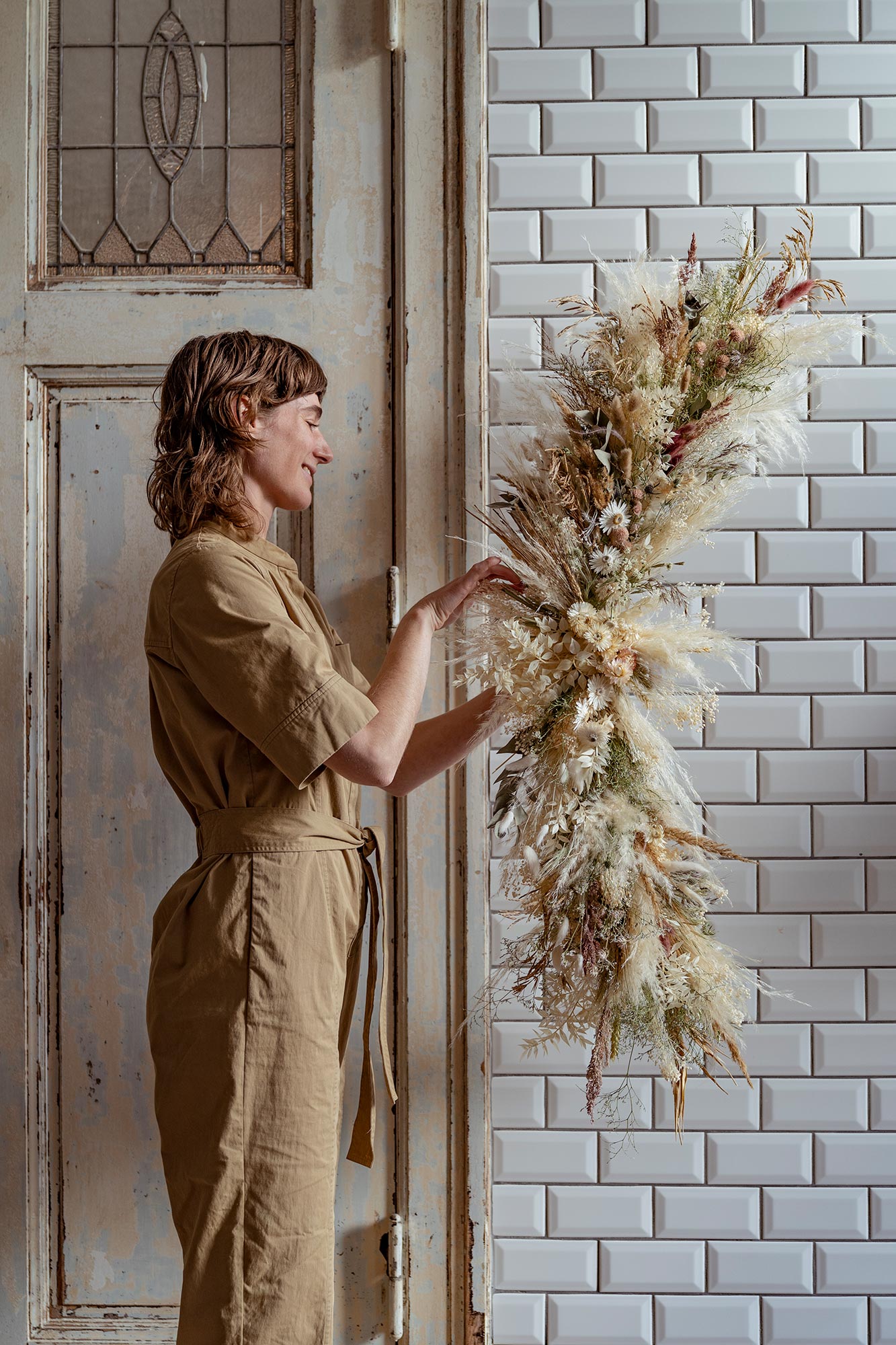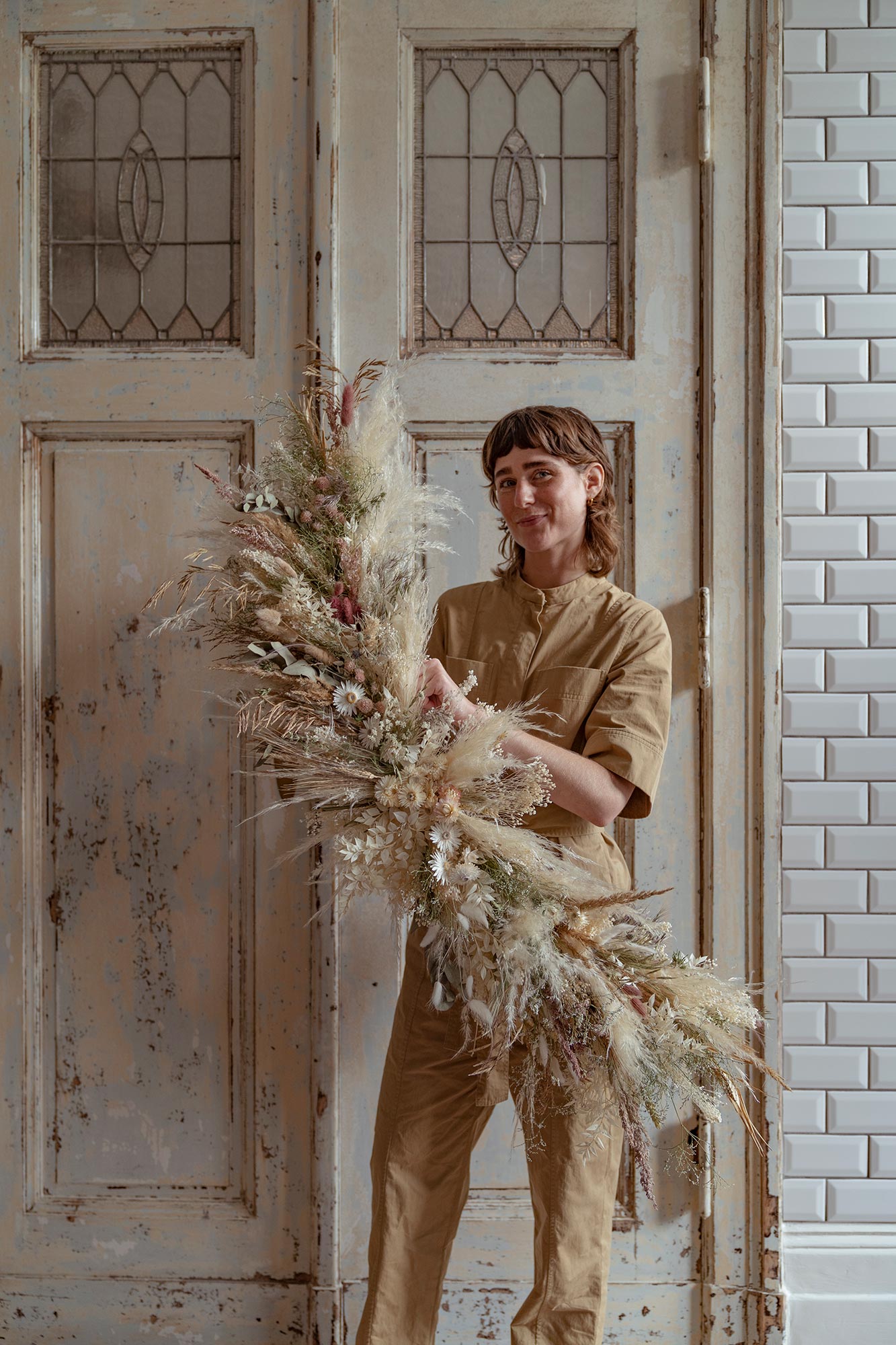 Do you think your Scandinavian background influences your aesthetic? Why do you think Scandinavia has such a strong faculty for aesthetics & design?
"100%! And getting older I realize more and more how important it is for me to stay connected to my roots. I would say that it's the Scandinavian nature that influences me most, the wild and sometimes almost untouched nature and the contrast between the different seasons. It can be everything from color-combos to different kind of forms or textures. I definitely prefer natural elements/material in design in general whether it is a vase, sweater or a table."
"Nature in general plays huge part for my creativity. When I've worked a lot, I need to escape to a forest or the ocean. After a few days I return to the city with a clear head and new ideas. Scandinavian design is famous for its minimalistic and clean design. We use a lot of natural materials and it's quite timeless but most of all functional. It's interesting that we in one way should thank Germany for that. The Swedish functionalism got attention at the Stockholm Exhibition in 1930, where a lot of ideas were influenced from the Bauhaus (German art school)."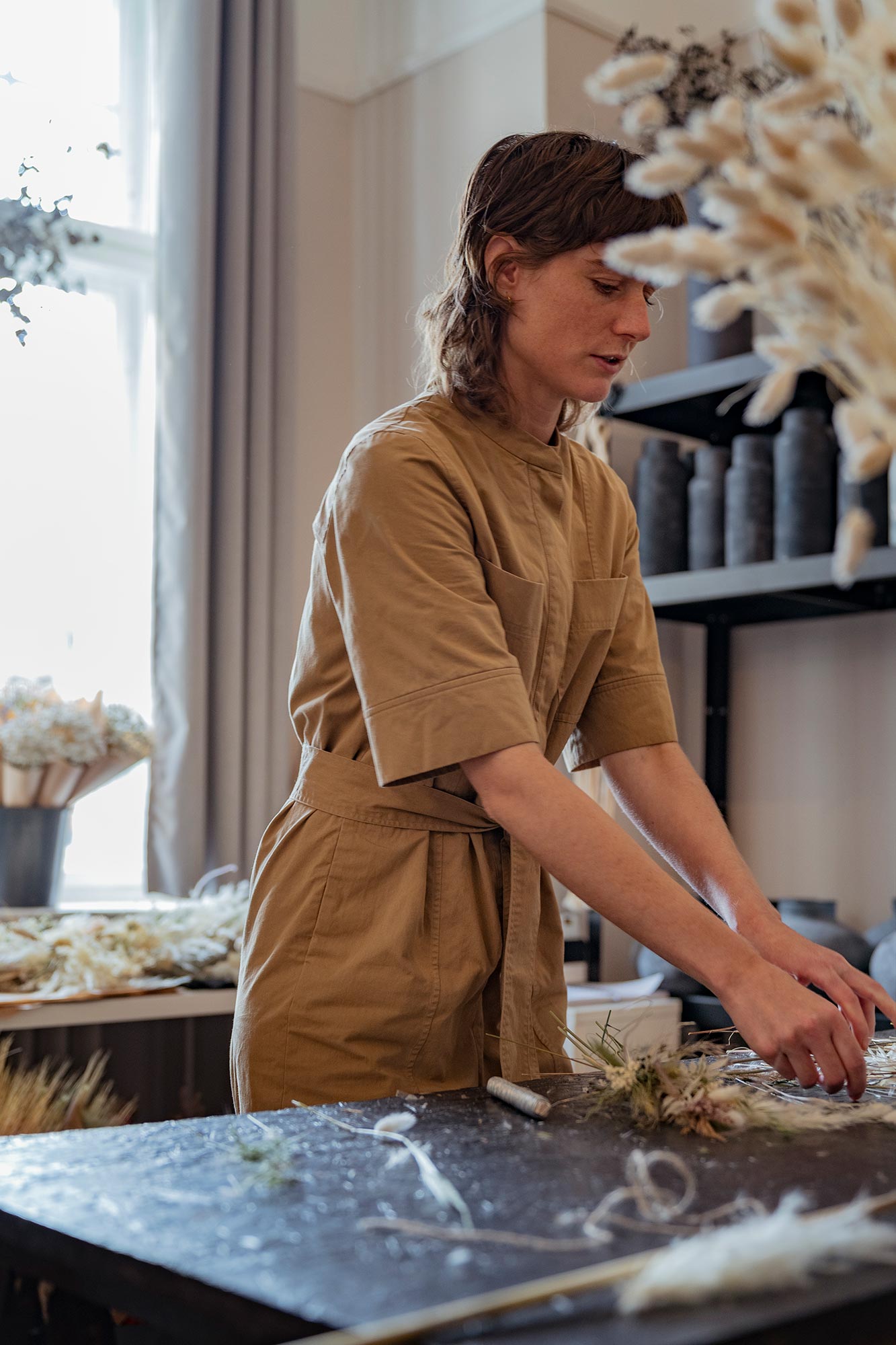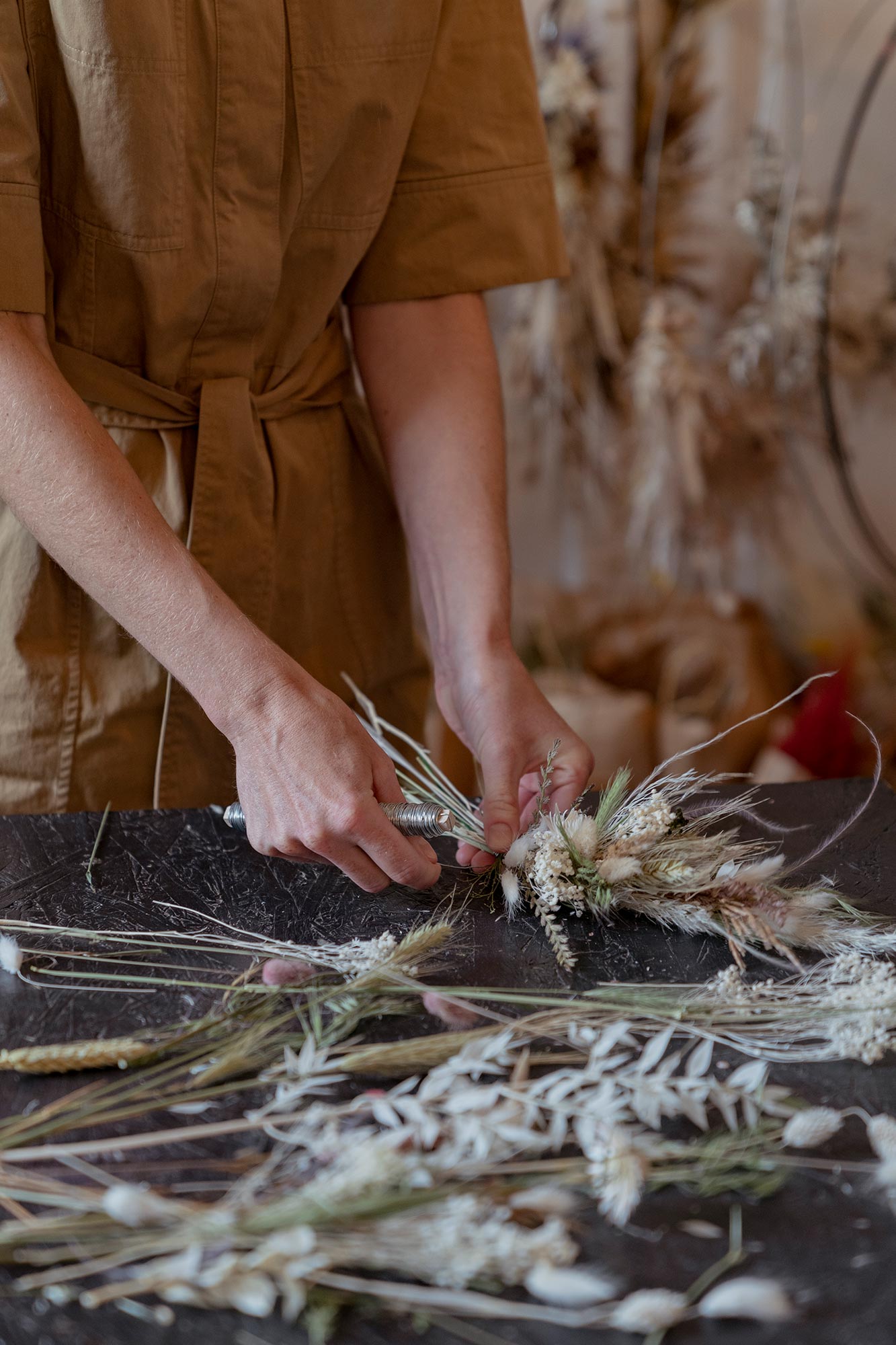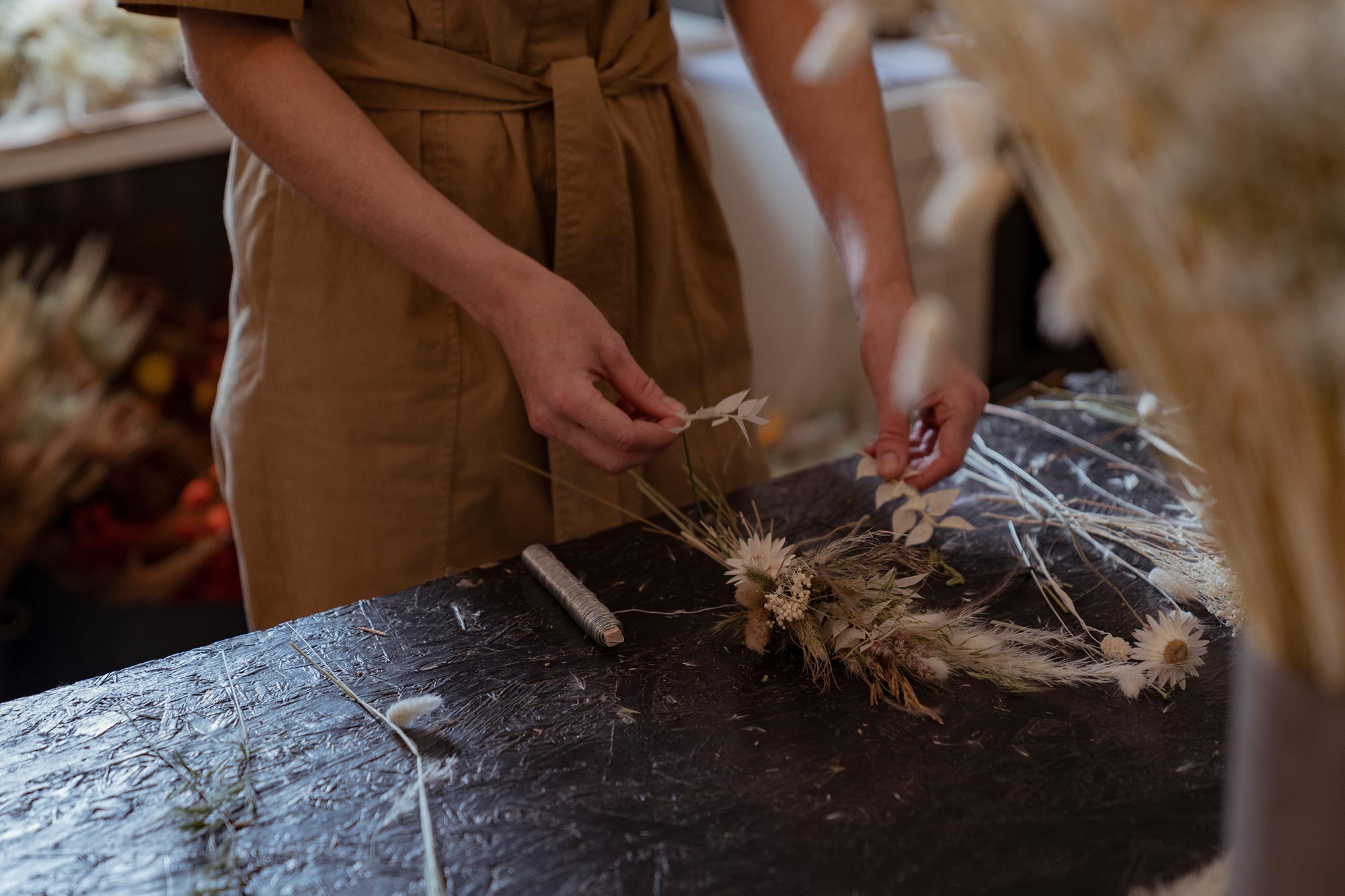 You seem to have the perfect job; you can work with flowers, be creative and make a living from it. Are there any downsides to your work?
"Honestly this was the hardest question. I do really love my job and I'm so grateful to be able to work with something that gives me so much joy. Blossom was founded only two years ago and I was hired shortly after the opening and we literally worked our butts off. Working for a small start-up is so much fun but also draining. What has also been a challenge is to establish something different in the Berlin flower scene. People here are used to low prices in general and explaining why we have different pricing is sometimes exhausting."
"I find that many people care about the environment; they buy organic food and clothing but when it comes to flowers it's a different story."
"Sometimes I think I could be bit harsh explaining to customers why a flower cost this or that. But I think is's important to inform people what's behind everything, to get an idea of the entire chain; from the farmer to wholesale to florist."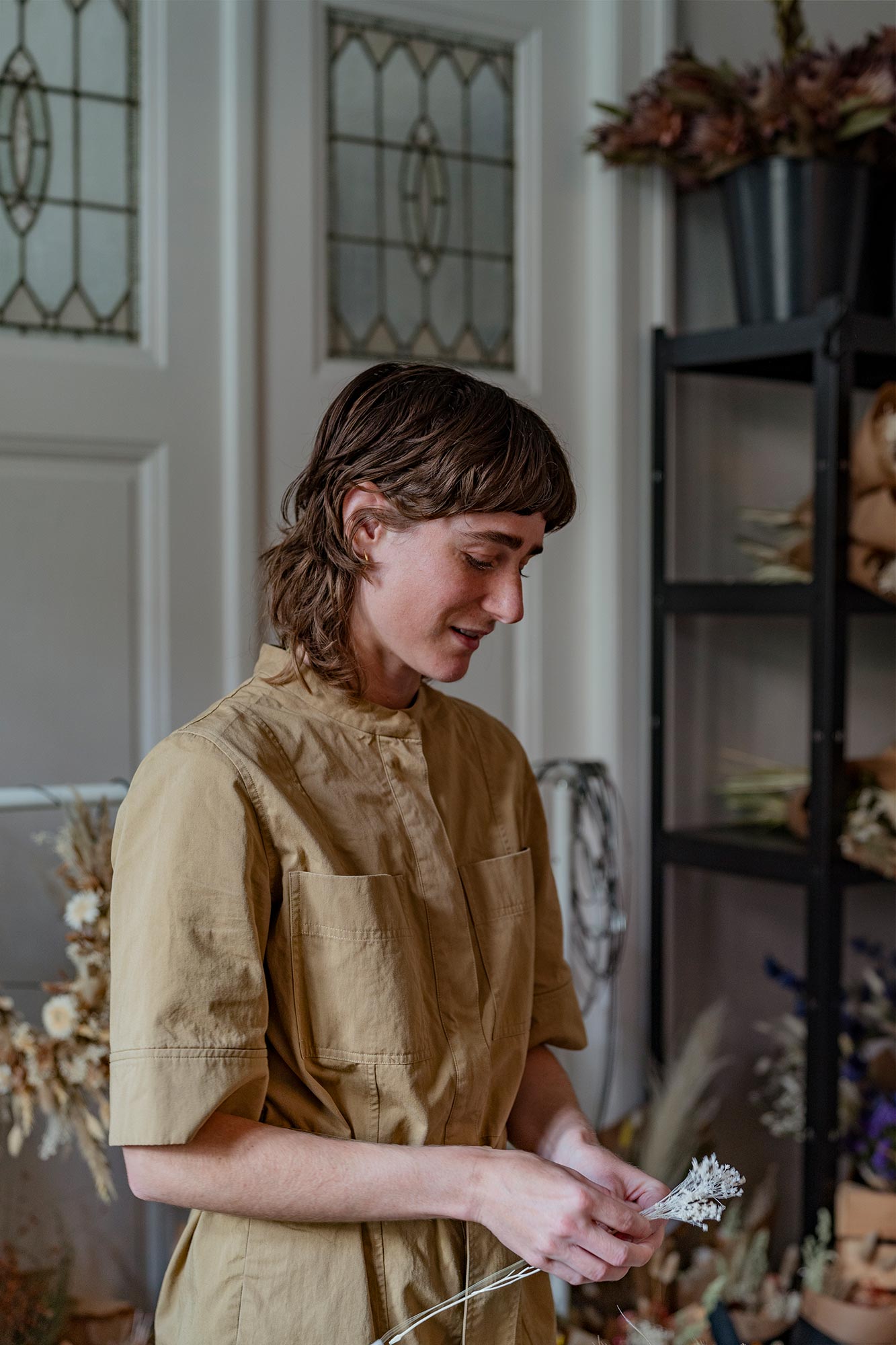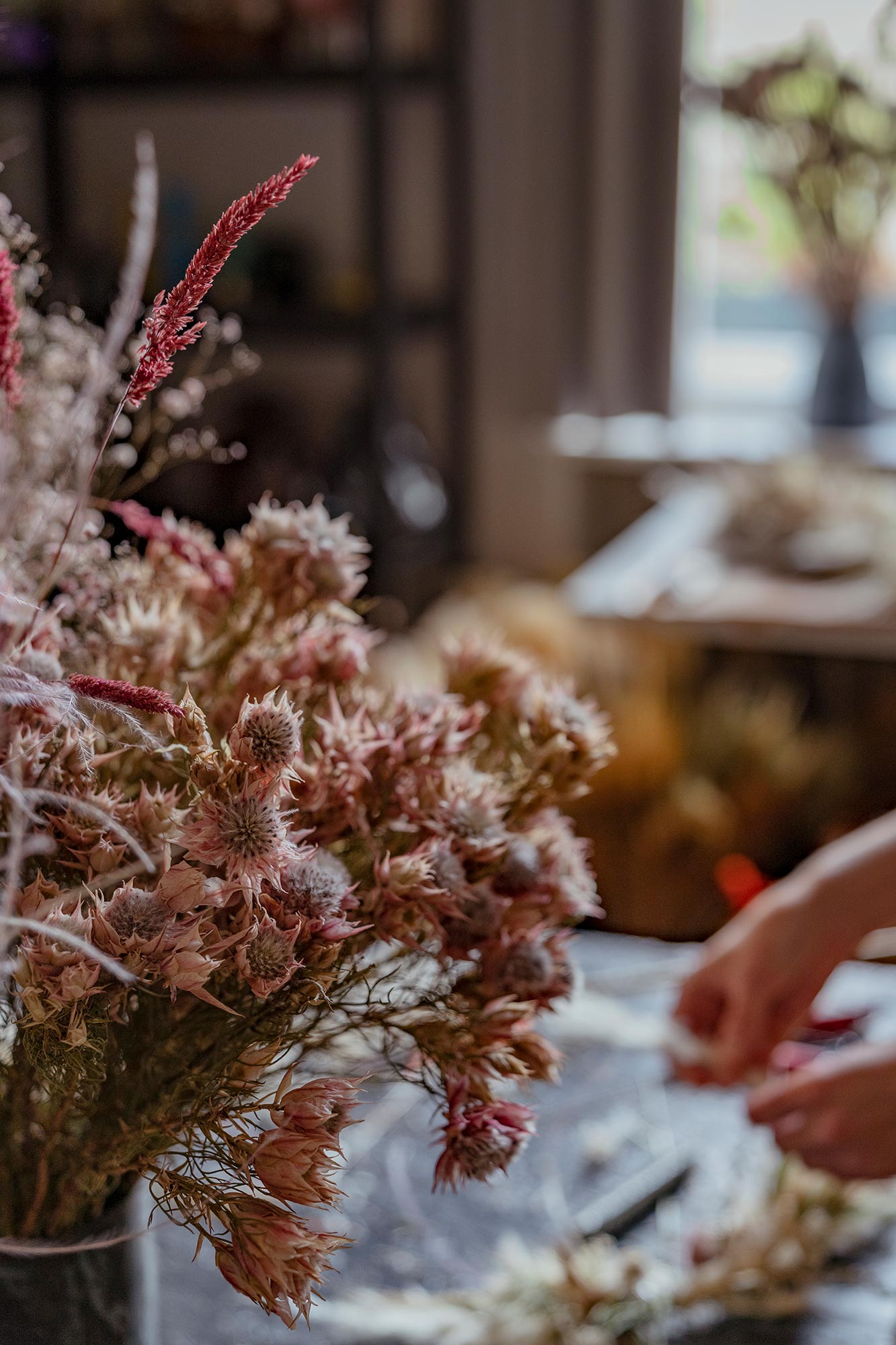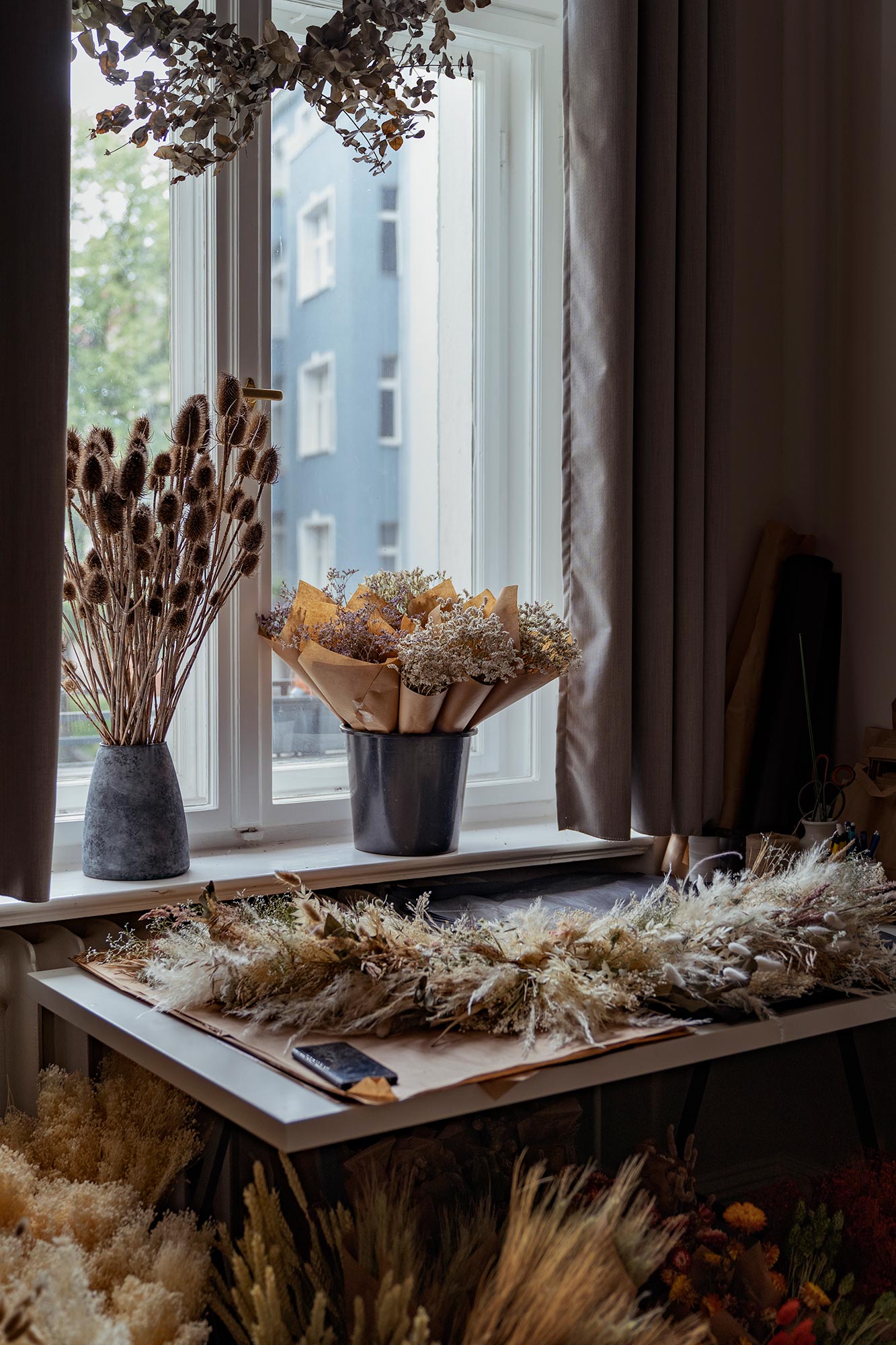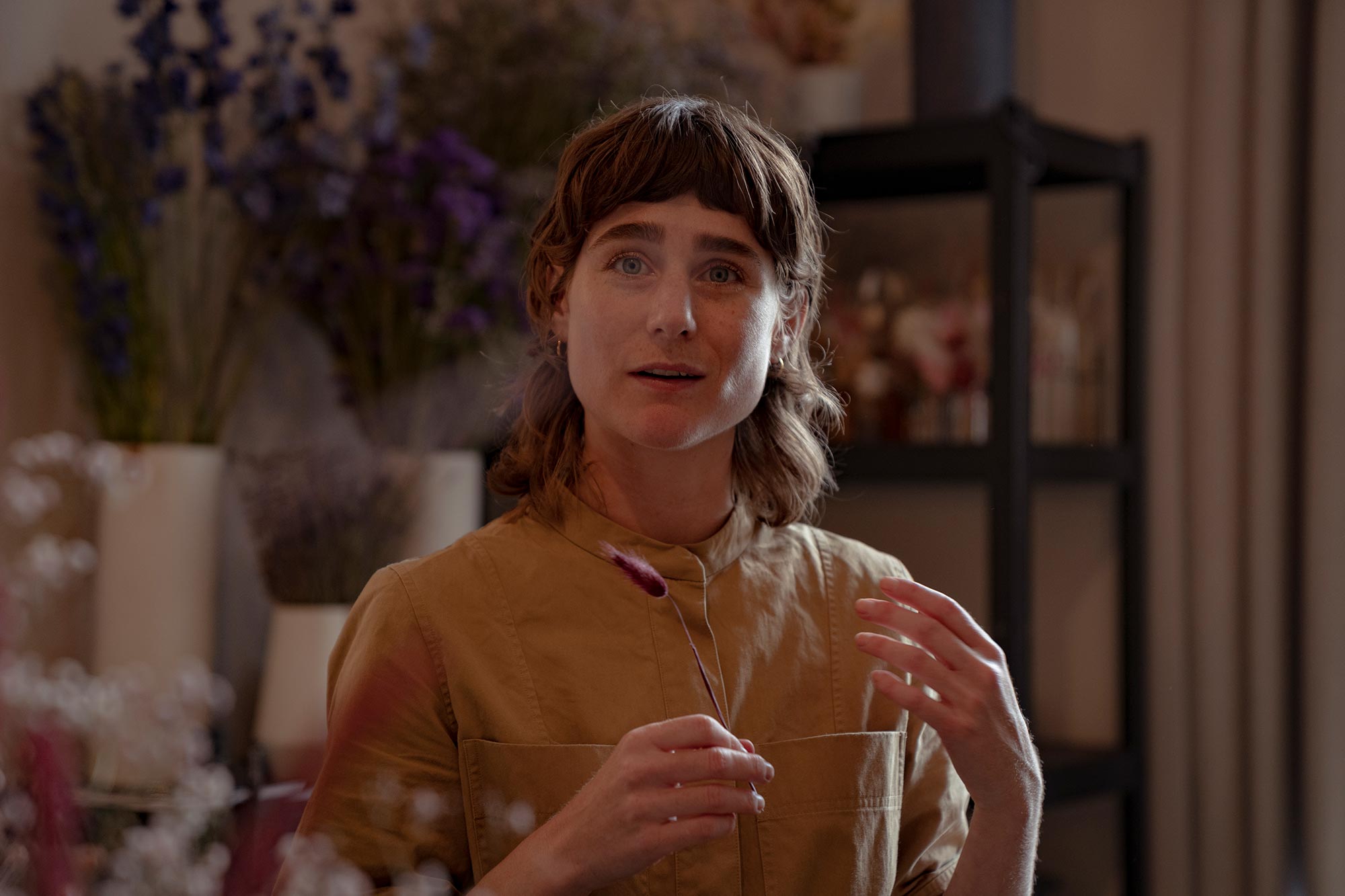 I've had many conversations lately around the topic of art versus commercial activity. How would you say the commercial aspect influences your work or artistic practice?
"I think it's so important to stay true to your artistic values and creativity, but it's not always easy, especially when it's a start-up and every cent is counted. But you can't do everything or please every one. We've had a lot of requests that we had to turn down because it was simply not our style but it's important to have an open mind and stay positive to new ideas, especially when you have your business in a foreign country. For example, we had no idea what an Adventskranz was, we don't celebrate 1:st advent in the same way in Sweden, so here we had to adjust and give it our own twist. Last year we did a few wreaths that were all made of dried flowers. People spend a lot of money each year so why not get one that you can keep for years!"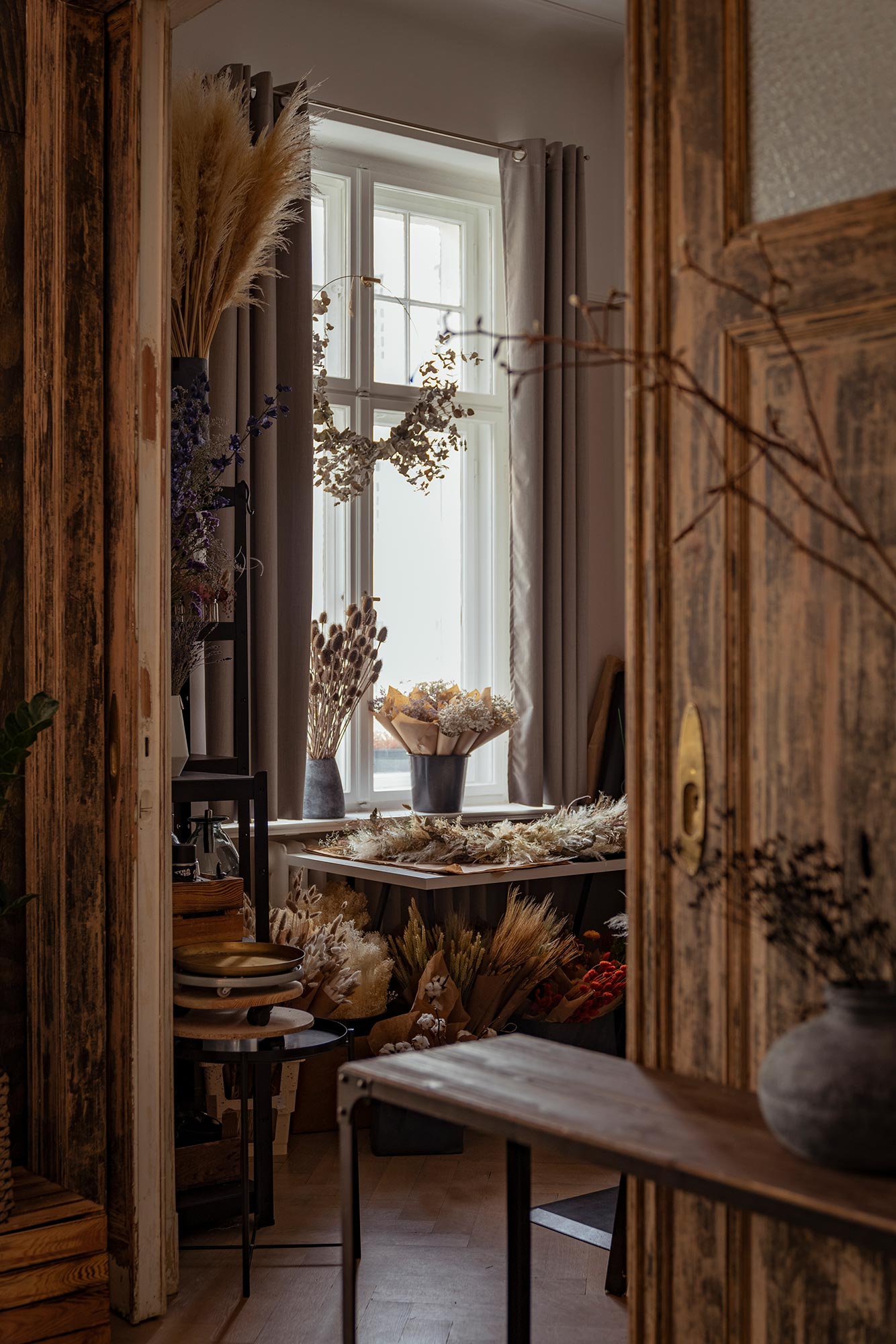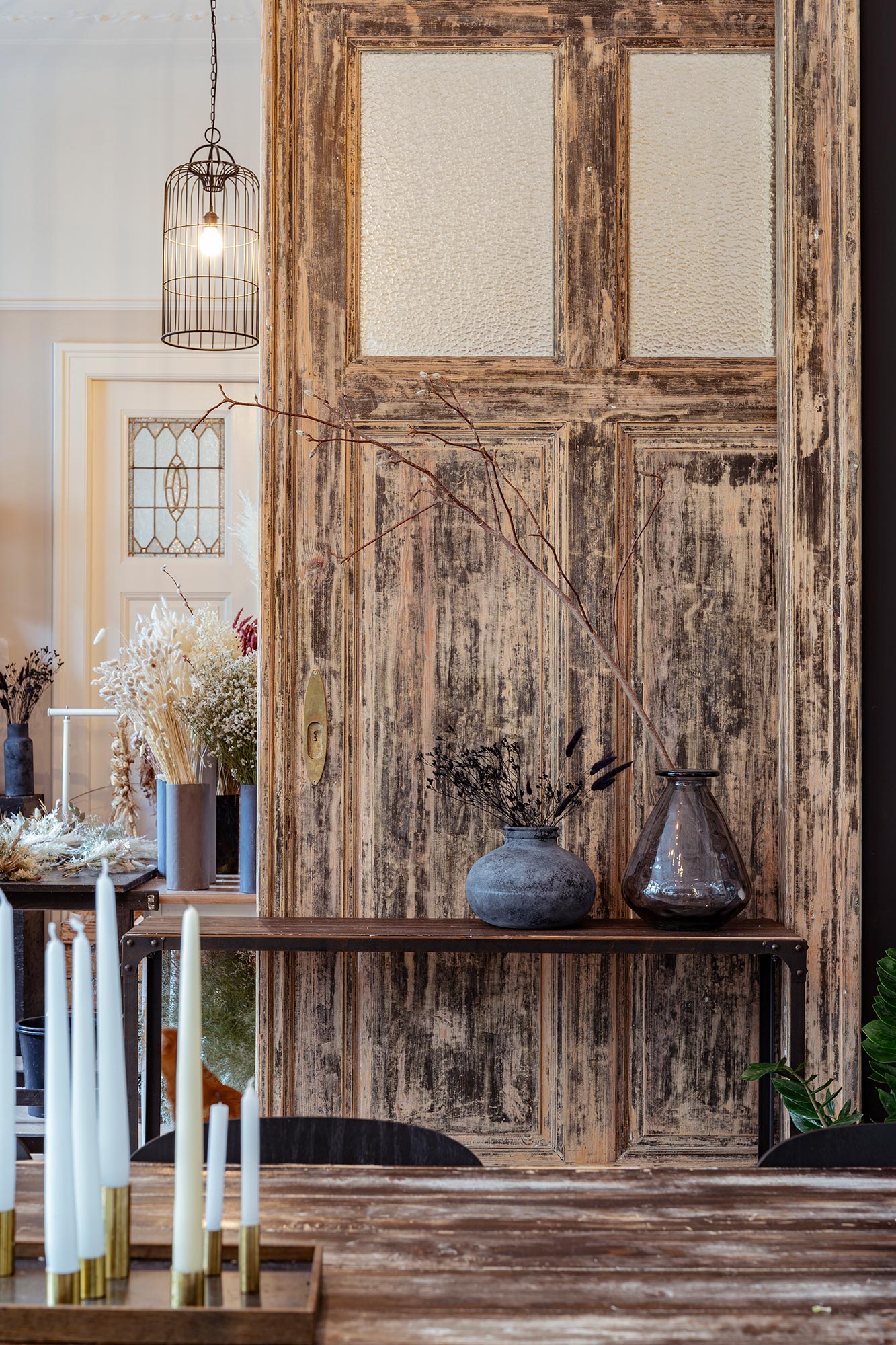 Why do you think so many people resonate with the concept of dried flowers these days?
"First of all people are so into it because it became a trend. Simple as that, exactly like it did in the 60-70´s. When I walk around in our summer house I see dried flower arrangements that my grandmother made in the 60´s. How cool is that!? Secondly I think people like it because it's long-lasting and therefore more sustainable. Now during the pandemic we haven't been able to go outside as much or visit relatives or friends, so I think it's been a great way to still have flowers on the table or send someone a nice bouquet."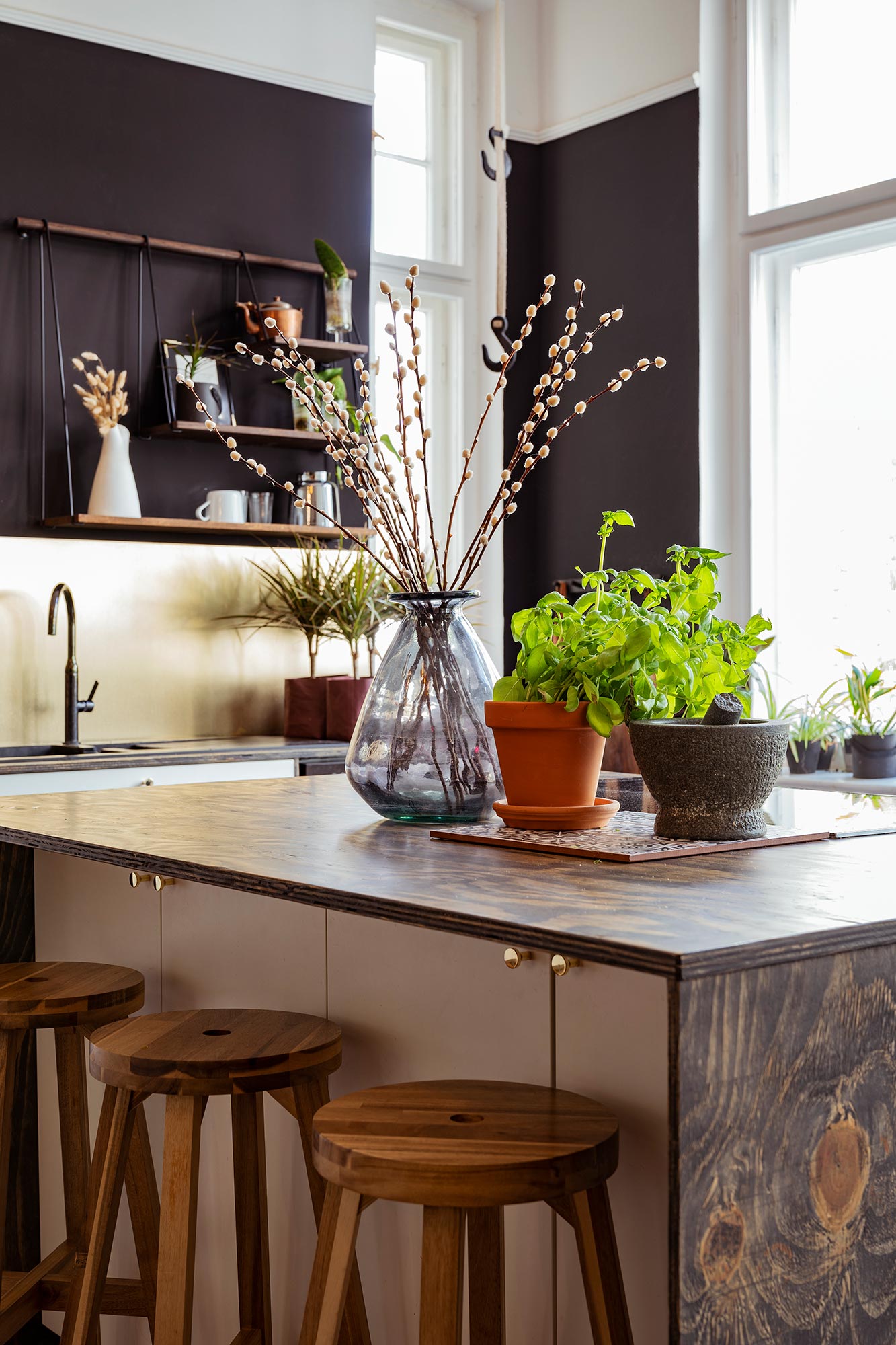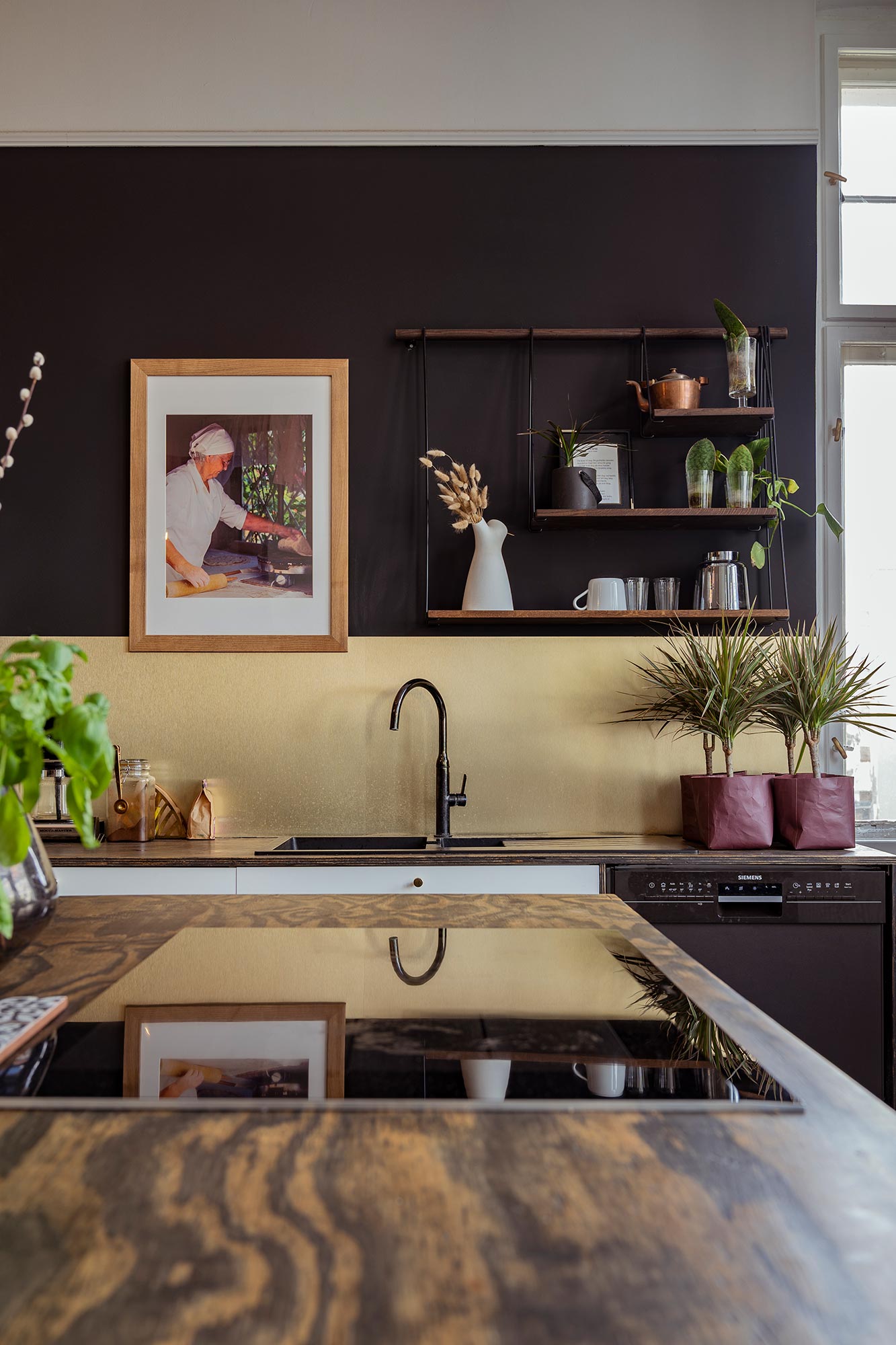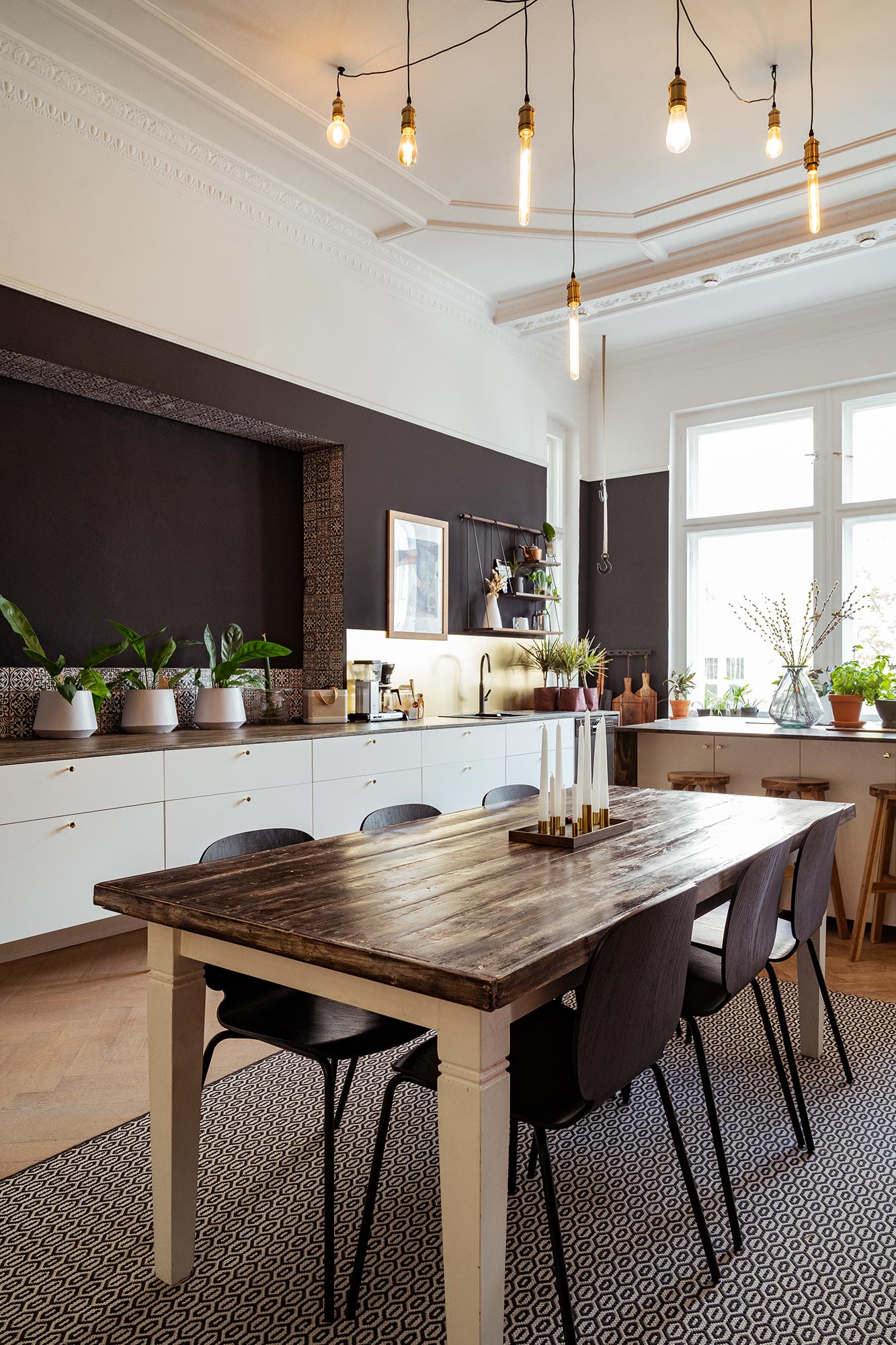 For me – flowers are like nature's poems. Little gifts from mother earth. Beautiful and transitory. What role do you think nature plays in our lives?
"We underestimate what a big impact nature has on our wellbeing. I always say that nature is the best medicine, and I'm totally into the Japanese Shinrin Yoku, wich means "Forest Bathing" or "Forest Healing". I believe that by living in big cities our senses are cut off. The air is polluted, it's noisy and crowded and usually people are in a stressed headspace. For me it's truly hard to stay healthy and positive and I try to escape the city at least once a month. I feel like the western/urban way of living has gone in the wrong direction. We have become so disconnected to what is real and really important."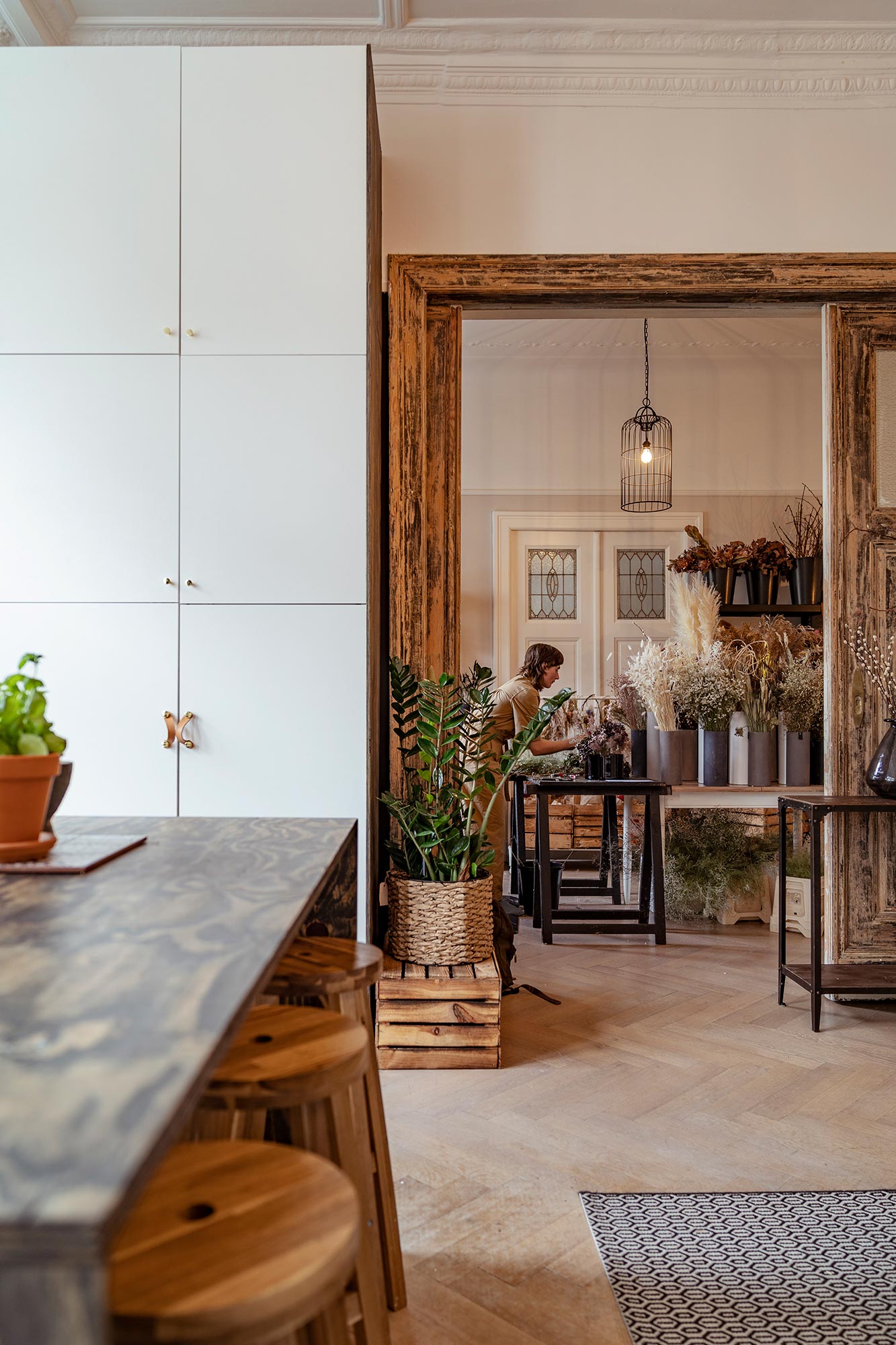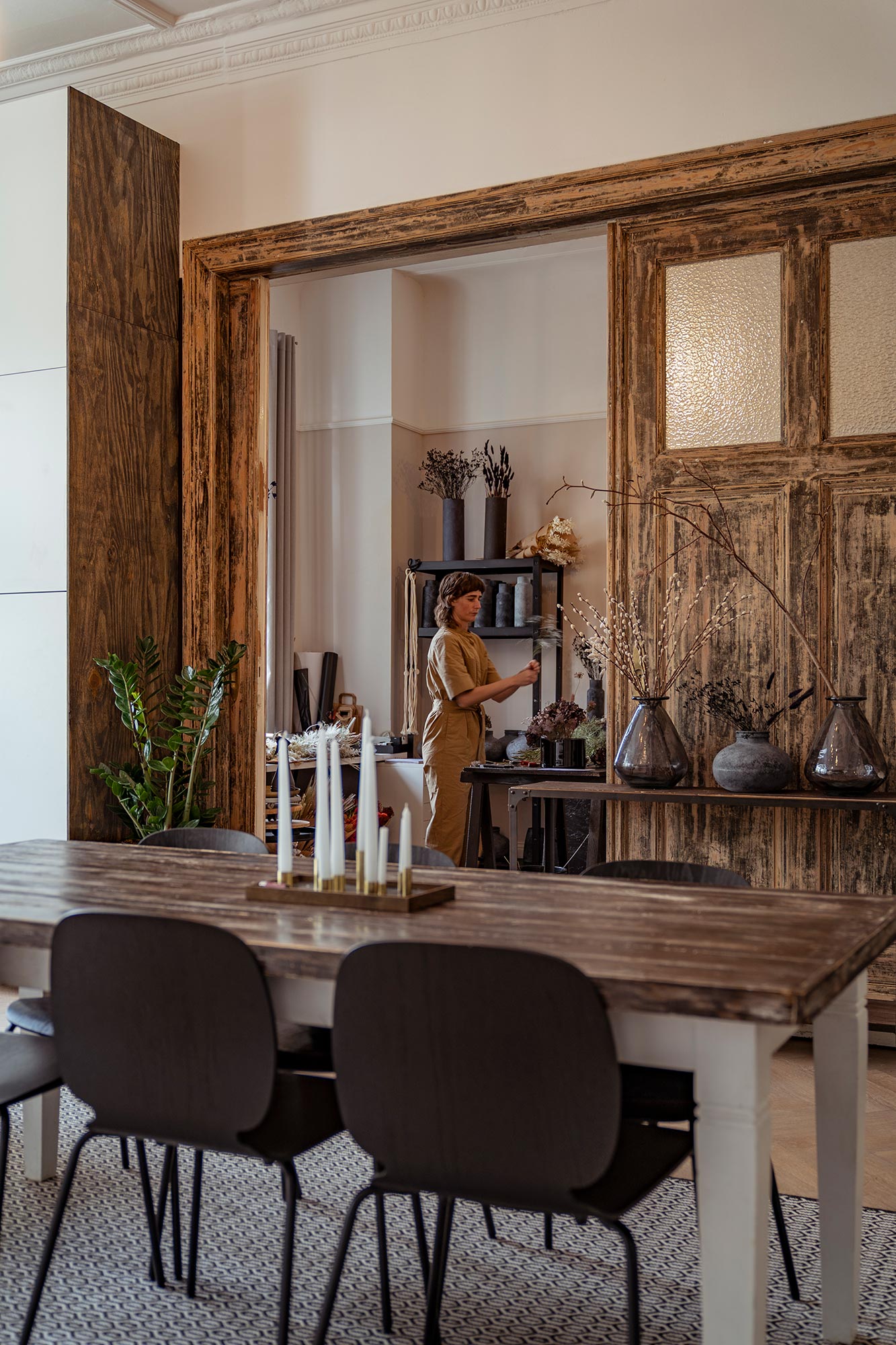 Do you have a philosophical approach when it comes to your work and how you choose to spend your time?
"It might sound corny, but we have one life so make sure you get most out of it and try not to be influenced too much by other's opinions or society's square box. Follow your heart and gut."
"I remember working on an event 1,5 years ago, I was talking to a woman, and she told me that she always dreamed of working with flowers but then decided to "get a real job". I could take this as an insult but I actually felt happy that I had the gut to follow mine."
It's never too late to do something new. I think that's one of the perks of living today; you can choose to spend your time on many different things."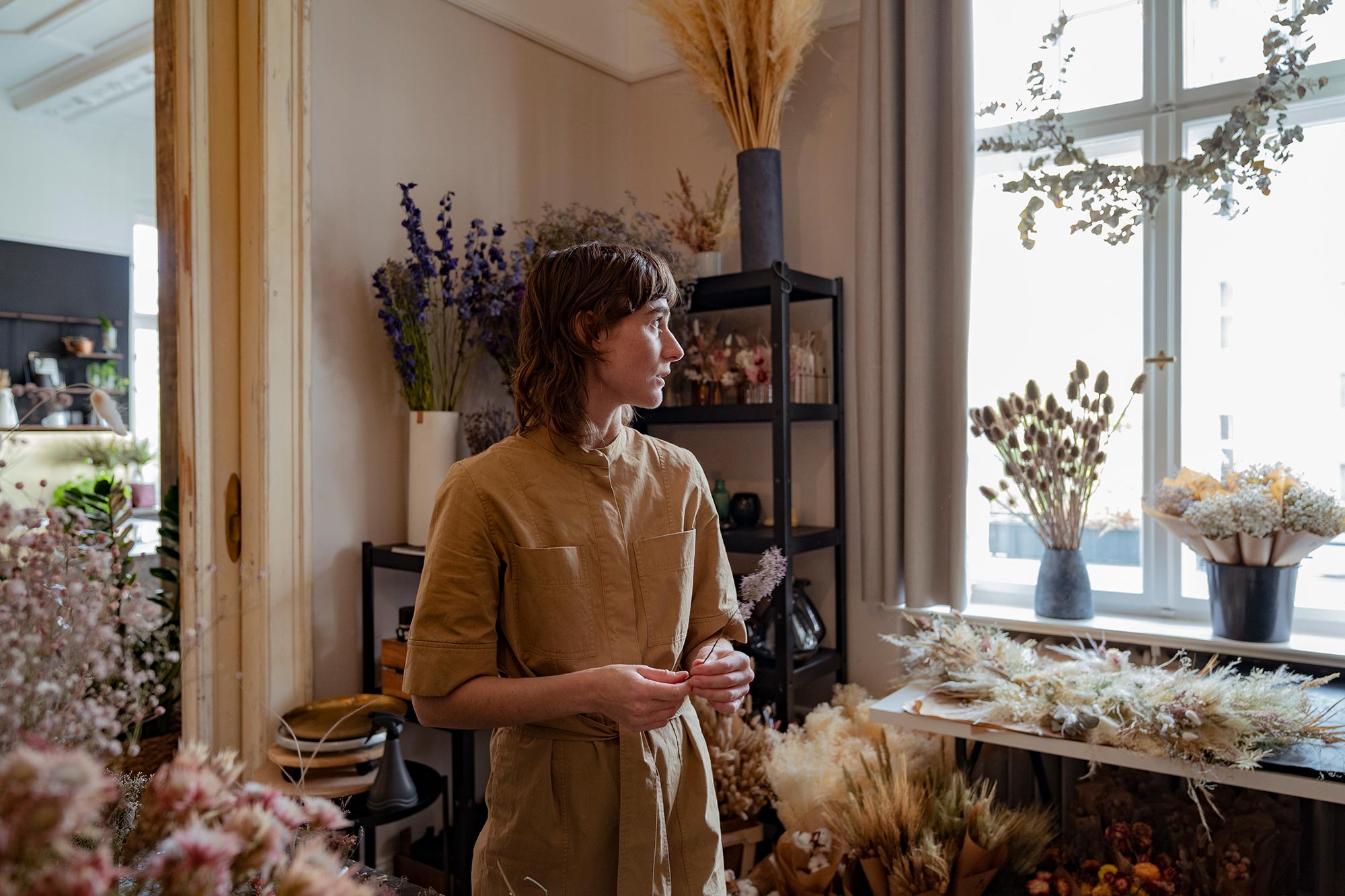 Where do you like to go, to escape into nature and to "tune" out?
"My number 1 spot on this earth is Öland. An island located on the east coast of south Sweden. It's truly magical. My family moved there from the mainland, and we also have an old wooden summer house from the 60s in the Northern part of the island. It's always special going there, it's like you can breath again and it smells like flowers, herbs and ocean. It has a different flora so you will find flowers that you can't find on the mainland. It has the perfect mix of green forests, open lands and sandy beaches. One day I will live there."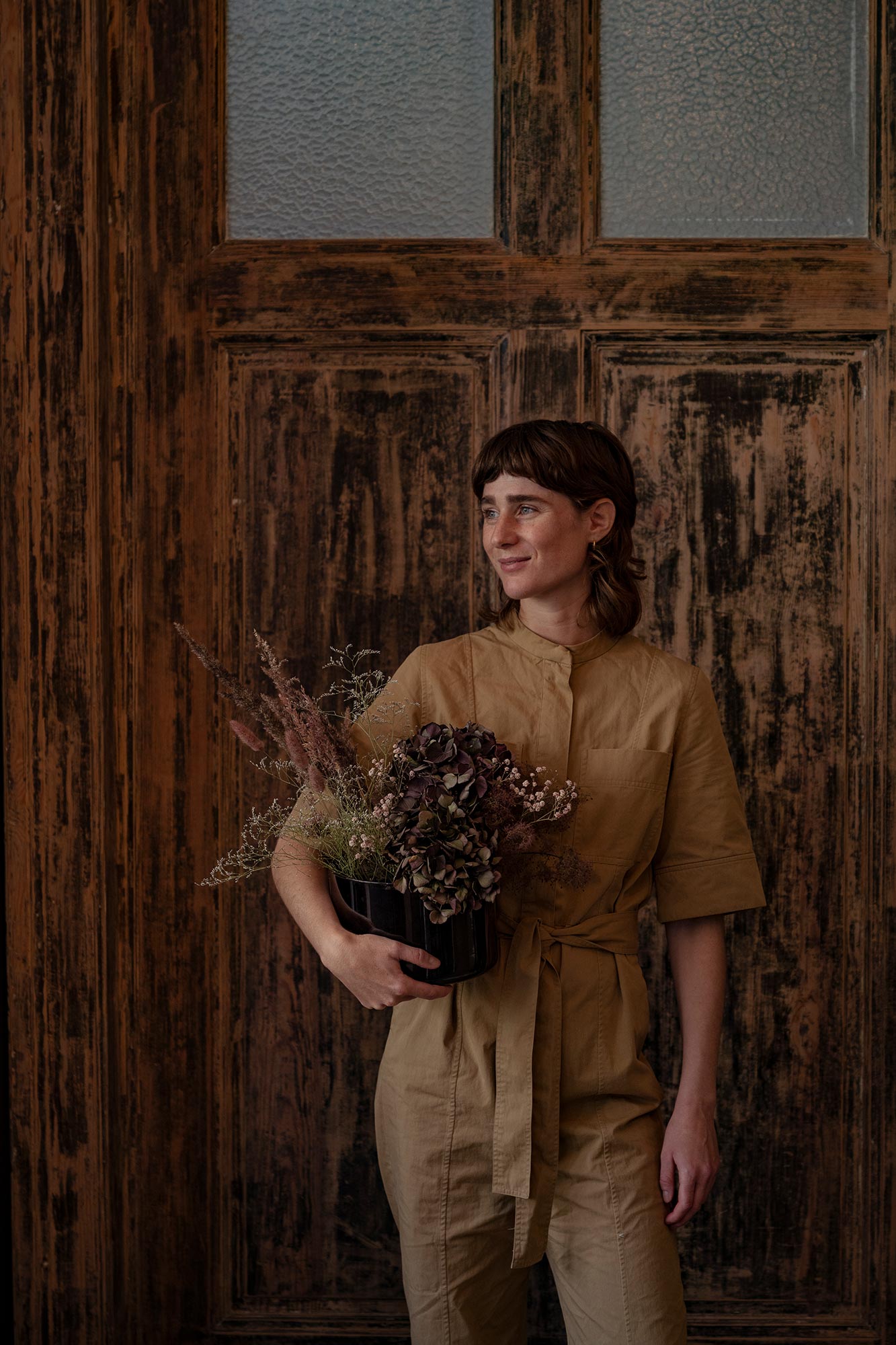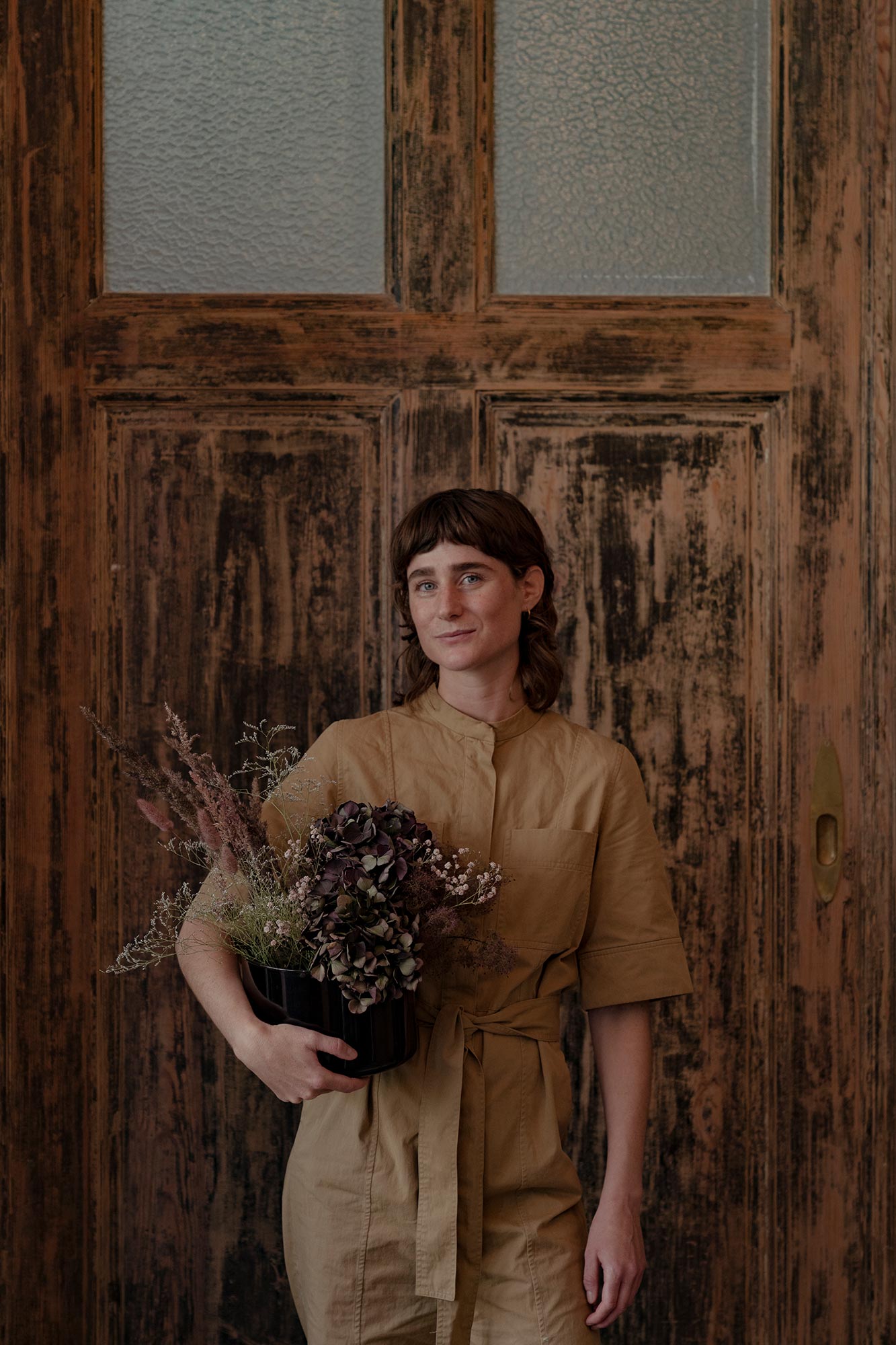 Who do you look to for inspiration? People, ideas, platforms? Anything that makes you feel energized about the world and a better positive future.
"I get inspired by friends and people around me. By someone who's doing what he/she loves or someone that's kind to others and has the gut to stand up for other people. I also get inspired by former times. The way people dressed and lived their lives. Growing their own veggies, making butter and bread, sewing and knitting their clothes. I got so exited seeing people getting into all this during lockdown. I really hope "DIY" is here to stay. Humans are creative beings and it's good for our mental health to create things. I just started to sew clothes out of old table clothes and I love it!!"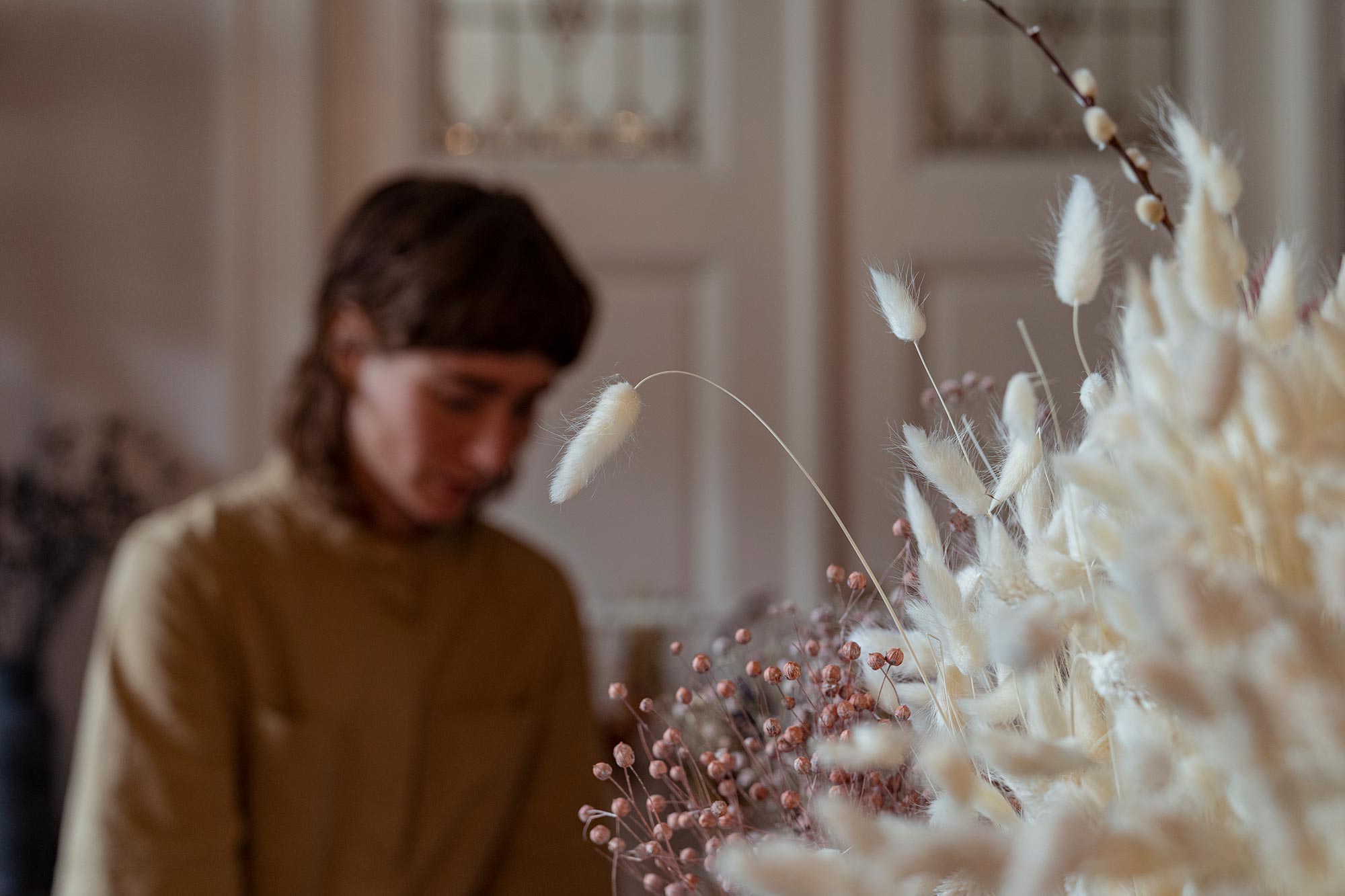 Tell me a little about the online shop Blossom recently launched? How can my readers support you?
"We sadly had to close our physical shop because of corona, so we decided to go online until things are more back on track. Being closed for a few months we had time to think about the future and what direction we want to go. We are now focusing on dried flowers mainly. We have a better capacity to take personal custom orders and I really like having a closer connection to our customers. This can be super inspiring because I do things that I wouldn't have been thinking of. At the moment we only deliver within Berlin but our goal is to expand to Germany. Getting the support from people is more important than ever, and we are so happy to have so many regular customers. In these times it's so important to support your small local businesses."
Energized by stories from creators?
Sign up to the newsletter for inspirational conversations with founders & creatives in their spaces.